Shelley Zhang and Chris Chappell are two New Yorkers who work together on a show called China Uncensored.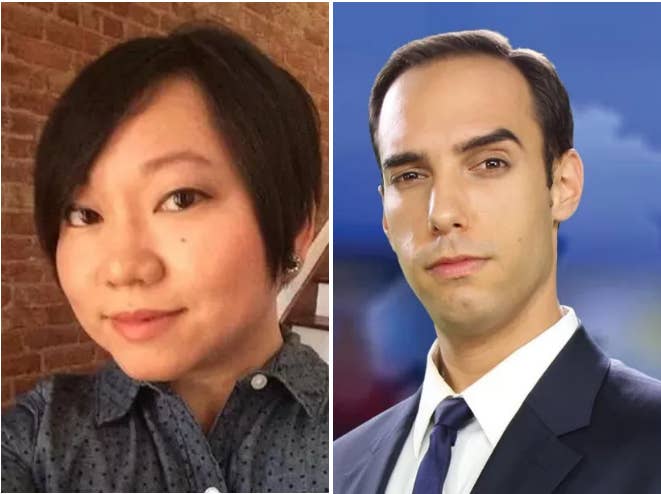 Both used to work as journalists focusing on China, and Chappell told BuzzFeed News they have known each other for about "seven or eight" years.
Chappell said that despite all of the Harry Potter mania of the past 20 years, he had never read the series.
Giphy
His only exposure to it had been, until recently, watching the final movie in the series.
"When it was happening I thought, I was not going to get on the bandwagon," he said.
However, Chappell said he saw someone watching the first movie on a recent plane trip and thought it looked interesting.
So, he decided to finally check out the books for himself. He went online and bought a deal that gave him all seven in the series to read.
"I loved it. I was instantly hooked," he said.
However, when he got to the fifth book, the Order of the Phoenix, things took a...turn.
"My initial reaction was, 'Wow, puberty hit Hogwarts hard,'" he said.
Zhang read all the Harry Potter books when they came out, and had been chatting with her coworker about them. So, Chappell decided to ask her what she thought of the darker plot points. Like you know, when Dudley kills himself?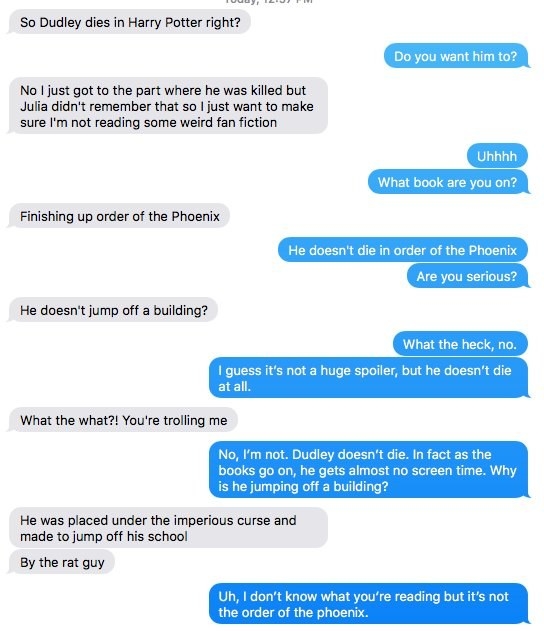 What about all those Harry and Hermione sex scenes? Or when Draco and Ginny faked that rape?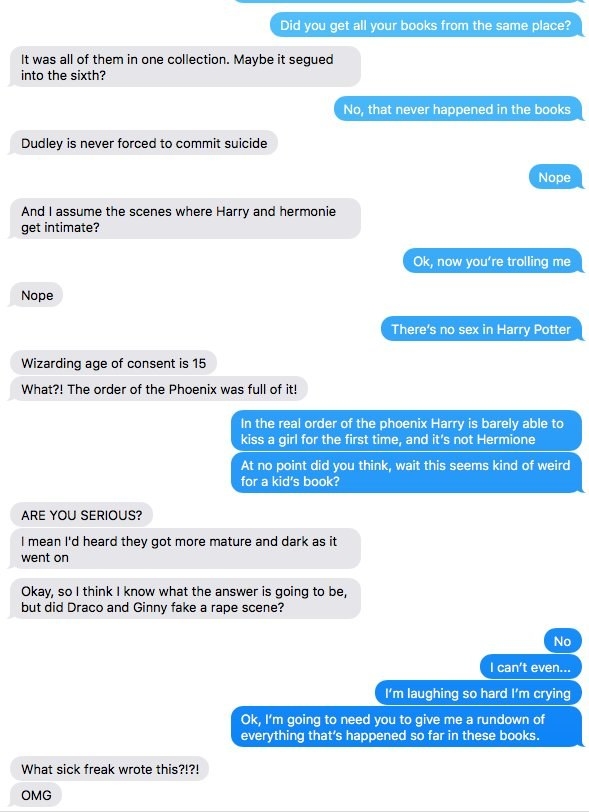 That necrophilia was weird though, right?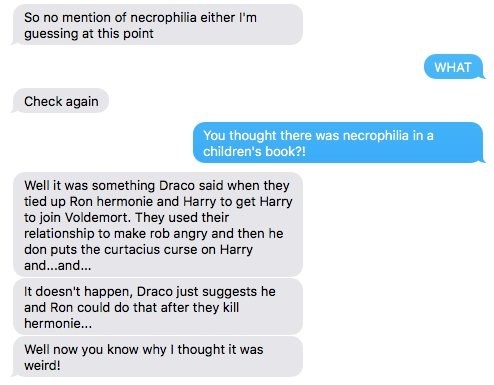 Zhang quickly deduced that her coworker must have read an entire fan fiction version of the book, instead of the real version. She said she couldn't stop laughing.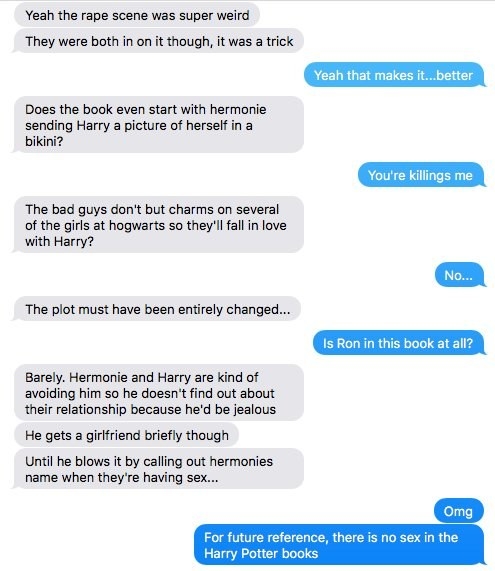 Chappell said the book was labeled the Order of the Phoenix in the set he bought, and the rest of the books he bought were real.
Chappell said he knew that the books got darker as they went on, but he was confused by the graphic sex scenes in a children's novel. (In hindsight, he says, it makes sense.)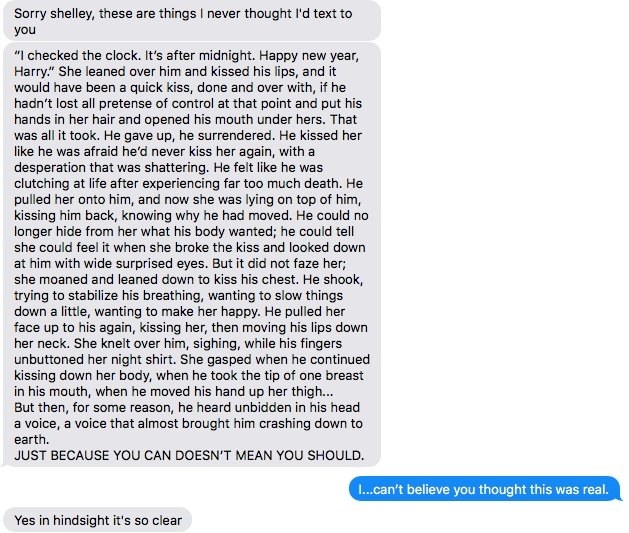 He said he knew there was some controversy over the series, but said to himself, "How could so many people just be OK with this?"
Zhang added that Chappell seemed to freak out while reading the book, but she guessed it was because Order of the Phoenix does take a darker turn.
"Now, how disturbed he was really makes sense," she said.
Zhang shared some of her hilarious exchanges with Chappell on Twitter, and people thought they were amazing.
They really couldn't stop laughing.
Some people said they also knew people who fell into the trap of fan fiction, i.e., read lots of steamy magical sex scenes by accident.
And a lot of people are down to read the ~racier~ version. (For what it's worth, the fan fiction Chappell read appears to be "Harry Potter and the Psychic Serpent.")
The coworkers said that they have found it pretty hilarious that Zhang's tweet went viral, and even funnier people think they faked the whole thing.
"How could we make something like this up," Zhang said. "Chris and I, we write comedy and we have never made so many people laugh."
Chappell said that despite all the raciness, he thought the fan fiction was well-written, and he is a bit disappointed to learn the plot and characters aren't actually canon.
"I kind of do want to read the next fake book and see how its all resolved," he said.