After the debate on Wednesday night, Eric Trump and his wife, Lara, hit up a West Coast favorite: In-N-Out.
As you can see from the photo, Lara Trump opted for a refreshing beverage in the burger chain's trademark palm-tree patterned cup. Eric Trump holds a free, clear, plastic cup, which is supposed to be used for water.
And everyone may have continued to think Trump drank water too, if it wasn't for these meddling kids!
Oh Eric, what is THAT?
Is that...lemonade...in a FREE WATER CUP????? 👀 👀 👀 👀 👀 👀 👀 👀 👀 👀 👀 👀 👀 👀 👀 👀 👀 👀 👀 👀 👀 👀 👀 👀 👀 👀 👀 👀 👀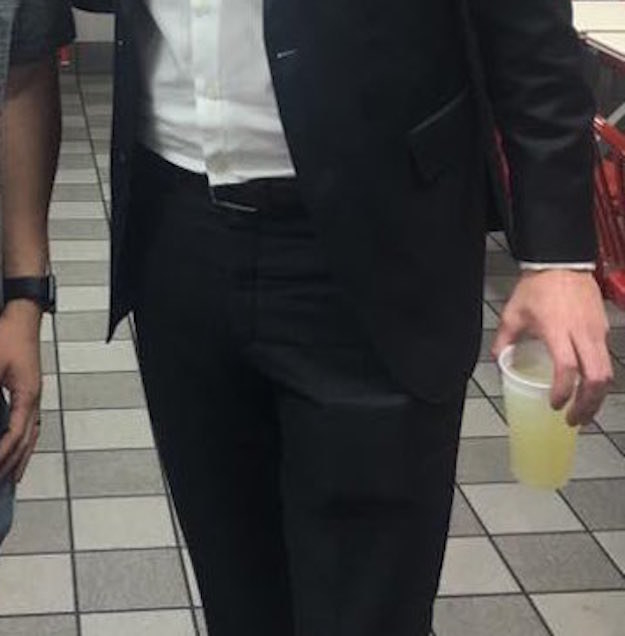 In-N-Out's corporate office confirmed to BuzzFeed News that the clear, plastic cups at their restaurants are meant to be used for free water.
Fountain drinks, such as lemonade, are served in white cups with a logo.
The photo of Trump's apparent thievery was shared on Facebook by a guy named Grant, who initially didn't notice the stunning scandal he had just unearthed.
A friend of his, David Winkelman, told BuzzFeed News he noticed the theft and decided to tweet the photo.
"I posted it because its funny to me and seemed harmless," he said. "But at this point in the campaign trail, being well aware of our actions as Americans and children of a presidential candidate is becoming more important than ever."
The photo has since been retweeted more than 8,000 times. People are now hardcore trolling Trump.
"I'm sorry but for some reason I find ordering water but then getting lemonade the lowest of the low," one person wrote.
They also tried to imagine how Trump would justify his alleged actions.
"Look, you don't get to be a BILLIONAIRE by SPENDING money on lemonade," one person said.
Winkelman said that neither Grant nor his own girlfriend are amused by his viral tweet, but he thinks it is funny.
He said he feels like the photo "encapsulates this election."
"My friend is a Trump supporter and was happy to have this photo," he said. "He says Eric seemed like a down to earth guy and now this photo my friend was happy about has become ammo in the anti-Trump machine."
BuzzFeed News has contacted the Trump campaign for comment.