Duke Cancels Plan To Sound Muslim Call To Prayer From Chapel Bell Tower
The university said in a statement it has "reconsidered" its plan because it was not having the intended unifying effect.
Duke University has reversed its decision to use its campus bell tower to sound a weekly call-to-prayer for Muslim students, the school said Thursday.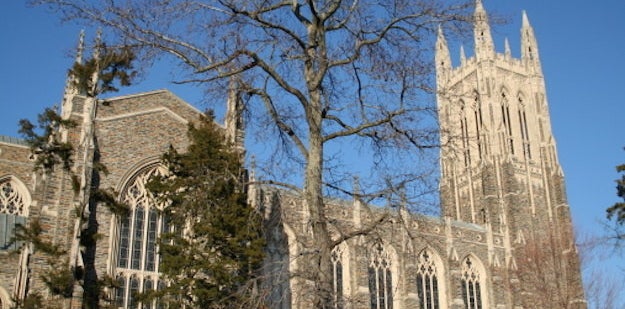 The university said in a statement it has "reconsidered" its plan to sound the adhan, which marks the beginning of the weekly jummah prayer service, from the chapel on Friday.
"Duke remains committed to fostering an inclusive, tolerant and welcoming campus for all of its students," said Michael Schoenfeld, Duke's vice president for public affairs and government relations. "However, it was clear that what was conceived as an effort to unify was not having the intended effect."
Of the school's 15,000 student, more than 700 identify themselves as Muslim.
The school's plan to use the chapel bell tower drew ire from some prominent Christians, including the Rev. Franklin Graham on Wednesday.
Dr. Robert Jeffress, a pastor and television commenter, said on Fox News that Duke's decision was a "travesty" and called on Christian students at the university to demand to recite a Bible verse from the school's loudspeaker.
"What the First Amendment doesn't do is mandate that all religions get equal space and equal time," he said.
According to the university, the adhan had previously been played in the basement of the chapel, where members of the Duke Muslim Students Association meet.
Before the reversal was announced, the school's associate dean for religious life defended Duke's decision in a column for The Raleigh News Observer.
Christy Lohr Sapp wrote that Muslims abroad are often portrayed in the media in a negative light.
"Perhaps, too, this small token of welcome will provide a platform for a truer voice to resonate: A voice that challenges media stereotypes of Muslims, a voice of wisdom, a voice prayer and a voice of peace," she said.
Schoenfeld said Duke's Muslim community enriches the university in many ways.
"We welcome the active expression of their faith tradition, and all others, in ways that are meaningful and visible," he said.