People on Twitter are trolling Trump after a reporter called the food at his eponymous Trump Grill terrible, and the restaurant itself the "worst" in the country.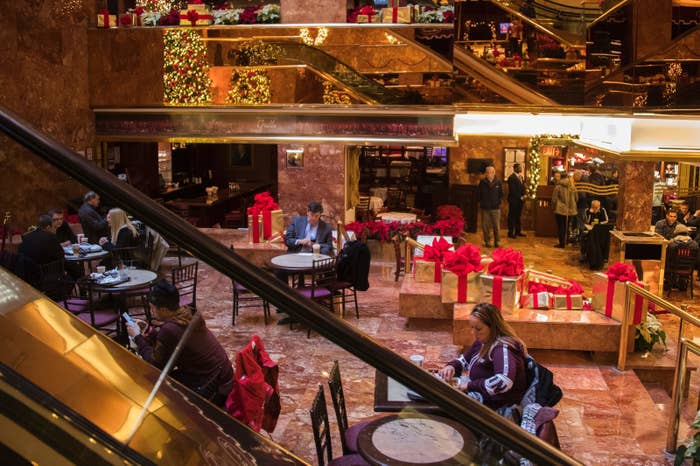 Tina Nguyen published the scathing review in Vanity Fair on Wednesday, saying the restaurant "reveals everything you need to know about our next president."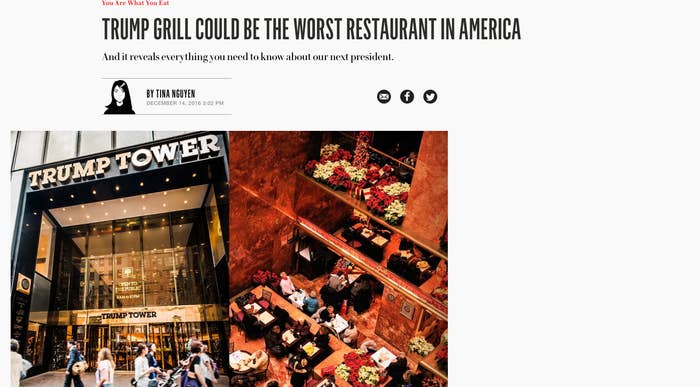 Along with criticizing the decor, she also writes that the food and drinks at the ~grill~ are just plain unappetizing.
For example, this is how she described a cheeseburger served to her and her dining companions:
Renowned butcher Pat LaFrieda once dared me to eat an eyeball that he himself popped out of the skull of a roasted pig. That eyeball tasted better than the Trump Grill's (Grille's) Gold Label Burger, a Pat LaFrieda–branded short-rib burger blend molded into a sad little meat thing, sitting in the center of a massive, rapidly staling brioche bun, hiding its shame under a slice of melted orange cheese. It came with overcooked woody batons called "fries"—how can someone mess up fries?—and ketchup masquerading as Heinz. If the cheeseburger is a quintessential part of America's identity, Trump's pledge to "make America great again" suddenly appeared not very promising. (Presumably, Trump's Great America tastes like an M.S.G.-flavored kitchen sponge lodged between two other sponges.)
Nguyen's review of the restaurant so enraged the president-elect that he angrily tweeted against Vanity Fair.
"Has anyone looked at the really poor numbers of @VanityFair Magazine. Way down, big trouble, dead! Graydon Carter, no talent, will be out!" he wrote on Thursday, referring to the magazine's editor.
The magazine tweeted a cheeky response back.
Pretty soon, people on Twitter were trolling Trump over the bad review and his freakout over it.
Some, like journalist Olivia Nuzzi, tweeted other questionable items they had been served at da grill.
But others tried to imagine what other kind of "bad food" they serve there.
Some got pretty creative.
Basically, people took the worst photo pictures ever and attributed them to the Trump grill.
And some weren't even food at all.
Other people wondered if their amateur cooking skills were good enough to make it at the grill.
Then things just got a little weird.
😳😳😳😳😳😳😳😳😳😳
Bone app the teeth!
Raise your glasses, Twitter. Cheers!