As residents and visitors to NYC know, bodega cats are one of the great treasures of the city.
Many New York City bodegas have a cat in their store to keep the rodent population under control, and many city-dwellers consider them a staple of local establishments. There is even an Instagram account dedicated to the furry friends.
Just look at this little guy keeping his store clean!
However, not everyone loves a bodega cat. In particular, one woman, who gave her local deli a 1-star Yelp review because of the cat they had inside.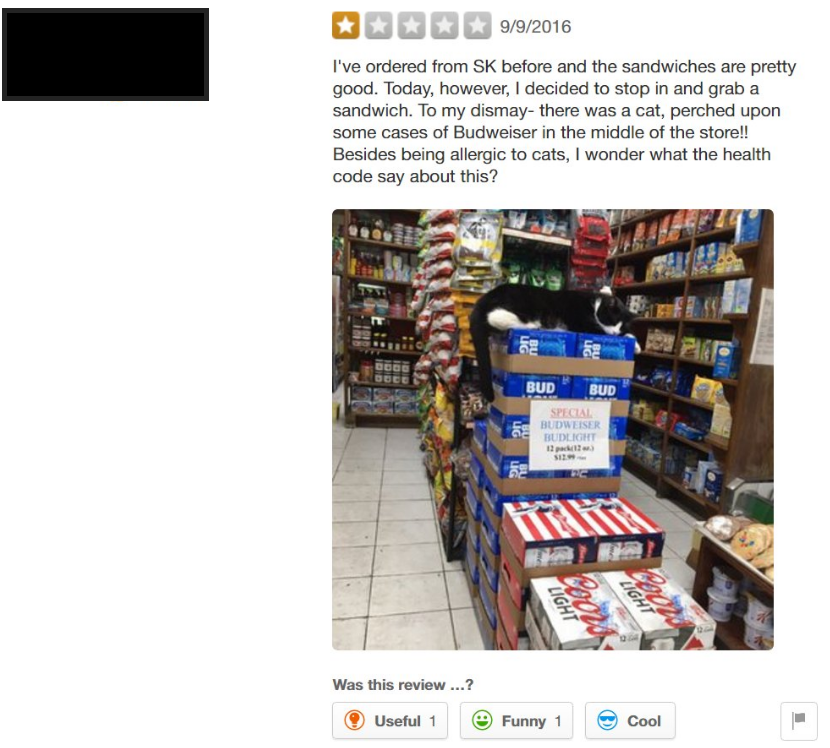 The woman said she had ordered from the store, S.K. Deli Market in the East Village, before and liked them.
However, to her "dismay" when she visited in real life they had a cat perched on a beer display.
"Besides being allergic to cats, I wonder what the health code says about this?" she wrote.
The review now appears to have been deleted.
People became outraged about her comments when Twitter user @SynKami shared them online.
"You gotta be a miserable gentrifying ass bitch to yelp about the bodega cat," he wrote.
The tweet has since been retweeted over 7,000 times, and many angry people said if the woman didn't like it, she could go somewhere else.
"Shop elsewhere your highness," said one bodega cat fan.
"I refuse to enter a bodega that DOESNT have a cat," said another.
Others pointed out that having a cat in the store is better than the alternative.
"Rodents accessing your food/groceries or a cat. Take your pick, lady," one person said.
New Yorkers also shared photos of cute bodega cats.
"Always respect the bodega cat," said one person.
People have also flooded the deli's Yelp page with 5-star reviews in support of the cat.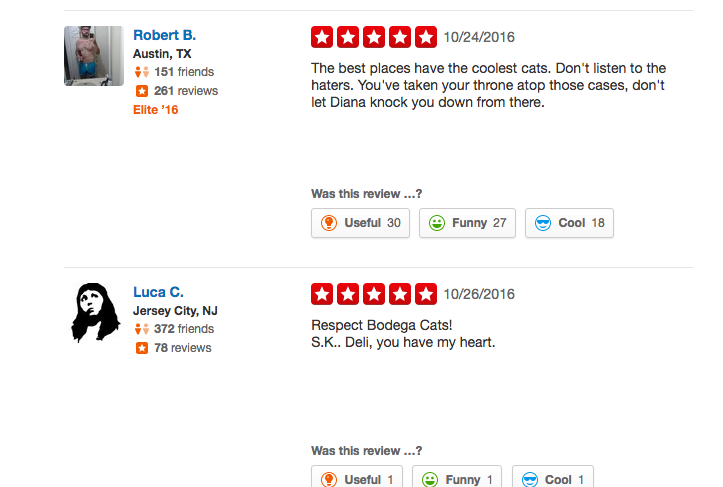 The woman is not the only bodega cat hater, however. The city actually forbids bodegas from having a cat in their store, the New York Times reported.
The city's health code and New York state law do not allow animals where food is sold for human consumption, according to the newspaper, and stores can be fined up to $2,000 for having a cat.
However, bodega owners told the New York Times they take the risk because, without the cats, rodents would overrun their stores.
"[A health inspector] wants me to get rid of the cat, but the rats will take over if I do," one bodega manager said. "I need the cat, and the cat needs a home."