A few days ago, a 28-year-old man was arrested at a Donald Trump rally in Iowa after allegedly throwing two tomatoes at the candidate.
Andrew Alemao was arrested on Tuesday night for disorderly conduct, according to the University of Iowa Police.
Alemao is facing a misdemeanor charge, the Iowa City Press Citizen reported. He was released Wednesday.
But while the police didn't find Alemao's actions too funny, he has become a hero to many people online.
People on Facebook praised his actions, saying they would happily help him fight the charges against him.
"America's hero," one woman wrote. "Let's give this brave citizen his own ceremony and a key to the city and purple heart and Trump's campaign, let's just give it to this guy."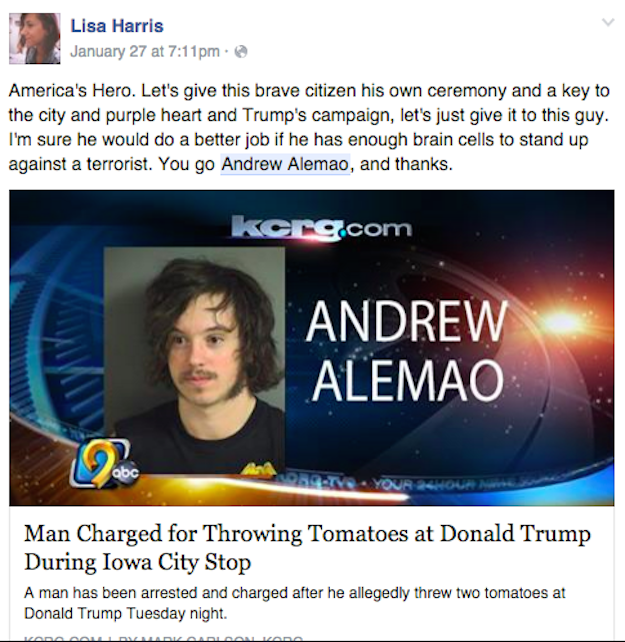 But one man had a response to the incident that has thousands of people online in stitches.
Endy Ramirez, of Chicago, posted a response to the story after it was shared by Mayor Boss, a Nigerian recording artist.
Ramirez wrote:
Andrew you are officially a Mexican in the eyes of all my Mexicans you can do and act like we do. you want to come thru our cook outs? come thru they get popping Beers , Carne Asada , Girls dancing all that shit , when our mom's or abuelas make tamales or posole you sir will be invited , Mi casa su casa , You are no longer Andrew you are Andres . welcome to our family fucker.
People loved Ramirez' post, and it has been liked nearly 20,000 times. Other people also offered to bring Alemao into the fold.

And they gave him names of their own.

One Twitter user even collected a bunch of responses she saw online of even more people offering to invite Alemao over.
Everyone has their own name for Alemao...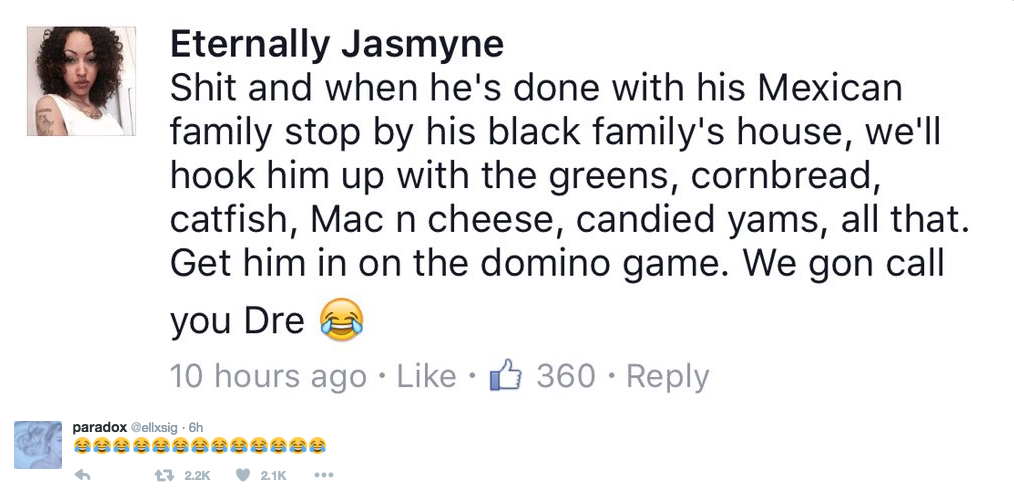 And promises to welcome him with open arms.
No word on if Alemao plans to take up all of the offers for a nice, free meal.
BuzzFeed News has contacted Ramirez for comment.