A woman is warning other parents after her rejection of a vaccine led to her infant daughter contracting whooping cough.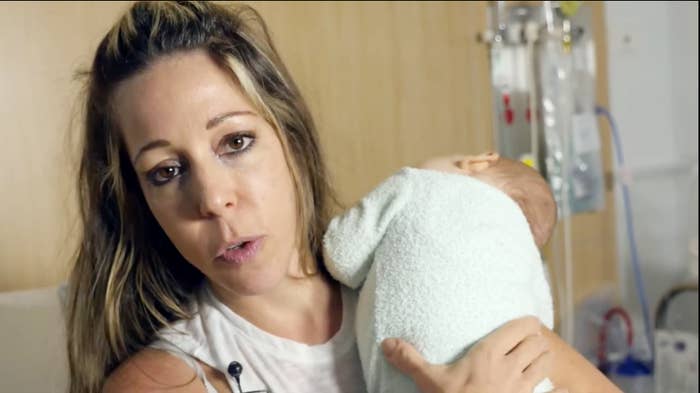 Cormit Avital, a first-time mother in Australia, discussed her baby daughter Eva's ordeal in a video for Gold Coast Health, her local health authority.
But around the time Eva was born, Avital was diagnosed with whooping cough. Soon after, her baby also contracted the disease.
At first, Avital said the illness seemed like a simple cold. However, it soon became terrifying.
Eva's cough became something out of a "horror movie," and her baby turned blue and floppy, Avital said.
"For a moment there, you think they're dead in your hands," she said. "[It's] a lot of suffering for a tiny little cute thing you love so much."
Eva has since spent a month in intensive care, but is improving, Gold Coast Health Staff Specialist Dr. Paul Van Buynder told the BBC.
Avital said that she now wishes she had protected herself against the disease while she was pregnant.
"If I could turn the clock back, I'd definitely take 10 of those vaccinations 'cause there is nothing more painful than watching your little, tiny [baby] and they can't breathe in your hands," she said.
The CDC recommends pregnant women get the whooping cough vaccine during the third trimester.
"Whooping cough vaccination during pregnancy is ideal so your baby will have short-term protection as soon as he is born," the CDC says.
The Australian government also recommends women get the vaccine in the third trimester of pregnancy.
Avital's video has since been shared more than 6,000 times. However, the video was soon disparaged by anti-vaxxers, who insisted the baby was a prop and Avital an actor.

The comments became so prevalent that Gold Coast Health was forced to defend the video's authenticity in the comments.
"Carmit was motivated by her own difficult experience dealing with whooping cough and has given a heart-felt and honest personal account to prevent others having a similar experience," it said. "We applaud her decision to do so and she has our full support."
Buynder told the BBC that Australia is seeing a rise in whooping cough cases, with more than 20,000 last year.
"There's always a feeling of pregnancy being this special state and you don't want to put anything into your body, but what's really bad for your baby is to get whooping cough or influenza," he told the BBC.
The Australian government has also been cracking down on parents who don't vaccinate their children by cutting welfare payments for those who reject the "jab," CNN reported.
The action came after the number of unvaccinated children in Australia doubled in the past decade, CNN reported.