A mom is sharing photos of her toddler son playing in the exact spot of the alligator attack that killed 2-year-old Lane Graves at a Disney World resort, in an attempt to show other parents how safe the area seemed to be. Jennifer Venditti Roye, a mom of three from Massachusetts, was vacationing at Disney World with her son Channing at the same time that Lane was killed by the alligator. She told People that she and her son had been hanging out at the Seven Seas Lagoon at Disney's Grand Floridian Resort & Spa, the same resort where the fatal attack occurred.
She said the area seemed to be completely safe.
"Not at all did that cross my mind that there would be alligators in that area," Venditti Roye says. "There were tons of families just roasting marshmallows. The Grand Floridian had provided the activity for kids, right there on the beach."
On Tuesday, Venditti Roye snapped some pics of Channing hanging out in the lagoon, at what she said is the exact spot of the attack. She said they were there less than an hour before Lane was killed. After the tragedy, Venditti Roye decided to share the photos on Facebook, with the hopes of stopping the criticism of Lane's parents online. Her message has since been shared more than 150,000 times.
She wrote:
PRAY, PRAY so hard for the family & for those who witnessed this tragic event. I took these pics at the exact spot this happened betw 8 & 830, the incident happened at 9. Helicopters flew overhead til 1 am and were back around dawn. I can't imagine anyone could sleep knowing that the helicopter was searching for a missing child taken by an alligator. I can't help but wonder if we played with him, did I talk to his Mom?? How does one go home without your baby in tow? 💔 I've already seen posts criticizing the parents. I can assure you alligators were not on my mind at all when Channing was in the water. It's a tiny beach, surrounded by pools, water slides, a restaurant and a fire pit. I can't conceive that an alligator would be in such a busy, small space.
Many people said her comments were on point.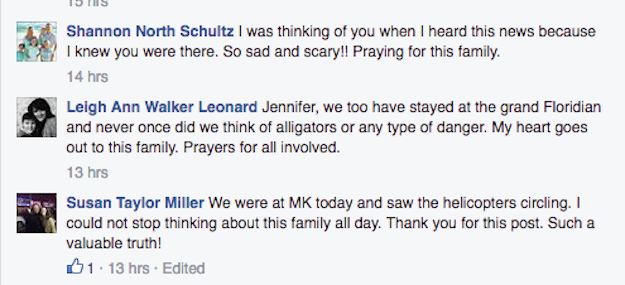 Venditti Roye told People she decided to share the message to quiet those who blamed Lane's parents for his death.
She said that in her opinion, even the most watchful parent would have never seen something like the attack coming.
"It could have been [my son]," Venditti Roye said. "We had been there every night. What a tragedy."