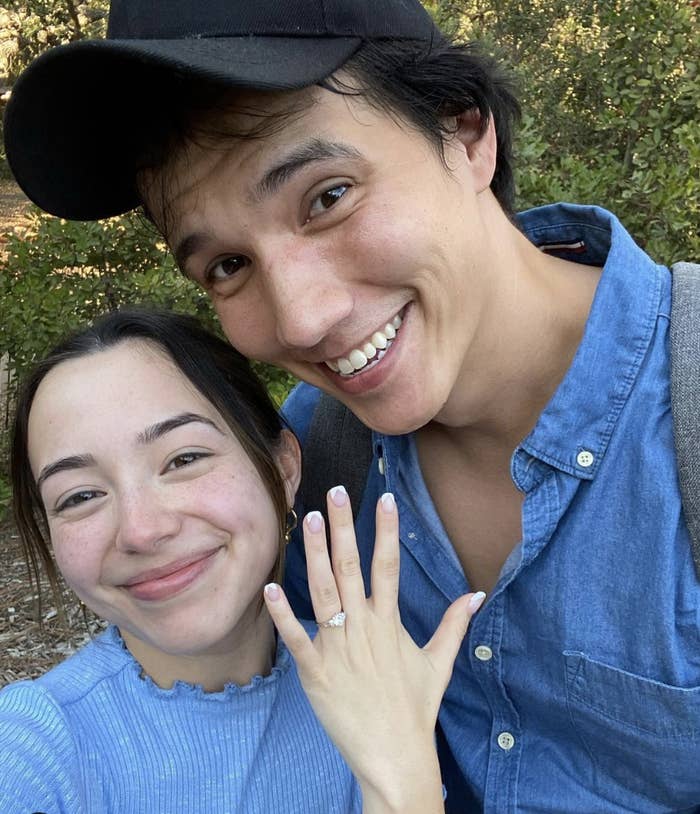 You can witness just about every intimate aspect of someone's life on YouTube: people opening their college decisions, buying their weekly groceries, or birthing an actual baby. But the most popular content in the era of social distancing? Watching someone fall in love.
Since the start of the pandemic, serialized posting about a relationship has become one of the most-viewed trends on YouTube — and has helped some creators launch lucrative social media careers. YouTube searches for videos titled "I Proposed" spiked early in the pandemic, in May 2020, higher than they'd been in five years, according to data provided by Google.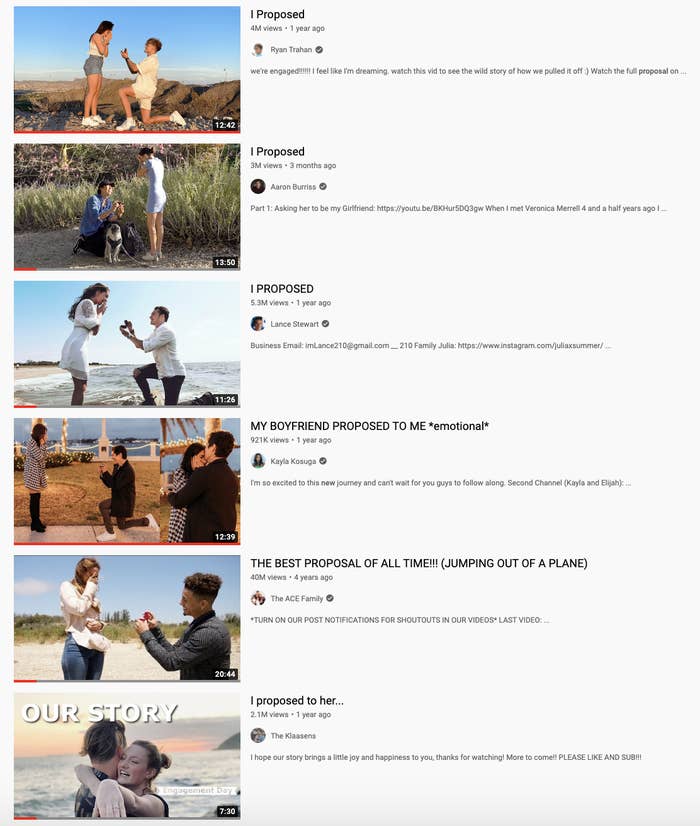 "I think people just love to see love," YouTuber Veronica Merrell, who documents her relationship with her now-husband, fellow YouTuber Aaron Burriss. Known together as RonRon, they upload laid-back vlogs, letting people see the ins and outs of their lives as newlyweds. "That married lifestyle content, it gives people hope," she said.
Burriss and Merrell met at the creator convention Playlist Live. Both had already established their followings as lifestyle vloggers, filming popular videos with their friends and family. But their journey from becoming official to getting married, a three-part video series uploaded onto Burriss's channel in December 2021, shattered their previous viral records.
RonRon's serialized story brought you along from becoming official to their wedding day, a very personal vlog that Burriss said the couple spent four months working on. Through a collection of clips, we're able to watch Burriss's growing crush on Merrell, before asking her to be his girlfriend on New Year's Day. In his proposal video, we experience the mishaps as Burriss tries to corral Merrell to his planned proposal spot. And in the wedding finale, we watch the couple kiss as rain begins to fall. The series amassed over 7 million views and peaked at No. 1 and No. 3 on the US YouTube trending page. It was also the first time they publicly acknowledged their relationship, which came as a shock to some fans — "(RonRon confirmed!)".
Viewers adored it. "i feel like i'm watching a romcom. i don't think i've ever seen two people who are so in love with each other equally. it warms my heart ," one commenter wrote on the "Asking Her to Be My Girlfriend (RonRon Confirmed!)" video. "literally this made me realize that having such a huge wedding event is so far less important that just having love and the people you hold close. the joy just radiates through and i'm so happy for you guys and one day i can hopefully marry the the man of my dreams," another person wrote on their "We Got Married" video.
While "dating vlog" was more popular in years prior to COVID, Google searches for "couple vlog" reached a new peak in May 2020, with more people searching for stories of established couples rather than casual dating journeys, perhaps looking for a love story to follow and root for in a time of isolation, especially during a time when casual hookups just weren't possible.
"This was one of the biggest things we struggled with in our relationship, knowing that content like this would do well on YouTube," Merrell said.
We're following the influencers who want you to follow them. Sign up here for weekly dispatches from our Please Like Me newsletter.
Trending Google searches around relationship content have also increasingly skewed toward creators, with searches for specific social media couples like Katie and Josh Brueckner (known together as Jatie Vlogs) and musicians Jess and Gabriel Conte, rising 200% to 300% in the past year. People are increasingly searching for a romance story they can root for and stay invested in when the couple announce their relationship, move in together, get engaged, have a baby, and even pick out their caskets.
RonRon feels the pressure to make the relationship content craved by their subscribers. "We needed to find that balance of, Are we posting something for views or because it's just fun?" Merrell said. "It can mess with you if a video does well — like now we gotta post this and this as a couple. It's one of the main reasons we didn't do this content when we first started dating. It could've messed with our relationship then."
But now they see the pay off. Burriss said he not only gained over 200,000 new subscribers after their relationship story series, it also affected the channels associated with them — Merrell and her sister, Burriss's elder brother Alex Wassabi, and Merrell's father's channels all experienced subscriber and view growth as a result of their love story.
And RonRon's viewership aged up. "It used to be on the younger end, that 13 to 18 mark, but now it's 18 to 25, 26 to 30," Merrell said.
Maddy Buxton, a trends manager at Google, said the mind-boggling numbers have been a result of changes in the creator landscape as well. "More creators are trying to produce series that let viewers feel like they're on this journey with them," Buxton told BuzzFeed News. "You'll see creators asking for advice and input, and a lot of people are contributing in the comments. It builds on this trend of 'with me' — study with me, clean with me."
Of course, relationship content has always performed well on social media. In the 2010s of YouTube, the variants of "Boyfriend Tag" dominated lifestyle content as we watched our favorite influencer couples put makeup on each other, answer our need-to-know questions, and talk about why they broke up. But now, the interactivity of watching someone's relationship blossom from the beginning is what's setting some creators apart.
Nick Bencivengo and Symonne Harrison have built their online presence together as Snick, but unlike RonRon, they've been public since day one. The first time they even met was while filming a YouTube video, and their lifestyle content features pranks and challenges, like getting fake arrested or attempting parenting for 24 hours.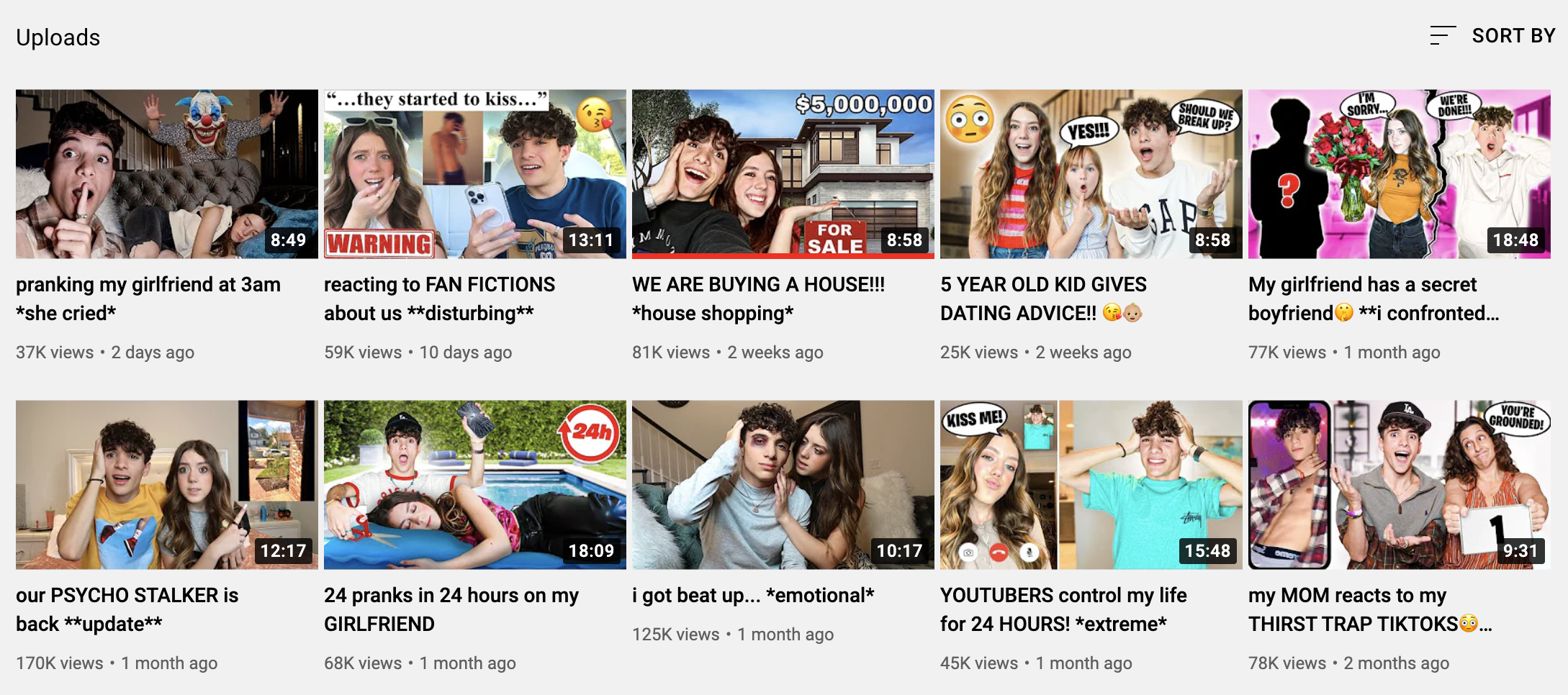 One of their most-viewed videos was a series where they pretended to get married. At 18 and 15, Harrison told BuzzFeed News they were too young to consider doing it legally, but that's what made it even more fun.
"We're always pranking each other and we wanted our viewers to be the ones getting pranked, to be included in our videos," she said. "It was so spontaneous, but we saw how much our fans were invested in this."

The posts spanned five YouTube videos and a whole host of TikToks, split between their individual channels. "All five of our videos were on YouTube's trending page in the top 10 to 20," Bencivengo said.
From the popularity of shows like Say Yes to the Dress to the buzz around celebrity engagements, romantic events have always been hugely successful on traditional media, so it makes sense that YouTube viewers also are invested in big life moments of the creators they follow.
"These videos are major milestones for creators, and because the audience has been brought along step-by-step, these videos do tend to perform really well," Google's Buxton said.
The couple had an inkling that the series could go viral with the marriage and engagement aspects, they said, because they knew how well relationship content performs on YouTube, but they were still shocked by the response. "We definitely didn't expect news outlets picking it up," Harrison said. "But we had a feeling that this video would perform better than our other videos because it's something so out there. I never thought we'd be on the trending page or getting coverage about our prank."
But they are also cautious about milking their relationship for content. "We like to say before we upload that whether this video gets 1 view or 1 million views, we had fun filming it," Bencivengo said.
Livestreamed weddings became a global phenomenon during the pandemic, as public health guidelines forced private, intimate moments to move online. People began searching for those uplifting, romantic moments to feel included in the journey during a time of persistent grief.
"It's all about turning things into a communal experience to bridge the gap between creator and their audience," Buxton said. "And COVID definitely accelerated this trend."
For Merrell and Burriss, the success of their relationship content also hugely shifted how they view themselves as influencers — not as mere entertainment, but as role models for their fans.
"A lot of people are like, 'I can't wait for five years from now to say I was watching you when you were in the crappy apartment with the termites, and now you have a family,'" Burriss said.
In part, Burriss said, people are looking for guidance. "Before, people would just comment things like 'this is so funny' or 'this is so cute,' but now when we post a video people are leaving long comments, saying, 'I wish I could find someone like this' or 'this gives me hope,'" he said. "There's more feeling behind the comments."
While true love has always been something to root for, there's nothing like a historic health crisis that makes you really want to search for it, in sickness and in health.