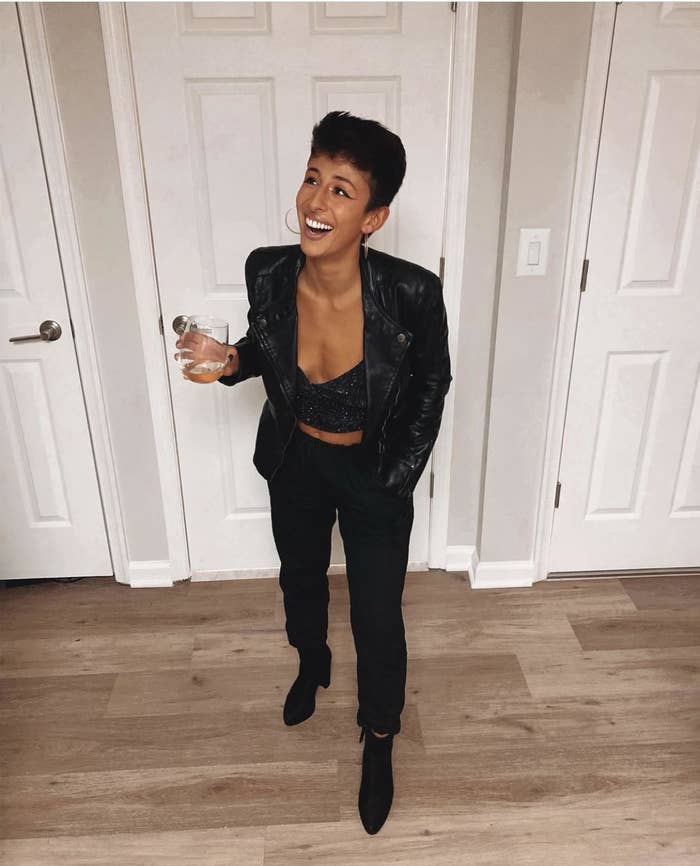 Creator Gabby Eniclerico has not bought Trader Joe's cacio e pepe sauce since she got famous for how she pronounced it on TikTok.
"Cacio e pepe was always the menu item no one wanted to say aloud, so I just wanted to own how exaggerated it sounds," she told BuzzFeed News. "There's always going to be someone who will find something wrong with what you're doing."
Primarily known for making short-form mukbangs (videos where people eat and chat to their audience), Eniclerico's rise to social media fame has been in response to getting memed online. She first landed on our "For You" pages earlier this year when she recommended we all try the Trader Joe's sauce, pronouncing it like a character in The Sopranos might.
"Everyone must try this cacio e pepe pasta sauce," Eniclerico said in the video that has now been viewed over 44 million times.
It quickly spread all over TikTok, even being joked about by the likes of Doja Cat and Quen Blackwell. "You know what's even better? My bipolar medicine," one user responded, using the same theatrical Italian pronunciation as Eniclerico's.
Since going viral Eniclerico has been called ugly, pretty, a young boy, an old man, the human form of BuzzFeed (we know it's derogatory, relax), and has been sent death threats, fan mail, and recognized in public, where she said she is more than happy to yell "cacio e pepe" for any passersby who request it. But being catapulted to internet fame for being mocked isn't easy. "I think this social media presence has made me honestly not like the internet," she said.
Raised in New Jersey, Eniclerico said her exaggerated accent was just a part of her Italian American background, but didn't mind the teasing, especially from "actual" Italians who told her that she's saying it incorrectly. "If you take it too seriously, you'll never be able to make any more videos," Eniclerico said.
After going viral for her pronunciation, she's regularly become the subject of many jokes, including enraging Canadian viewers for eating nonauthentic poutine, as well as revealing her age (26 years old) to many commenters' surprise. "Oh my god, you guys totally thought I was 17, didn't you?" she said in a now-viral video.
The comments were quick to humble her guesses. "so we were all thinking 35 huh," one person said. "No one thought you were 17," another wrote.
The assumptions around Eniclerico's age also sparked a new wave of jokes calling her middle-aged. "To be fair, I went to a bar yesterday and the bouncer looked at my ID for like, five minutes," she said. "He thought I was young. This stuff happens. People will say, 'You look like such a grandma, you look 35,' but babe, 35 is young. I have friends in their 30s. Even people that call me 67, that's so mean to 67-year-olds. I'd be happy to be 67."
Despite her overwhelmingly positive outlook on her meme fame, Eniclerico acknowledged that her perception of the internet has changed drastically since becoming a meme. "I like it for the people that support me, but it's desensitized me to all the bullying, " she said.
"This one person was like, 'I'd like to strangle you until you can't talk or scream anymore,'" she said. "But it's honestly fine. You click on their profile, and they're probably 3 years old."
In part, Eniclerico believes that part of the jokes are rooted in the fact that her appearance is not stereotypically feminine. "I honestly think people are very perturbed by short-haired girls," she said, though also adding that she doesn't mind the comments that call her a little boy, finding them funny.
With over 100 million likes on TikTok, Eniclerico is not planning on stopping her mukbang videos anytime soon. While she works during the day as a legal assistant, she told BuzzFeed News that she normally receives about $2,000 per month from the TikTok Creator Fund.
The viral success of her cacio e pepe video has boosted her earnings to around $5,500, and she estimates that her viral age debacle will also bring in more revenue soon.
She tried making cacio e pepe from scratch but found it too dry. Despite the fact that most of the money is coming from jokes about her, she said she still loves filming food content. "Watching someone eat on camera — this is going to sound sad — but it's like you're not eating alone," she said.