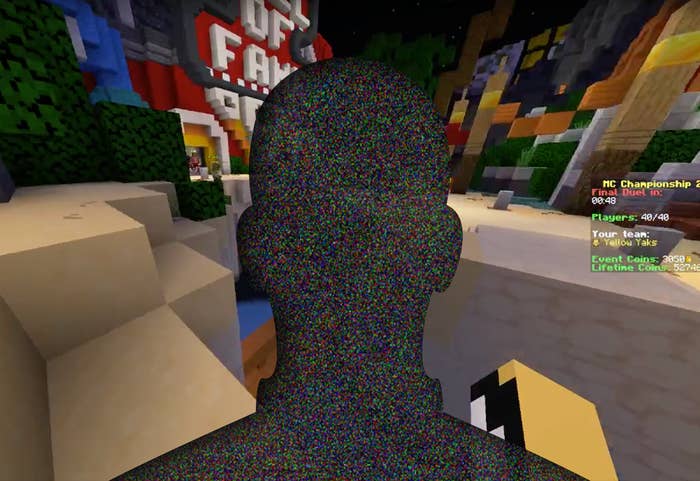 Popular Minecraft gamer Dream announced he would finally, after three years of anonymously streaming content to his 30 million subscribers on YouTube, reveal his face.
On Monday, Dream posted to his YouTube community tab, the section where creators can leave updates. "My next upload will be me face revealing," he wrote. "Super nervous but also incredibly excited for the future! I can't wait to start meeting you guys in person." The content creator did not announce a specific date for the reveal.
His fans, who had been awaiting this news for months, were thrilled.
"[I'm] so so excited!" Hayleigh Carter, 18, said in a text to BuzzFeed News. "especially as its any day now im too afraid to sleep!"

For the entirety of his career, Dream has been completely anonymous — part of the faceless gaming phenomenon in the creator economy. His real name is unknown, and he usually streams solely with voiceover, otherwise appearing in photos with only fragments of his body (like a leg or the top of his hair) or a mask with his smiling avatar.
But the creator's interconnected Minecraft universe, skilled gaming techniques, and expansive lore have developed one of the most devoted fandoms on the platform, often trending at No. 1 upon release. His multiserver platform, where he plays with other gamers to create digital communities, fight wars, and compete in challenges, was the No. 1 topic on Tumblr in 2021.
Faceless content creators provide a different comfort than the typical influencer — instead of a persona to visually emulate, it's an intimate audio-only relationship.
Rory, 18, known online as @twdreamie, told BuzzFeed News that she joined the Dream fandom for that very reason in 2020, as she was feeling lonely during the pandemic. "The more I watched him, the more I got attached to him as a person, I guess," she said. "The parasocial relationship worked well with being away from school because it was like I was talking to someone without literally talking to someone."
And now she finally gets to see him. "In some ways I'm indifferent to it. I don't think it'll change how I see him, but I'm still curious to know what he looks like," Rory said.
The anonymity of Dream has long been a core pillar of the fandom, the inspiration for group chats, fan art, stories, speculation — and a lot of thirst.
"The aspect of him being faceless makes the fandom have something to share excitement over," Carter said in an interview with BuzzFeed News earlier this year. "We all talk about what Dream could look like when he finally face reveals."
Sunniva, 17, runs a fan account for Dream @kiss4dnf on Twitter and has been awaiting this news for a long time. "I can't believe its finally happening:)" she told BuzzFeed News in a text on Wednesday.
"I'm very excited for the face reveal, but also pretty nervous," she said in an earlier interview. "It would be pretty nice to finally put a face on his voice."
The reveal has been teased for months; the creator has used a reveal as a means to troll his fans in the past. In late 2021, Dream promised an actual reveal when UK-based YouTuber GeorgeNotFound moves to Orlando. GeorgeNotFound is part of Dream SMP, a collective of mainly Florida-based creators that Dream regularly streams with. After many months of waiting, on Sunday, GeorgeNotFound posted on Twitter, "I GOT MY VISA."

Dream then tweeted about potentially going to TwitchCon in October, and he also published a photo of his eye on Snapchat — a glimpse that sent the fandom into a frenzy.

Sunniva said she's a little worried about the fans' reactions when Dream shows his face. "I'm just nervous he's gonna get awful messages if he doesn't look like they expect him to look," she said.
In June 2021, a picture of a man was posted on Twitter; rumors circulated that this was Dream, and #Dream_Out trended. "People said very mean stuff about his appearance, only because they hate Dream," Sunniva said.
A face reveal on a faceless gamer's channel ultimately doesn't alter their fandom, said Carter, which for her is that it's a two-way relationship. Dream also runs a "private" Twitter account for fans (it has over 250,000 followers), and during streams he speaks positively to fans who share their mental health issues or daily problems in the chat.
"He still manages to express how much he cares about all of us, which shows that it doesn't matter if you're a faceless creator or not," she said.