Americans Trapped In Yemen Have No Idea How To Escape
More than 400 U.S. citizens are believed to be trapped in Yemen in the absence of a U.S.-coordinated evacuation plan.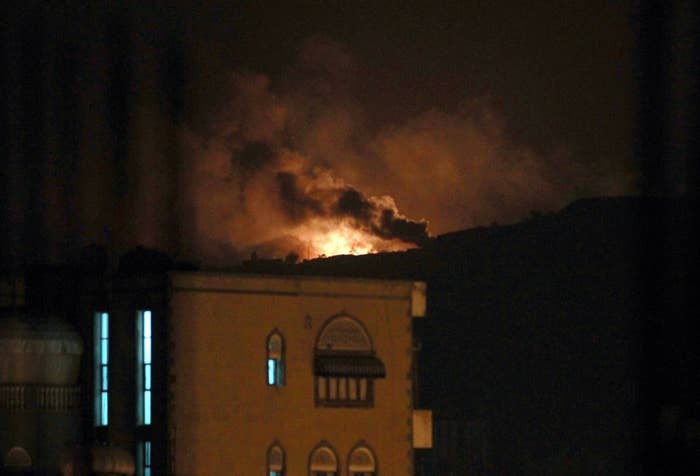 NEW YORK — In the days after Saudi Arabia launched airstrikes on Yemen two weeks ago, U.S. citizens watched as diplomats, aid workers and foreign nationals from other countries were evacuated by air and sea. They felt abandoned.
Many spent days calling consulates and the State Department but what they repeatedly heard was this: "There are no plans for a U.S. government-coordinated evacuation of U.S. citizens at this time." Activists and lawyers in California even created a website, stuckinyemen.com to help those left behind. They say more than 400 Americans have said they are stuck in Yemen and can't find a way out.
Now, two groups that advocate for the civil rights of Arab Americans and American Muslims — the American-Arab Anti-Discrimination Committee (ADC) and the Council on American-Islamic Relations (CAIR) — say they are filing a lawsuit on behalf of 41 U.S. citizens or permanent residents against Secretary of State John Kerry and Secretary of Defense Ashton Carter, questioning the government's failure to evacuate U.S. citizens trapped in Yemen.
It is unclear if the lawsuit has a chance of succeeding, but the groups say they are challenging "the constitutionality of the United States government's action and/or failure to act to protect United States citizens in Yemen, whose lives are in danger from ongoing military action and violent attacks."
The State Department has issued travel warnings against citizens visiting Yemen for years now. In February, it closed the embassy in Sana'a, citing "terrorist activities and civil unrest." Yemen has long seen violence, partly the result of a powerful al-Qaeda branch, al-Qaeda in the Arabian Peninsula (AQAP). Now in the midst of a Saudi-led campaign to dislodge Huthi rebels, they have captured strategic parts of the country.
But some U.S. citizens chose to travel there, often for family reasons.

U.S. citizens say the State Department gave them almost no practical advice on how to leave, though they were told they could send messages to their loved ones through the State Department's website.
More shocking, some say, is the email they received last Sunday from the State Department advising Americans stuck in Yemen that they could find their own way out of the country — by taking boats to Djibouti. The subject header of the e-mail was: Djibouti Travel Message.
The U.S. government has been advised that U.S. citizens may be able to leave Yemen from either Aden or Mokha and cross into Djibouti by boat. The Djibouti Foreign Minister confirms that Djibouti stands ready to receive any nationality and all evacuees from Yemen into Djibouti. Anyone who wishes to leave should possess either a U.S. or Yemeni passport.

Currently, there is a French frigate just off the coast of Aden called the Acronit. It's a smaller boat that can accommodate a few hundred people and its mission is to transport all people who have a passport and can get to the boat. The boat is not in the port, therefore people will have to find their own way to get out to it. The window of time for when the boat may leave is uncertain.

Additionally, busses are periodically leaving from Sanaa en route to Mokha from the Djiboutian Embassy, and are willing to transport U.S. citizens. The Embassy of Djibouti is located in the Diplomatic Area on Amman Street.

Any U.S. citizens who wish to evacuate to Djibouti should attempt to get a Djiboutian visa first. The best way to do so is as follows:

Those who are in Sana'a should go to the Djiboutian Embassy

Those who are outside Sana'a should contact Djiboutian Official Daoud Ali via email, and send him a list of the people who want to get visas. Mr. Ali may be reached at 967 735077 585; email: daoudali67@hotmail.com

It is advisable for any U.S. citizen who wishes to evacuate to Djibouti by boat from Mokha to try to get a visa first. It is possible that authorities in Mokha may not allow people into the city for boarding the boats if they do not have Djibouti visas.

As always, U.S. citizens should make their own determination as to whether conditions are safe enough for them to travel to either Sanaa, Mokha, or Aden. In many cases, it may be better to shelter in place.
Later that day, for unexplained reasons, the State Department recalled the message. The State Department says this was because of an administrative error, but activists say the move may have put Americans in danger by advertising specific travel routes.
At the State Department press briefing on Monday, one journalist asked Marie Harf if Americans should swim out of the country.
Saleh Abdullah's elderly parents are among those U.S. citizens currently trapped in the Yemeni port city of Aden.
"They can't handle winter in New York," Abdullah said. They have lived in the U.S. since 1976, and live in Buffalo, New York, now aged 74. Abdullah, 43, lives in Dallas where he works as a registered nurse.
Abdullah said the first floor of the building where they own an apartment in a residential neighborhood of old British style flats was hit by a small missile and engulfed in flames for hours. He has Skyped with his parents, who told him there were snipers in the streets and no water for three days and barely any electricity.
He said he had called the State Department repeatedly, and has been told that nothing can be done for US citizens.
"All we know is the U.S. It's really a shame. I was really shocked," he said.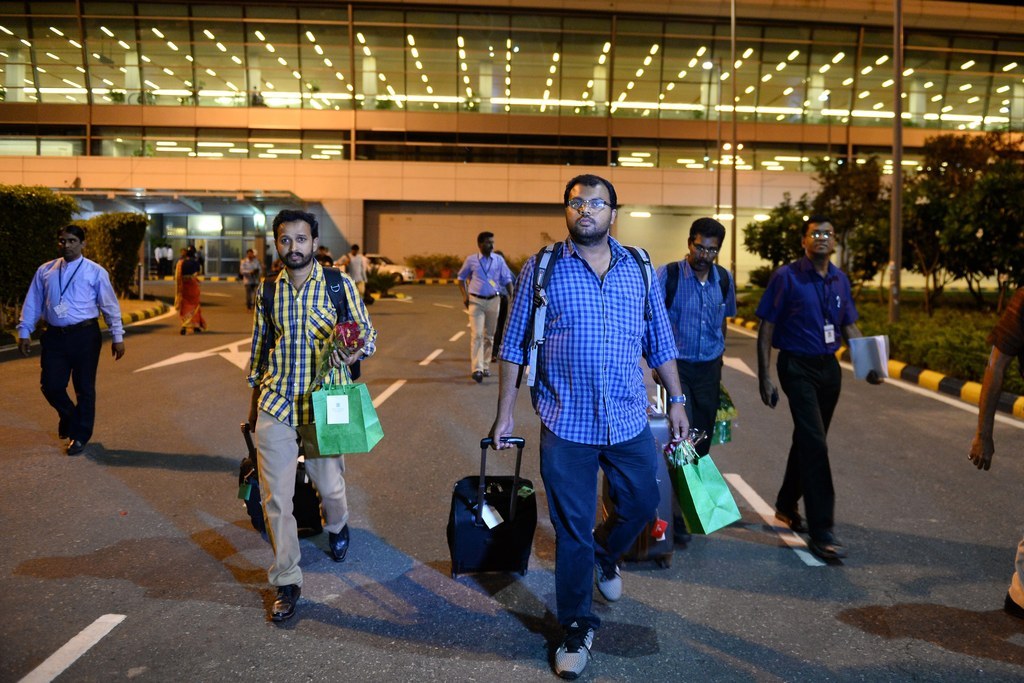 Since Saudi Arabian airstrikes began in Yemen on March 26th, many countries, including China, India, Pakistan, Somalia, and Russia have evacuated their citizens on ships and planes. Over the past five days, the Indian government has evacuated more than 3,000 citizens in a mass effort that has involved Indian warships and Air India airplanes. They also evacuated 225 foreign nationals from 24 countries, including some US citizens.
"It's a difficult situation, our resources are limited, but if you have the will, we've demonstrated it's possible to do something," said Syed Akbaruddin of the Ministry of External Affairs of India over the phone.
Mokhtar Alkanshali, a 26-year-old San Francisco resident, finally made it out of Yemen on Saturday. He had been in the country to work on a project with coffee farmers and became stuck once the bombing began. He tried various routes — via a ship in Aden, an Air India plane in Sanaa — but nothing worked.
Eventually, Alkhanshali took a seven hour car ride through Yemen's mountains, past Huthi checkpoints, arriving in Mokha, Yemen's oldest port. He hid his American passport out of fear and made it onto a fiberglass fishing boat that would take him across the Red Sea to Djibouti. He said there was another American with him.
"The first picture is us in front of the boat. It looks like a vacation postcard. Sandy beach. Turquoise water. I was very happy because this crazy idea that I had actually came to life. I'm on this boat, and I'm going to leave Yemen. About half an hour into the boat ride it slowly started sinking in that I'm in the middle of the Red Sea in a small boat---what the hell am I doing? Am I going to make it? It's very scary, the waves are very crash-y, you're in a small boat in a vast ocean. There's no navigation equipment to guide us through."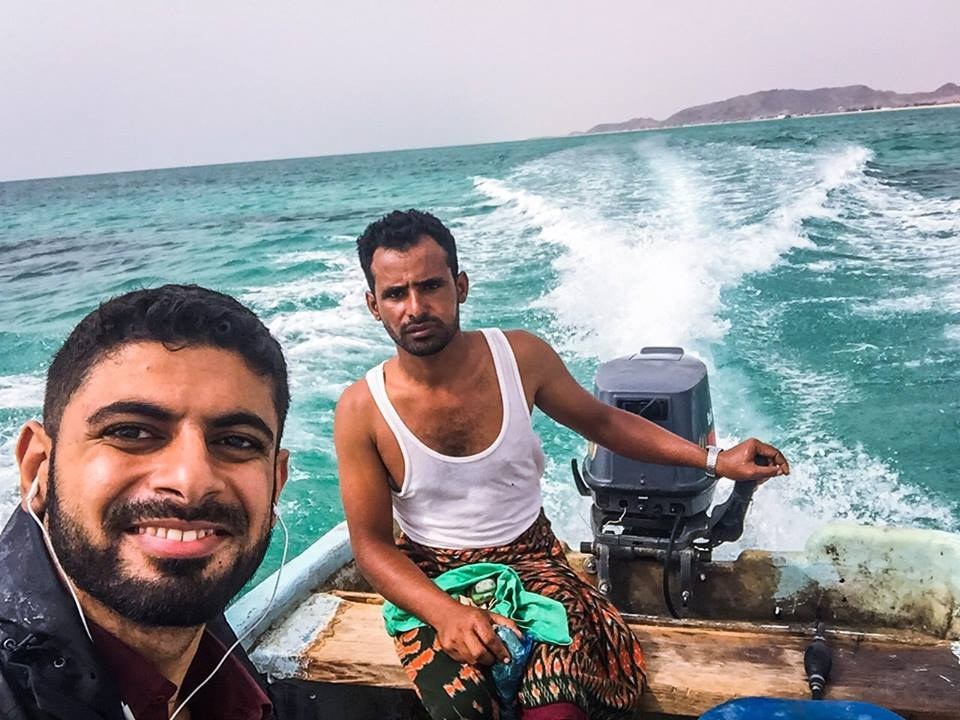 It was a five hour drive to the capital and there he met a Djiboutian national who worked at the U.S. Embassy. He finally flew home, via Nairobi and Amsterdam.
"I wouldn't recommend it," Alkanshali said of his journey. "It's dangerous." He cited fear of Somali pirates, among others.
The next day, the State Department sent out the email, recommending U.S citizens take boats out of the country.
"People are saying the messages they've received are confusing or contradictory, and they're not sure what they're supposed to do," said Yaman Salahi, a lawyer at the Asian Law Caucus.