Greece's Economy Is Screwed And Nobody Can Agree On How To Save It
Greece is in a showdown with European leaders over the terms of its huge bailout, which expires on June 30 after already being extended once this year. The country could be forced to leave the euro if no deal is reached.
Greece has been in and out of talks all year with eurozone leaders over the terms of the bailout that keeps its economy afloat. After a series of last-minute scrambles, Athens managed to get its bailout extended from late February, when it was set to expire, until June 30 — but now that deadline and others are looming.
Greek banks will be closed for the week starting June 29 to stop people emptying their accounts in a panic, and the country will hold a referendum on the bailout on July 5. A report in The Telegraph last week said senior British officials believe it is inevitable now that Greece will leave eurozone.
We take a look below at why Greece's economy is such a mess and what both sides in the talks are demanding. This story was originally written in February, before the bailout's original deadline, so it has been updated throughout.
Greece's prime minister, Alexis Tsipras, and his left-wing Syriza party swept to power in January with a dramatic vow to end spending cuts tied to the country's recent bailouts. They've since been in a standoff with European leaders about what comes next.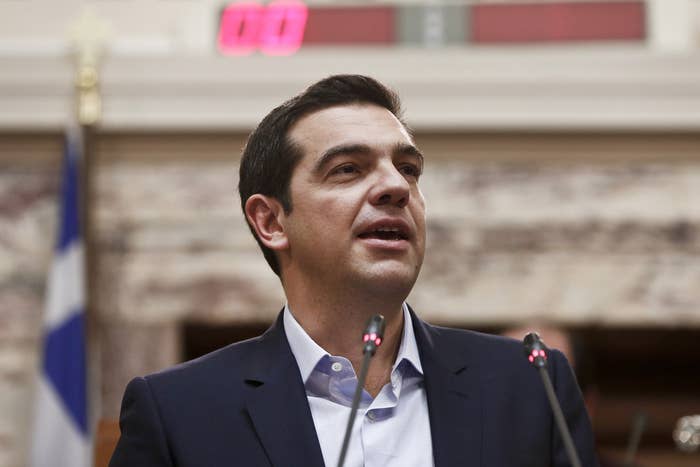 Greece has required Europe-led bailouts worth 240 billion euros (or $272 billion) over the last five years to avoid bankruptcy, receiving the cash in return for slashing public spending.
The last bailout involved the European Commission, the European Central Bank, and the International Monetary Fund (IMF) lending Greece those emergency funds. However, since Tsipras took office, Greece has been locked in talks with the eurozone — the 19-country group of those European countries that use the euro — to get a new deal with its lenders that involves fewer spending cuts.
In February, the two sides hit a stalemate, with the eurozone only allowing an extension of the current deal and its cuts. The bailout was due to expire at the end of February, and the two sides scrambled to agree on an extension until the end of June – but now that deadline is looming. Greece also has to repay a 1.5-billion-euro loan to the IMF on June 30, which it says it can't do without more bailout money, The Economist reported.
Greece says the cuts have in no way stopped its economic tailspin. Just how bad is Greece's current situation? Bad. Like, really, really bad.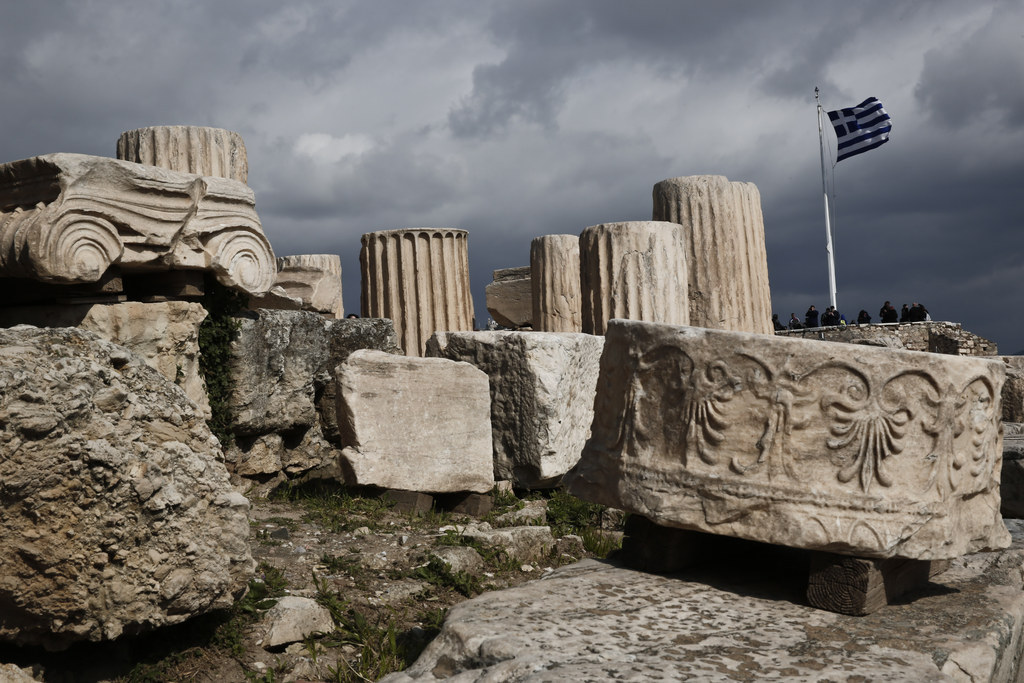 For starters, its economy shrunk by almost a third in 2008–2013, far more than other weak eurozone countries. Its recession has been nearly as bad as the Great Depression, The Economist says.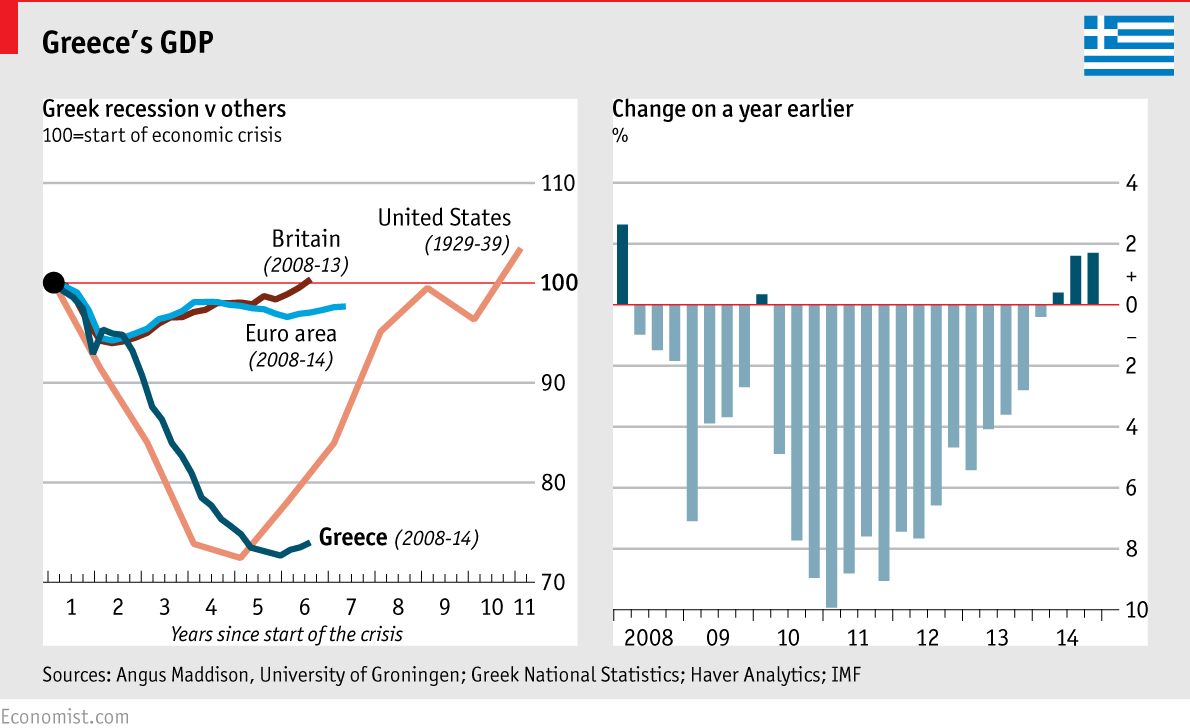 Also, around a quarter of Greeks are unemployed, the highest level in the eurozone. Among those aged 15–24, over half are jobless.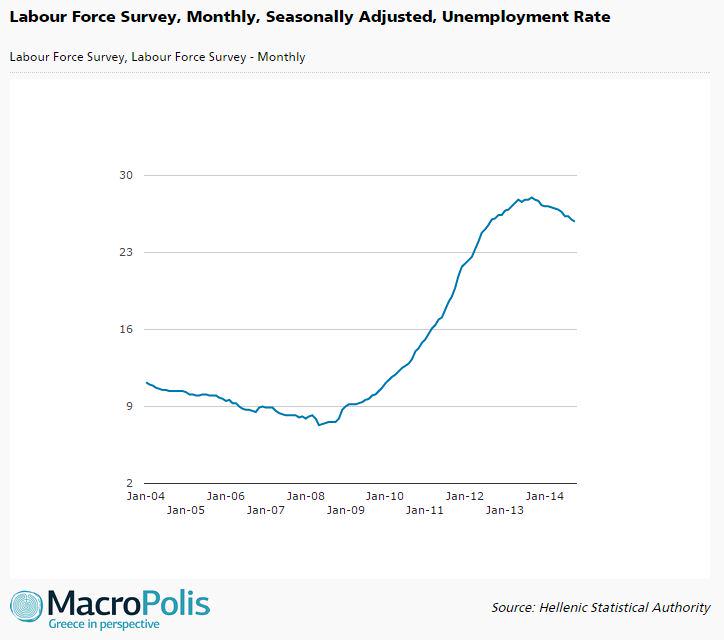 Greece's government debt has ballooned to around 175% of the size of its economy, making it the third most indebted country in the world, according to 2013 data.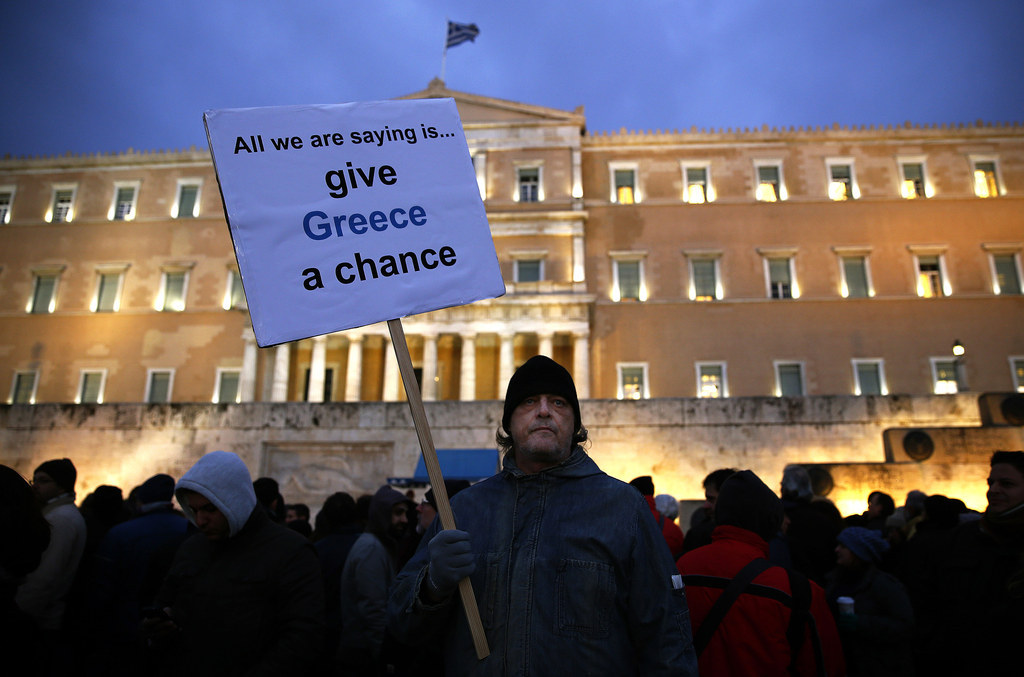 To make it even worse, Greece has bailout bills to pay and they'll be due soon. Here is a useful breakdown of just what it owes and when over the next year, from the Brussels-based economic think tank Bruegel.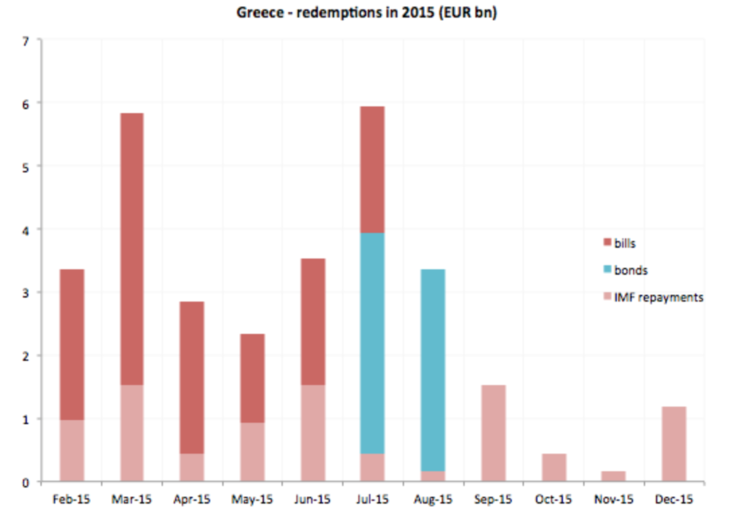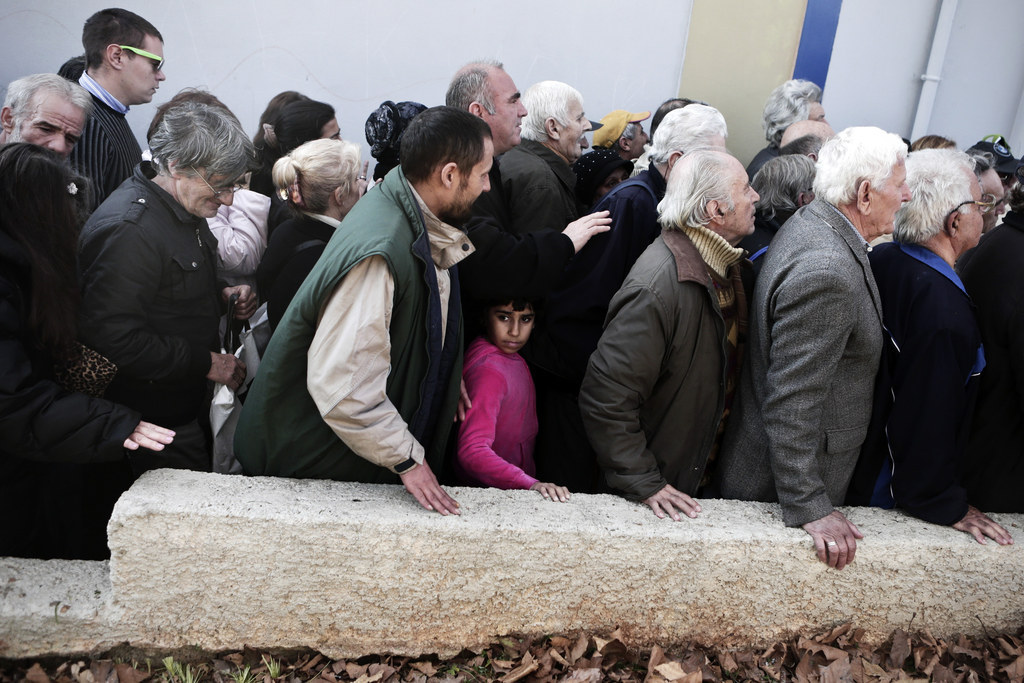 Here's the huge problem for Europe — if Greece doesn't pay the IMF at the end of the month, that will set off a chain of events that could culminate in the country leaving the euro.
If Greece doesn't receive a fresh cash injection it could run out of euros, meaning that it would in effect be forced to exit the relatively young eurozone and revert to the drachma, its old currency, even though neither side wants this to happen.
A "Grexit" would cause at least short-term turmoil in Greece, and could cause shares to fall across the eurozone, Reuters has reported. Other reports say the bloc has built up contingency funds in recent years that would protect it from much of the damage. No country has left the eurozone before, so it would be uncharted territory — hence all the different predictions about what the fallout would look like.
But Germany, the euro bloc's biggest economy, is dead set against carving out a new Greek bailout with far fewer or no cuts involved. It is big on austerity and dislikes having to rescue countries that it thinks spend too wildly. In a sign of souring relations, a Greek left-wing newspaper earlier this year published a cartoon depicting Germany's finance minister in a Nazi uniform.