Cuba Releases New Photos Of Fidel Castro After Rumors He'd Died
The 88-year-old former Cuban leader has not appeared in public for more than a year and these are the first photographs of him to be released since August.
Cuban state media on Monday released new photographs of the country's former President Fidel Castro, following fresh rumors last month that the 88-year-old had died.
It all began with a 50-minute phone call at 9:20 p.m., wrote Randy Perdomo Garcia, student leader at the University of Havana.
"Ramon, how are you?" asked Fidel Castro. Perdomo and his classmates had been planning a celebration to commemorate the 70th anniversary of Castro's admission into the university when Castro called to thank him.
"We chatted happily, like two classmates," wrote Perdomo in an essay accompanying a set of 21 photographs of the Cuban leader. During the call, Castro asked about the university and about Perdomo's experience studying philosophy. When Perdomo told him that students from China, the United States and Vietnam were taking Spanish classes on campus, Castro appeared surprised. "Don't tell me! Chinese, too?" he asked.
Castro invited Perdomo to his home the following day.
The full slideshow of Castro meeting Perdomo was posted online by the Communist Party newspaper Granma on Monday night, along with the student's essay, which that said the meeting took place on Jan. 23.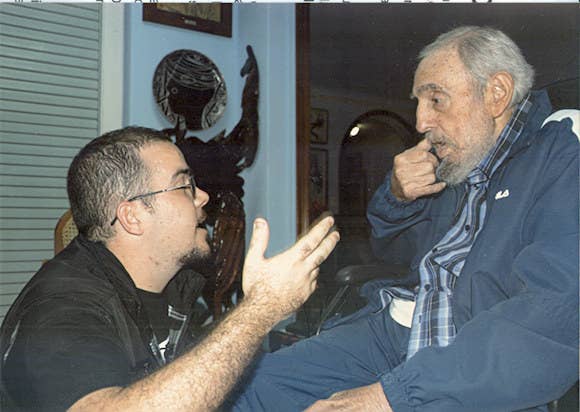 The drivers who picked Perdomo up were punctual and tried to calm his nerves en route to Castro's house. Castro's wife, Dalia, greeted the young student at the entrance and walked him to a set of glass doors, where the Cuban leader was waiting.
During the next three hours, Castro talked about astronomy and the importance of science, of the recent donations to the National Cuban Zoo and of oil. He spoke about his daily physical activity, the Cuban doctors' fight against Ebola and baseball.
Castro also delved into politics, speaking "excitedly" about former Venezuelan President Hugo Chavez and praising Daniel Ortega, president of Nicaragua, where a controversial canal is being built by a Chinese businessman, for "the development of that small nation." He talked about the cost of food, sugar and precious metals.
In the photographs, Castro appears engaged, holding several objects provided by Perdomo up. He is wearing blue sweatpants and a plaid shirt and a close-up of his hands show his manicured fingernails. His house appears elegantly decorated, a chandelier hanging in an adjacent room.
Before leaving, Perdomo showed Castro a video of the Semester at Sea students who visited Cuba in December. Castro, curious about how things went with the American students, looked "different, much closer than I imagined," wrote Perdomo.
At first, Castro and Perdomo engaged in a traditional farewell but then Castro wanted to say goodbye in a more modern manner. They practiced the newer farewell a few times and then part ways.
Rumors of Castro's death have cropped up periodically in recent years. He handed power to his brother Raul Castro in 2006 due to poor health and then formally resigned in 2008.