Nigeria's Conflict With Boko Haram Has Forced About 800,000 Children To Flee Their Homes
The number of children forced from their homes has more than doubled in the past year, according to a United Nations report. Tuesday marks the one-year anniversary of the abduction of over 270 girls from a single school.
Boko Haram started carrying out attacks in northern Nigeria in 2009. Nigeria's army and informal vigilante groups have since been drawn into a battle to halt the Islamist group as it carries out increasingly violent assaults on Africa's most populous country.
Around 15,000 people have died so far — and about half of those deaths happened in 2014, according to the report, released Monday. The conflict has led around 1.5 million people to flee their homes, with the vast bulk remaining displaced within Nigeria, according to separate U.N. data.
Boko Haram has been deliberately attacking schools and abducting children, and over 300 schools have been damaged or destroyed, the report says.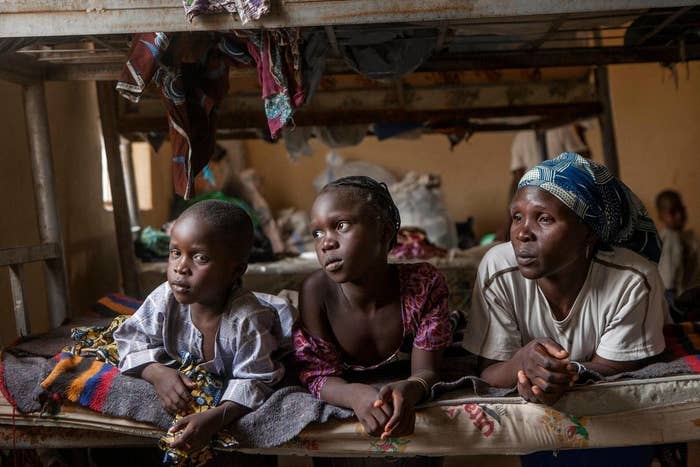 "What we have seen is that the tactics used by Boko Haram have evolved over time," Laurent Duvillier, one of the authors of the report, told BuzzFeed News. The group initially struck schools at night when they were empty, and then progressed to attacking them when pupils and teachers were there to get more attention, he said. Over the last six months, there has been a rise in abducting children to swell the group's ranks.
Boko Haram is using those children as fighters, cooks, and lookouts, the report says. Young women and girls have been subjected to rape, forced marriage, and forced religious conversion. The vigilante groups fighting against Boko Haram are also thought to be recruiting children, according to the report.
Tuesday will be the one-year anniversary of Boko Haram's most infamous school attack, when 276 girls were abducted, sparking the global #BringBackOurGirls campaign. More than 200 are still missing.
The #BringBackOurGirls campaign is asking people around the world to hold marches in their neighborhoods on Tuesday to call for the release of the girls, who were taken from a government high school in the town of Chibok. Unicef has launched a campaign to help it raise funds for its work with children affected by Boko Haram.
Nigeria's president-elect, Muhammadu Buhari, who won last month's election and will take office later this month, made a promise to quash the insurgency one of the central vows of his campaign.