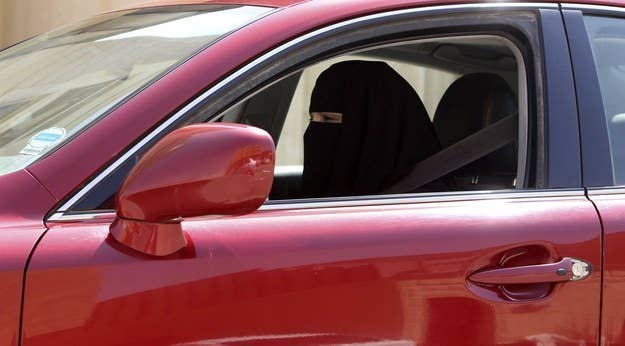 Two Saudi Arabian women will be tried in a court established to try terrorists for protesting the kingdom's ban on female drivers and for the online advocacy in support of female drivers.
Using driver's licenses from the United Arab Emirates, Loujain al-Hathloul, 25, and Maysa al-Alamoudi, 33, were arrested crossing into Saudi Arabia. Al-Hathloul was stopped at the border when she attempted to enter Saudi Arabia on November 30, while Al-Amoudi, a UAE-based Saudi journalist, was stopped when she went to deliver food and blankets to al-Hathloul. The two women were trying to raise awareness on Saudi Arabia's ongoing ban on female drivers.
Al-Hathloul filmed this video of herself as she drove towards the Saudi border. In it, she explains that she is trying to keep up pressure on Saudi authorities to allow women to drive.
Saudi activists who spoke to BuzzFeed News by phone said it was the women's social media activity that led to their arrest.
"The officials were waiting for them, to arrest them. They had their activity on Twitter all logged, they said the women had been agitating against the [Saudi] kingdom," said one activist, who asked not to be named due to her own involvement in protests against the ban on female drivers.
She, like many Saudi women, have continued to break the ban on female drivers by taking their cars out on the road. Since October 26, 2013, when dozens of women uploaded videos of themselves driving in Saudi Arabia in a mass, organized protests, support has been growing for the presence of female drivers in the street.
However, a story published by the Associated Press last month claiming that the advisory council to Saudi Arabia's king had recommended easing the ban was blasted as "fabrication" by the kingdom's official State media.
"It does not seem like they are ready for a change yet," said the activist. "And in the meantime they are watching us closer than ever before."
Human Rights Watch has called on Saudi authorities to release the women. In a separate report recently published by the international human rights group, they wrote that, "Saudi authorities are ramping up their crackdown on people who peacefully criticize the government on the Internet."
"Saudi authorities are intimidating, imprisoning, and silencing activists as part of their all-out assault on peaceful criticism, but they are seriously mistaken if they think they can indefinitely block Saudi citizens from using social and other media to push for positive reforms," said Sarah Leah Whitson, the Middle East and North Africa director of Human Rights Watch.
The Twitter account launched to promote the October 26 driving campaign has started a petition calling on Saudi authorities to release the two women. Many have also tweeted their support.