Video Of Israeli Police Shooting A Palestinian Protester In The Back Sparks New Protests
Palestinian leaders say "we cannot contain this" after video spurs violent protests across northern Israel. BuzzFeed News could not independently verify the authenticity of the video.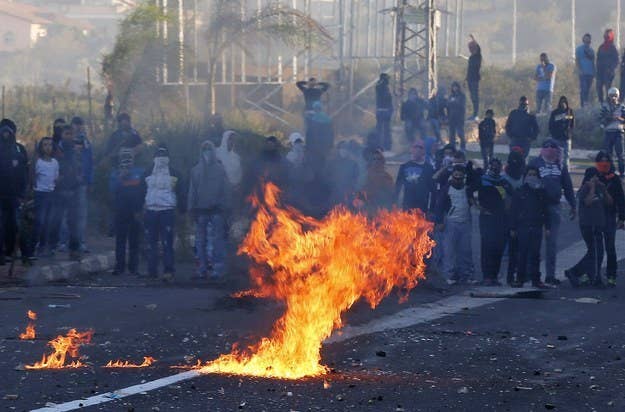 Riots spread across northern Israel Saturday, as fury grew over a video alleging to show the fatal shooting of a 22-year-old Palestinian man who had his back turned to Israeli police when he was shot dead.
Firebombs were hurled at police cars, and burning tires blocked roads across Arab villages in the north of Israel. Calls for an intifada could be heard among the protesters, who said the latest incident has only inflamed the violence and protest that have been raging for weeks in Jerusalem.
Palestinian community leaders called for a general strike across all sectors Sunday, and for ongoing protests throughout the week. In Ramallah, a spokesman for the Palestinian Authority told BuzzFeed News that meetings were being held throughout the weekend to discuss the "quickly escalating violence."
"We cannot contain this," said the spokesman, who asked to be quoted anonymously as the meetings between the Palestinian Authority and Israeli counterparts are ongoing. "The people are angry and are acting from a place of deep frustration."
This grainy, black-and-white footage is spurring much of that anger. It shows an early morning incident in the northern Palestinian village of Kfar Kana.
Israeli police released a statement Saturday morning explaining that officers opened fire against a knife-wielding man attempting to stab the policemen. But the footage, which appeared several hours after the statement, shows the man, identified as 22-year-old Kheir a-Din Hamdan, repeatedly banging on the windows of a police vehicle. When an officer emerges from the van, Hamdan turns his back to walk away and is then shot. Several police then emerge and drag him into the van. A police statement said he was driven to a hospital where he later died. BuzzFeed News could not independently verify the authenticity of the video.
Police spokeswoman Luba Samri said the police were investigating the incident to determine whether proper protocol was followed. She said the man was holding a stabbing tool in his hand that threatened police.
Israeli Member of Parliament, Ahmed Tibi, told Israel's Army Radio that the police had clearly shot Hamdan in the back, calling it a "mafia-style killing."
"Would they have done this if he was not Arab? I do not think so," said Tibi.
Israeli Prime Minister Benjamin Netanyahu released a statement Saturday that voiced his support of the police, adding that he was issuing new instructions to Israel's Interior Ministry to revoke the citizenship of any person who called for the destruction of the state of Israel.
Roughly 20 percent of Israel's population of eight million are Palestinian, or, as they are sometimes called, Israeli Arabs. They hold full citizenship rights and Israeli passports.