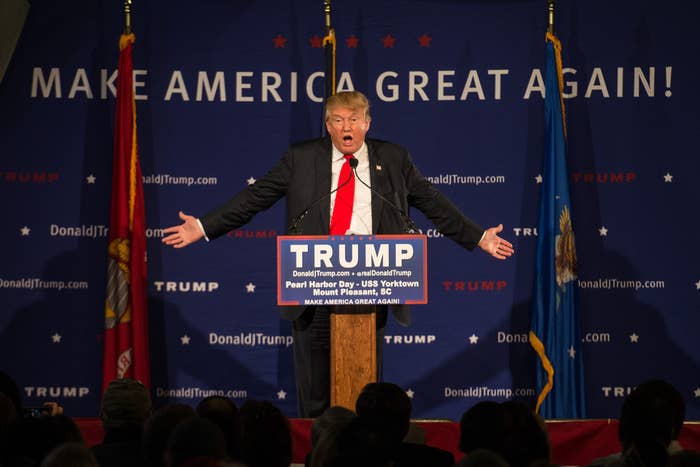 UPDATE
On Thursday morning, Donald Trump tweeted that he is postponing the trip.
SAN FRANCISCO — Republican front-runner Donald Trump announced Tuesday he would be visiting Israel by the end of the month, despite controversy surrounding his meeting with Israel's prime minister.
BuzzFeed News spoke to several officials at the U.S. Embassy in Tel Aviv who confirmed that Trump had reached out regarding an official visit to Israel, but said that no dates had been confirmed.

"He has no political officials on his agenda at this moment," said one diplomat in the U.S. Embassy in Tel Aviv, who asked to remain anonymous as he was not authorized to speak with the press.

On Wednesday, however, a source in Israeli Prime Minister Benjamin Netanyahu's office told Israel's Channel Two News that a meeting was scheduled with Trump for December 28. The meeting will go ahead despite a letter that had been signed by 37 out of Israel's 120 lawmakers opposing it. Israeli MP Issawj Frej, from the leftwing Meretz Party has also asked the Interior Ministry to block Trump's visit.
"As an Israeli citizen, I ask that the state treat the racism against me in the same way it would relate to racism against Jews. Just as it is obvious that Israel wouldn't allow an antisemite to use it to advance its political goals, so too, should be the case of Trump," Frej said in a statement.
On Wednesday, Netanyahu's official Twitter account tweeted that the prime minister "rejects" Trump's controversial proposal to temporarily ban Muslims from entering the United States. Netanyahu's office also tweeted that there is a "uniform policy" of agreeing to meet with any U.S. presidential candidate who requests a meeting, and that "This policy does not represent an endorsement of any candidate or his or her views."

Omer Bar-Lev, from the Zionist Union Party, tweeted that Israel should not allow Trump to visit the Knesset, or Israeli Parliament.
A source in Netanyahu's office, who spoke to journalists on condition of anonymity, said that Netanyahu would meet with any U.S. presidential candidate who requested a meeting.
Earlier this week, an aide in Netanyahu's office told BuzzFeed News that there had been arguments within the office over the logistics of the meeting, and over possible consequences to meeting with Trump.
The Jerusalem Post reported Trump is also considering a visit to Haram al Sharif, also known as the Temple Mount by Jews. The site has been a flashpoint of violence in recent months, sparked by rumors that Israel is considering challenging the status quo at the site.
Trump's announcement that he would visit Israel came one day after controversial remarks proposing a temporary ban on all Muslims from entering the United States to guard against Islamic terrorism. His announcement was condemned by the Anti-Defamation League as well as the American Jewish Congress.

"Mr. Trump's plan to bar people from entry to the United States based on their religion is unacceptable and antithetical to American values," wrote ADL CEO Jonathan A. Greenblatt in a statement. "A plan that singles out Muslims and denies them entry to the U.S. based on their religion is deeply offensive and runs contrary to our nation's deepest values. In the Jewish community, we know all too well what can happen when a particular religious group is singled out for stereotyping and scapegoating. We also know that this country must not give into fear by turning its back on its fundamental values, even at a time of great crisis. As we have said so many times, to do otherwise signals to the terrorists that they are winning the battle against democracy and freedom."
Despite confirming a meeting with the Israeli Prime Minister, Republican groups and organizations based in Israel told BuzzFeed News that no one had notified them about the Israel trip and that they had nothing planned with Trump.
Matt Brooks, the executive director of the largely Sheldon Adelson-funded Republican Jewish Coalition which co-funded Gov. Scott Walker's recent trip to Israel, said no one has reached out to them about the visit. A number of other groups, including those which coordinate visits to the Western Wall and the Holocaust Museum in Jerusalem, also said they had not been contacted about the visit.

Several PR agencies which represent settler groups also told BuzzFeed News that Trump had not reached out regarding a visit, though they said they would be happy to host him for a Friday night dinner in a West Bank settlement.
"He would find many friends here. We are looking forward to Mr. Trump's visit," said the official, who asked to remain off-record in case Trump's team reached out to him regarding the trip.
A spokesperson from the Palestinian Authority government also said that they had not received a formal request from Trump to visit their offices, or meet with any Palestinian officials.