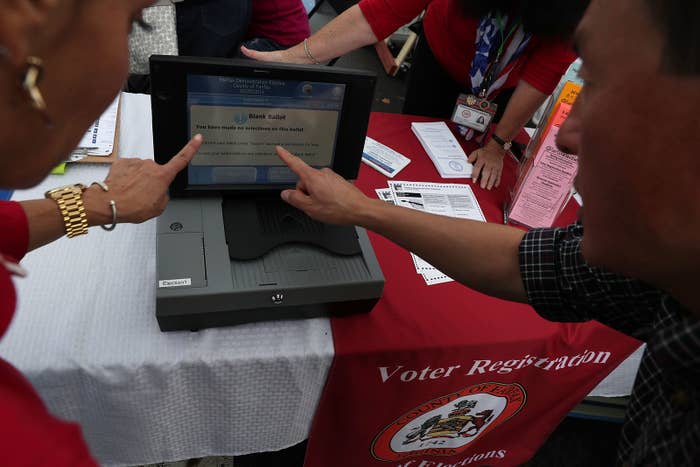 SAN FRANCISCO — Allegations that voting machines made by a company controlled by billionaire businessman George Soros will be used to rig the elections for Democratic presidential nominee Hillary Clinton have "no basis in reality" according to election voting officials.
The allegation, which has been made on a number of right-wing websites including the Daily Caller, was picked up following Wednesday night's debate by a pro-Trump Reddit board. During that debate Republican presidential nominee Donald Trump refused to say whether he would accept the election results. The following day, he said he would accept the results, "If I win."
Hundreds of Trump supporters on Reddit responded to Trump's assertion that the elections would be rigged by focusing on the allegedly Soros-owned machines. The voting machines in question are manufactured by Smartmatic, a London-based company which produces voting machines used globally. The tenuous connection to Soros is that Smartmatic Chairman, Lord Mark Malloch-Brown, sits on the Global Board of the Open Society Foundation, a network founded by George Soros. However, there is no evidence that Soros has anything to do with Smartmatic, which explicitly denies his involvement.
Smartmatic had not returned a request for comment from BuzzFeed News at the time of this publication, though a secretary who answered the phone in their Florida-based offices said it was "BS." A statement on the Smartmatic web site states that their technology will not be used in any U.S. county during the 2016 US presidential elections, Soros has no ownership stake, and that the company has "no ties to political parties or groups in any country."

Nonetheless, at the top of the Reddit board was a list of nearly 1000 US counties in 16 states which commenters claimed were using the Smartmatic machines. The board encouraged Reddit users to call those counties and, "Make it so these people cant do anything the next 2 weeks except for field questions on voting machines and their conflict of interest, unless they make the switch!"
None of those counties, however, appear to use Smartmatic machines. According to the nonpartisan watchdog, Verified Vote, Smartmatic machines aren't used in the United States.
The misrepresentation that Smartmatic machines are used in 16 states appears to come from a statement on Smartmatic's website advertising that the company has provided "technology and support services to the Electoral Commissions of 307 counties in 16 states." Much of that equipment, however, appears to be related to systems used for registering voters and other technology for offices — but not voting machines themselves.
Another Daily Caller article asserts that Smartmatic owns Sequoia, a company which does own the majority of voting machines used in the United States. Records show that while Smartmatic did purchase Sequoia in 2005, they announced plans to sell the company in 2006, and in June 2010 Sequoia was purchased by the Canada-based Dominion Voting Systems.
David Becker, executive director at the Center for Election Innovation and Research said there was a history of similar claims alleging that rigged machines were favoring one candidate over another.
"This isn't dissimilar to allegations made in 2004, when a George W. Bush supporter was an investor in a company where voting machines were being produced," said Becker. "But there is nothing to see here... these are unsupported allegations that have never been proven."
Regardless of where they come from, voting machines are tested and retested, said Becker, to ensure that they produce accurate results. Experts who study and monitor the US elections said it is actually quite hard to rig, or hack an election.
"All the machines, no matter whether they are paper or electronic, no matter where they are, are tested repeatedly. They are tested in front of the public, in front of numerous people. Anyone can go to the tests and see for themselves that the machines are running correctly and the results are correct," said Becker. "It's very difficult to conceive of a way in which machines would be wholesale designed to produce desired results... There is just no evidence that it is supported or could even happen."