Shouts, Shoes And Accusations Of Torture As Trial Of Ousted Egyptian Leader Mohamed Morsi Begins
A defiant Morsi told the court: "I am the president of the republic and I am here against my will."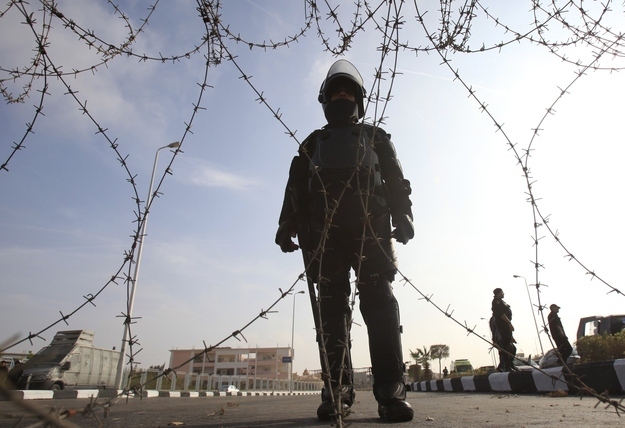 CAIRO — Smiling and calm was the face that ousted Egyptian President Mohammed Morsi wanted to present to the world Monday, more than four months after he was arrested and placed into secret detention.
One of his first acts in court was to defy the judge's request that he wear a prison uniform and then announce: "This is a military coup… I am the president of the republic and I am here against my will."
The trial, in which Morsi and 14 co-defendants from the Muslim Brotherhood are facing charges of inciting the killing of protesters and journalists, is the most recent in a long line of turbulent political upheavals against Egypt's leadership. The courtroom is the same venue in which another ousted president, Hosni Mubarak, has been facing trial for last two years. Graffitti outside the building calling for Mubarak's return had only recently been scrawled out and replaced with Morsi's name.
Morsi's entrance into the court on Monday caused an uproar. He was greeted by applause and shouts of "Down with military rule!" from two of his co-defendants, senior Muslim Brotherhood leaders Essam al-Erian and Mohammed al-Beltagy.
Before proceedings got underway, Beltagy and three co-defendants were permitted by police to speak briefly to journalists inside the courtroom. Beltagy opened his shirt and pointed to his chest, trying to present proof that he had been tortured and waterboarded. Police kept journalists at a distance and it was impossible to get close enough to see if he was bruised.
As the head judge began naming the defendants, several journalists began chanting "He is the President," referring to Morsi, only to be interrupted by several other women, both of whom said they were journalists for Egyptian state-run newspapers, yelling "Execute them!" The women are both part of the Egyptian journalist syndicate which last week called for Morsi to be given the death penalty. Some journalists began waving shoes in the air and trying to hit each other.
"As you can see, we are clearly a divided country," said Mohammed Manaf, an Egyptian television reporter.
Rowdy journalists were forcibly separated from each other by guards who alternatively napped and smoked cigarettes throughout the proceedings, which began just after 10 a.m. They only lasted 10 minutes before the judge was forced to take a half-hour recess. When the trial continued, lawyers for the defense took turns voicing their concerns over the trial — which ranged from having to walk a long distance to the court and being frisked by police, to not being given advanced access to court documents and for illegal torture and imprisonment of their clients.
The 15 men stand accused of inciting violence in December, when groups gathered in front of the presidential palace to call for a new constitution. Prosecutors claim that Brotherhood members attacked the sit-in, killing 10. If convicted, Morsi and at least 10 other Brotherhood leaders cold face the death penalty.
Morsi told the court he had been forced to attend the court proceedings, and that he was currently representing himself as he had no opportunity to meet with his legal team. After hearing each lawyer, a court secretary said they would be given access to the defendants, and that the trial would resume on January 8.
Lawyers representing the Brotherhood spoke to Buzzfeed before the trial and called the proceedings "illegitimate, and that they would continue to treat Morsi as the acting president of Egypt."
"We asked for the court files repeatedly, but were not given them," said Ibrahim Bekry, one of the lawyers representing the Brotherhood, who said he had finally been given more than 6,000 pages of court files just 24 hours before the trial was set to begin.
He said Morsi rejected the charges of incitement of violence and murder that were being brought against him.
Morsi's supporters, increasingly embattled by a sweeping police crackdown against them, accuse the Egyptian army and the government it instilled of fabricating charges against the Muslim Brotherhood party and its top leadership.
Outside the courtroom, hundreds of Brotherhood supporters held up posters of Morsi and chanted that he remained the president. They attacked lawyers from the prosecution as they left the courthouse, and carried members of the Brotherhood's defense team on their shoulders in celebration.
Sheera Frenkel is a cybersecurity correspondent for BuzzFeed News based in San Francisco. She has reported from Israel, Egypt, Jordan and across the Middle East. Her secure PGP fingerprint is 4A53 A35C 06BE 5339 E9B6 D54E 73A6 0F6A E252 A50F

Contact Sheera Frenkel at sheera.frenkel@buzzfeed.com.

Got a confidential tip? Submit it here.