Scam Artists In Egypt Take Advantage Of Sisi-Mania
Scam artists are collecting illegal campaign contributions from Egyptians who are overly keen to be seen supporting the army chief turned presidential candidate. "There is definitely this feeling that it would be better for you if you supported Sisi."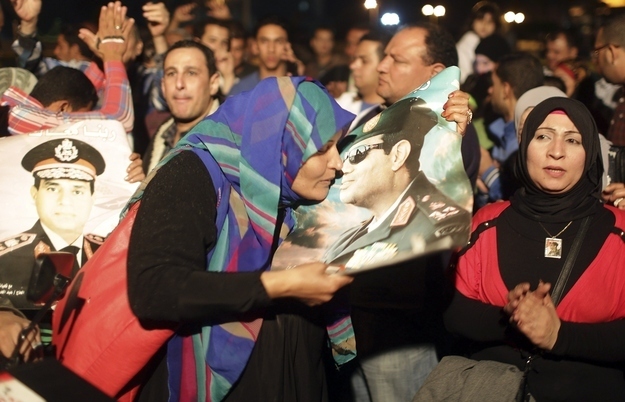 CAIRO — When the men came to his storefront and asked for a donation for the presidential election campaign of Egyptian army Chief Abdel Fattah al-Sisi, Mahmoud Eid knew he couldn't say no.
The father of five quickly reached into his register and pulled out two of the largest bills in there and promised that he would happily give more to see the "safety and security of Egypt restored."
"What could I say? To these people you can't say no. I did not want to be put down as being, god forbid, an Islamist," said Eid, who runs a small store selling lighting appliances in the middle-class Cairo neighborhood of Dokki. "I wanted to make sure it was clear for all to see that I was supporting Sisi, even if financially I could not afford to."
Now that Sisi has announced his presidential bid, campaign contributions have begun pouring in. But some — like the alleged campaign Eid thought he was contributing to — are little more than a scam designed to prey on Egyptians who are scared to be seen saying no to Egypt's future leader. Earlier this week, Egypt army spokesman Ahmed Ali said that more than 1,500 people had been caught unofficially campaigning on behalf of Sisi, and pocketing the donations.
Ali said the campaigns had promised future advantages and rewards in exchange for donations of up to $30, a significant amount for many Egyptian families.
"Nobody told me I would get anything specific, but there is definitely this feeling that it would be better for you if you supported Sisi," said Eid. "I didn't even ask them for official ID, because I didn't want anyone to say I had not been enthusiastic."
Sisi is widely expected to win the upcoming presidential vote. Hours after he announced his candidacy Wednesday night, campaign videos touting his military career began appearing on YouTube, while Egyptian state TV aired a documentary on his military achievements.
In a poll conducted by the Baseera Egyptian polling center, 51% said they would vote for Sisi, but in an off-record military briefing given to BuzzFeed earlier this week, one senior Egyptian officer said that internal army numbers showed that more than 70% of Egyptians would support Sisi for president. The officer declined to say where that poll had been conducted or which other candidates had been listed in the poll.
Egyptians like Eid say there is now new concern that not showing enough Sisi fervor can land them in trouble with the authorities. Some have used the new, nationalistic fervor and the government crackdown on dissidents to settle personal scores.
Eid said that a shopkeeper across the road was arrested last month, after a jealous competitor told local authorities that the shopkeeper was a member of the Muslim Brotherhood and had helped plan protests. The shopkeeper was released after a three-week detention, and his storefront, selling electrical goods, is now covered in Egyptian flags and photographs of a smiling Sisi.
When approached by BuzzFeed, the man in question refused to give his name, but said he had been detained by police and then released.
"I was innocent of the accusations made against me. They were all false," he said. "I love Sisi, god willing he will be president. I love Sisi."
Egyptian prisons are overflowing with people who stand accused of opposing the state. Egyptian authorities claim that 16,000 people have been arrested or detained since the military ouster of the Muslim Brotherhood government on July 3, but human rights groups in Egypt say the number is much higher.
Sheera Frenkel is a cybersecurity correspondent for BuzzFeed News based in San Francisco. She has reported from Israel, Egypt, Jordan and across the Middle East. Her secure PGP fingerprint is 4A53 A35C 06BE 5339 E9B6 D54E 73A6 0F6A E252 A50F

Contact Sheera Frenkel at sheera.frenkel@buzzfeed.com.

Got a confidential tip? Submit it here.