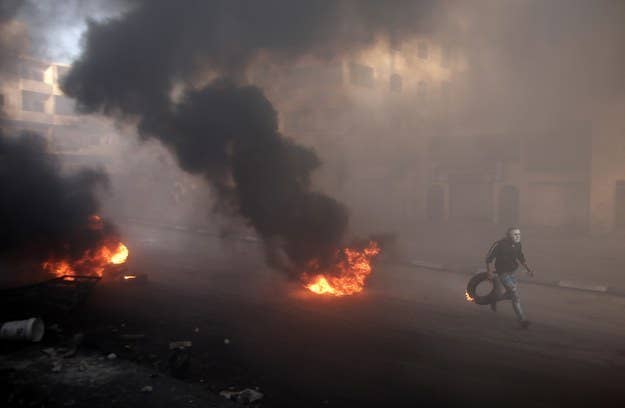 On Friday morning, Sarah Levi needed milk for her coffee but was afraid to leave the house. Though the mother of two has lived in the largely Jewish neighborhood of Baka, Jerusalem, most of her life, she says that the surge of violence this week has left her fearful of strangers.
"Anyone can have a knife hidden in their pocket. You watch the videos of these attacks and one second it looks like a normal bus stop or shopping mall. The next second there is someone with a knife trying to kill you," said Levi, who spoke to BuzzFeed News by phone from her home. "It makes me afraid to leave the house, even to places I think of as safe."
Less than five miles away, in the largely Palestinian East Jerusalem neighborhood of Shuafat, Marwa Abu Jamal is also afraid to leave her home. At night she hears the popping of rubber bullets echoing from nearby protests, and the peppery smell of tear gas sneaks its way into her living room and stings her eyes. A mother of four, she says she has never thrown a rock in her life. But she wears a hijab, or head covering, and has seen the videos of extremist Jewish mobs searching the streets for Palestinians.
"They think anyone who is Muslim wants to kill them, and needs to be killed first. They don't care who I am, they want me dead," said Abu Jamal, who also spoke to BuzzFeed News by phone from her home.
On Facebook chats, Whatsapp groups, and Skype chats this week, Israelis and Palestinians living in the midst of the recent spate of attacks spoke with BuzzFeed News. Hamas leader Ismail Haniyeh on Friday declared the start of third intifada, and urged all Palestinians to join in the attacks. If this is a new Palestinian uprising, (and there have been numerous takes on whether or not it is), it is one characterized by individual, spontaneous acts of violence, that are shared and spread at a lightning speed online.
On Friday alone, attacks included an attack on an Israeli policeman near the West Bank settlement of Kiriyat Arba, a 16-year old Israeli being stabbed by an 18-year-old Palestinian in Jerusalem, and an Jewish attacker in the southern Israeli city of Dimona stabbing and wounding four people he believed to be Muslim, telling police afterwards that "all Arabs are terrorists."
"The minute something happens my phone beeps and there is someone on my Whatsapp group or Facebook who has updated about the attack," said Levi, who has turned up the volume on her phone so that the melodic beeps warning of a new attempted attack in Jerusalem could be heard clearly. She said the notifications have been constant since October 2, when Rabbi Eitam and Naama Henkin were gunned down in their car while driving with their four children, "Rock throwing, stabbings, every day there is more and more. It feels like these attacks are coming from everywhere."
Levi said this video, showing 20-year-old Palestinian Tarak Yahya stabbing an Israeli soldier, was sent to one of her Whatsapp groups just hours after the attack happened:

"How can you not get worked up? How can you not be afraid?" asked Levi. "Terror is successful when it makes you afraid of everything all the time."
Like others, she has asked why Israeli Prime Minister Benjamin Netanyahu has not done more to stop the attacks. Netanyahu, who has described the attacks as wave of terror, has asked security forces to crackdown on rock-throwers and tighten security at checkpoints. But Israeli intelligence officers say they have little actionable intelligence to operate on and stop the attacks. So far, the stabbings have appeared to be spontaneous, with even the families of those carrying out the attacks claiming that they had no idea their brothers, sisters, mothers, or fathers were planning on carrying out a violent attack that day.
"It is possible that the attackers have been inspired by terrorist movements, but at this time we do not see a chain of command or an organized methodology behind the terrorism," said one Israeli intelligence officer, who agreed to speak to BuzzFeed News by phone on the condition he could speak anonymously, as he was not authorized to give interviews.
Abu Jamal said she also saw the video of Tarak Yahya stabbing a soldier on a Whatsapp group.
"In the group they talk about where attacks are happening. They tell people not to go there in case there are people who stay there and want to take revenge," said Jamal, who like many others in her Shuafat neighborhood remembers the day that 16-year-old Mohammed Abu Khdair was found burned to death in the Jerusalem forest in a revenge attack for the killing of three Israeli teens, Naftali Frenkel, Gilad Shaar and Eyal Yifrach, who were abducted and killed in the West Bank on June 12, 2014.
On Friday, she say she couldn't stop watching the video of a Palestinian woman who was shot and critically injured outside a train station in Afula, northern Israel. Israeli officials have said that she was brandishing a knife and attempting to stab a security guard.
"I don't know if she had a knife or not. But to shoot her so many times like that seems extreme," said Abu Jamal.

"It feels like since then we have been stuck in a long cycle of revenge. But my son tells me I'm silly, and that the revenge goes back hundreds of years," she continued. "I don't think any of us are inspired, or really are led by our leaders right now. I think that people, individuals are angry, and they are exploding."
The list of attacks on Friday — which were reported across north, south, and central Israel— continues:in the West Bank, youths threw rocks at Israeli military checkpoints, and in Gaza, six people were killed when Israeli troops opened fire on hundreds who had gathered to protest at the Gaza-Israel border.