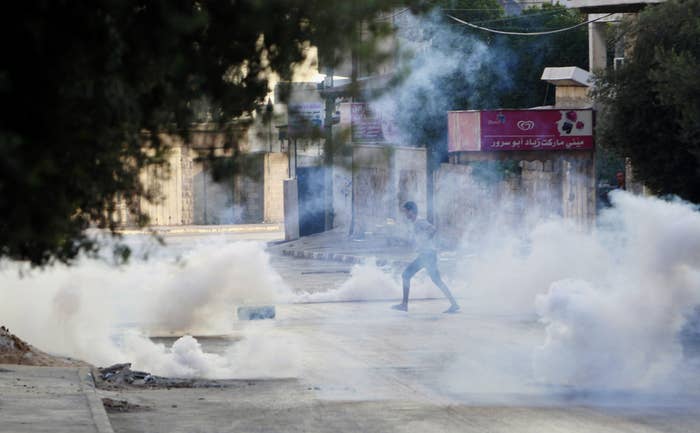 They came in the middle of his work shift, shouting "terrorist" and beating him over the head. And for a moment, Palestinian gas station attendant Ahmed Zabir thought he was going to die.
The 22-year-old had already had a rough morning. With tensions running high in the nearby Shuafat refugee camp, he had trouble navigating the roads from his small village outside Jerusalem to the gas station where he works. A few drivers had been aggressive when they heard his accent, asking him, "Why don't you go join your terrorist brothers?"
Then, just before 2 p.m., a car showed up with four young Jewish men. Two wore kippas, or skull caps, and one wore the jersey of a local Jerusalem soccer team. This BuzzFeed reporter happened to drive into the gas station at the same time, and witnessed the scene as it played out.
The group approached Zabir, and began shoving. One of the young men appeared to look around for cameras, and threatened this reporter to stay away. They could be overheard arguing among themselves, with one saying that Zabir should be pushed into the road. Zabir fell several times, as one of the young men repeatedly hit him with the back of his hand.
"At the beginning I thought they were just going to yell, just going to be angry," said Zabir, who, at under 5 feet 5 inches, is on the skinny side. "Then one got out of the car, and then all four of them were out of the car," he said.
"I think they wanted to burn me, that's what I thought," said Zabir. " I wondered if they would use gas."
He was saved when a pickup van pulled into the station and two middle-aged Israeli men confronted the young men.
"The men yelled at them, 'What are you doing?' They told them the police were on their way," said Zabir. "They saved me."
One of Zabir's co-workers tried to call the police, but there was little help they could offer. Across Jerusalem, tensions were simmering, and similar incidents were being reported in what local police called the "clashing zones" where Palestinian and Israeli neighborhoods met.
Tempers have been running high since three Israeli teens were kidnapped while hitchhiking in the West Bank on June 12. Their bodies were found buried in a field in the southern West Bank city Hebron on Monday. As police intensified their search for two Palestinian suspects, hardline Jewish groups began calling for revenge.
In Jerusalem, tensions spilled over into violence on Wednesday.
In East Jerusalem, police launched stun grenades and tear gas at teens throwing rocks and Molotov cocktails. The clashes continued throughout the day.
"This is the most tense we have seen Jerusalem in years," said one Israeli border patrol officer in Shuafat, who wore no identifying badge and refused to give his name. "Everything is in place, one match can set it on fire."
That match could have already been lit. The body of a Palestinian teenager was found in the Jerusalem Forest on Wednesday, beaten and burned to death. The family of Mohammed Abu Khudair, 16, fear it is their son, who went missing in the morning. His parents told BuzzFeed the body was burned too badly for them to able to identify him, and that additional tests were being conducted.
In Shuafat, rumors ran rampant over who had kidnapped Abu Khudair, with many stating that a group of settlers had trawled the streets looking for a victim after the bodies of the three Israeli teenagers were discovered earlier this week.
"They came looking to kill someone in revenge," said Mohamed, a 16-year-old who on Wednesday hurled rocks and makeshift Molotov cocktails at Israeli army jeeps and police in Shuafat. "The settlers killed him, and they will come back and kill more."
Abu Khudair's family said that Israeli police had pressured them blaming their son's disappearance on local tribal tensions, or a family feud. They insisted that no such feud or tensions existed, adding that neighbors had seen Abu Khudair being forced into a car against his will early Wednesday morning.
On Wednesday both Israeli and Palestinian officials urged calm, and asked that neither side seek revenge. But few on the angry streets of Jerusalem appeared to heed their calls.
In Jerusalem on Tuesday night, as the bodies of Israeli teens Gilad Shaar, Naftali Fraenkel, and Eyal Yifrach were laid to rest, rallies that had been held to mourn their deaths turned into angry protests, with calls of "death to Arabs."
Police in Jerusalem said at least five Palestinian nationals had been attacked overnight, and that officers had been deployed to deter others looking to avenge the three Israeli teens.
In the last 24 hours, they said, more than 70 people had been injured in clashes and dozens arrested.
Israeli Prime Minister Benjamin Netanyahu and his security cabinet have vowed to find the teens' killers, and have named two suspects, Marwan Qawashmeh, 29, and Amar Abu Aisha, 32, from Hebron. Netanyahu has repeatedly linked the two suspects to Hamas, though Israeli intelligence officers remain unsure if the two acted with direct order from the Islamist group's senior leadership.
Despite many details of the kidnappers' motivation and affiliation still remaining unclear, Netanyahu's cabinet has called for military action to be taken against Hamas in Gaza. More hardline elements of the security cabinet have even called for a widespread military offensive in Gaza.
Many in Israel have demanded a harsh response. On the Facebook group, "The People of Israel Demand Revenge," hundreds of photos were uploaded with the words "revenge" in Hebrew.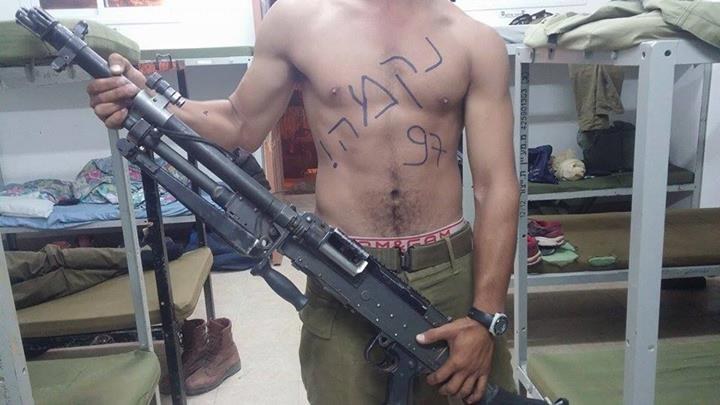 Some of the photos included small children holding up posters calling for revenge. The page has gotten more than 31,000 likes in the last 48 hours.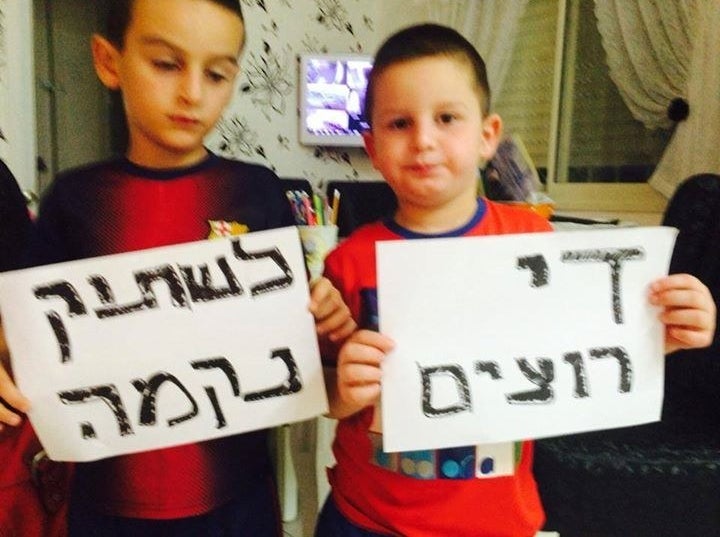 The Facebook page, which now has nearly 40,000 members, asks how Israel can stand by, while the deaths of Fraenkel, Yiftach, and Shaar go unavenged.
But on Wednesday, the Fraenkel family called for calm. It would be "horrifying and despicable" if Arab teen Abu Khaiber, or any others, were killed due to nationalistic motives to revenge the murders of their son.
"There is no difference between blood and blood, murder is murder," read the statement from the bereaved family.