Kurdish Forces Seek More U.S. Help In Fight Against ISIS
"We will defeat them because we are brave, because we would rather die than leave this land."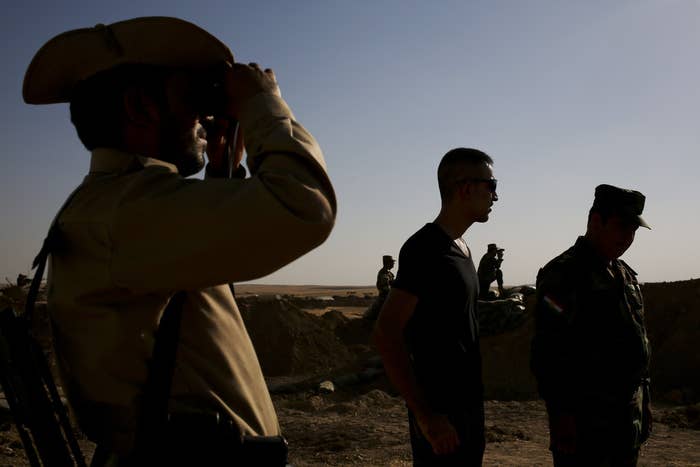 IRBIL, Iraq — Lt. General Negmadem Osmat watched the black-clad ISIS fighters through his binoculars and occasionally ducked for cover.
"ISIS shells us every day. We shell them back," said Osmat, who commands a sizable peshmerga battalion stationed just a few miles outside the ISIS-controlled village of Khazir, west of Irbil. (He wouldn't tell BuzzFeed how sizable out of fear the information would be used by the enemy). "We want to move forward and defeat them, but we cannot yet … It is thanks to America's help that they have not moved further towards us."
On Aug. 8, when ISIS captured Khazir, the peshmerga were humiliated by their inability to defend their borders. ISIS outnumbered and outgunned them, they said, and had moved into the area with a speed that left them completely unprepared.
"They had more modern weapons than us, they came with tanks, and RPGs, and heavy artillery," said Osmat, who blamed the Iraqi army for abandoning their posts across western Iraq and allowing ISIS to seize a bounty of U.S.-made weapons. "For every mortar we shot at them, they would shoot a dozen back."
Military experts in the West watched in dismay as the peshmerga, a military group long extolled by Western analysts, had to fall back from key positions. While some blamed the lack of updated weaponry, others said it had simply been too long since the peshmerga were last tested in battle.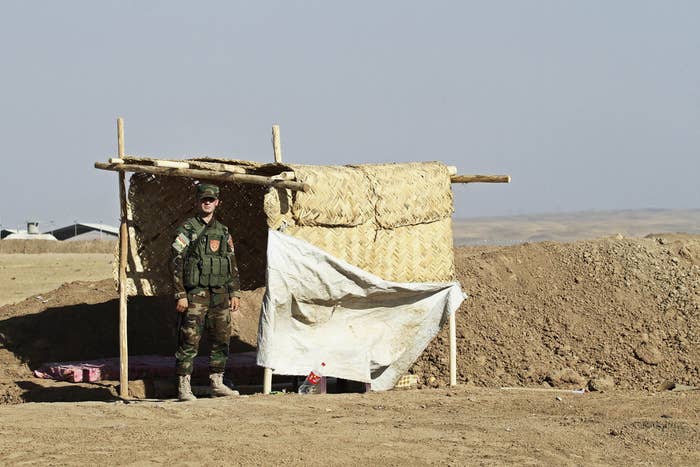 "We aren't sure where their tactical capabilities currently lie. They may have, to use the common adage, simply gone rusty," said one American military adviser, who was part of a team of 129 flown to the Kurdish capital of Irbil to consult with the peshmerga and advise the U.S. government about what type of aid was most needed. "We want to help how we can, and we think that help can make a difference."
That help has already come in the form of some much-needed military aid that included weapons systems, light arms, and some surveillance equipment, as well as airstrikes led by the U.S. air force, which target ISIS positions near the front lines.
On Thursday, Osmat pointed to where some of the U.S. airstrikes had taken out ISIS rocket launchers near Khazir.
"We are very thankful for the U.S. help, but we need more of it. We don't need U.S. soldiers to come here — we just want them to give us weapons so we can fight this war ourselves," he said.
Ahmed Bakr, a lieutenant in the peshmerga special forces told BuzzFeed that if the group continued to receive weapons shipments, he believed they would be able to shift from defending their territory, to pushing ISIS back away from Kurdish land.
"There has not been this order yet, but if it happens I believe we can do it," he said.
So far, U.S. military advisers have not dared to even hope that might happen. Charles Dunne, who worked on Iraq at the White House during the Bush administration, told Reuters that while the peshmerga were strong enough to defend their own strongholds, it was unlikely they could push past that.
"Militarily, I doubt that the KRG's [Kurdish Regional Government] armed forces are capable of, or, especially, willing to take the fight far south of their borders but, with substantial assistance — not only weapons but intel — are capable of defending their own territory."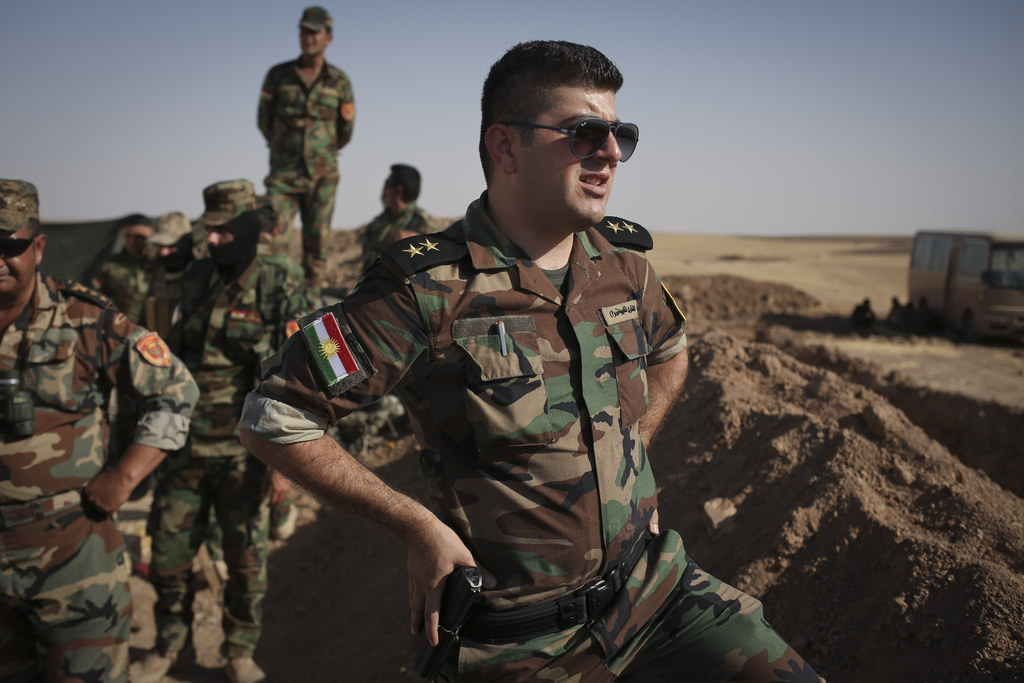 Lt. Col. Salim Surdi said he has led the peshmerga to victory before but in order to do it again, he he would need help.
While the regular, enlisted soldiers brandish new firearms, the volunteers wear a ragtag assortment of uniforms, many of them carrying guns they bought themselves or inherited from family members. Most of the units currently fighting have not yet seen the equipment sent by the U.S., and other countries, and are still using the tanks, APCs, and rocket launchers they captured decades ago.
"We have a good number of guns, of rocket launchers and tanks, but many of these are old. They are the remains of weapons from 1980 and 1991 that we used against the Baath Party," said Surdi, who leads a battalion near the town of Mahmoor, which was taken by ISIS last week, and then retaken by the peshmerga just a few days ago. "What we need are the new types of weapons, the sophisticated weapons the Americans use."
The small successes achieved by Surdi's forces in driving ISIS out of several villages that sit less than 30 miles from the Kurdish capital of Irbil, have been optimistically welcomed. Near Khuzair, just a few miles northwest of Machmoor, Colonel Armi Kaman is eager to repeat the success. The new U.S. weapons, however, have not yet arrived.
"ISIS has the money now to buy whatever they want," said Kaman. "They can fight us with the best equipment money can buy and we need someone to help arm us or there will be no hope."
ISIS is currently estimated to be the world's largest terror group, though the source of their funding is much debated. While some have argued the group is funded by wealthy donors in the Gulf, recent records have shown that ISIS makes much of its money through the oil fields in territory it captured in Syria and Iraq, and through racketeering and extortion schemes it runs in those areas.
"It is difficult to consider how many weapons they already have, and how much more they can afford to buy for themselves," said Kaman. "That's why the Americans know they must arm us, or lose everything."
He says that while his forces are relatively well-armed, the reserve and volunteer units waiting nearby are often fighting with hand-me-downs.
Just 20 miles down the road from Khazir, Faisel Rauf leaned his bashed-up AK-47 against a concrete wall and admitted he hadn't fired it in decades.
The 56-year-old said he felt confident his unit could drive back the startling advances made by ISIS in recent months, despite having no training since he helped fight the Baathists of Saddam Hussein in 1991.
"We will defeat them because we are brave, because we would rather die than leave this land," said Rauf, commander of a unit of volunteer Peshmerga from the north-eastern city of Sulaymaniyah.
But where his generation was raised fighting in the mountainous heartland, many of the new generation of Peshmerga fighters come from Irbil, the increasingly commercialized capital.
Lt. Mohessan Pera and Lt. Halil Masoor, two recent recruits, had both started careers in business and high tech, before deciding the threat of ISIS was to great to sit idly by, watching from the air-conditioned halls of an office building. The two men, both in their early twenties, joined the peshmerga this year, covering their tattoos with long shirts and putting away their hair gel and stylish shoes.
Earlier this week, while Rauf's unit ran surveillance exercises around Irbil, the two young men took advantage of their assignment to keep an eye on the Kalak River and went for a dip, taking shifts with several other friends to make sure someone was always watching out for an ISIS attack.
"ISIS can come at any time, by water or land," said Pera, with the slight twinge of fear in his voice that many of the younger men appeared to have while speaking of ISIS's surprising fighting prowess.
But he quickly gives a broad smile and nods. "But don't worry, I am sure we can defeat them."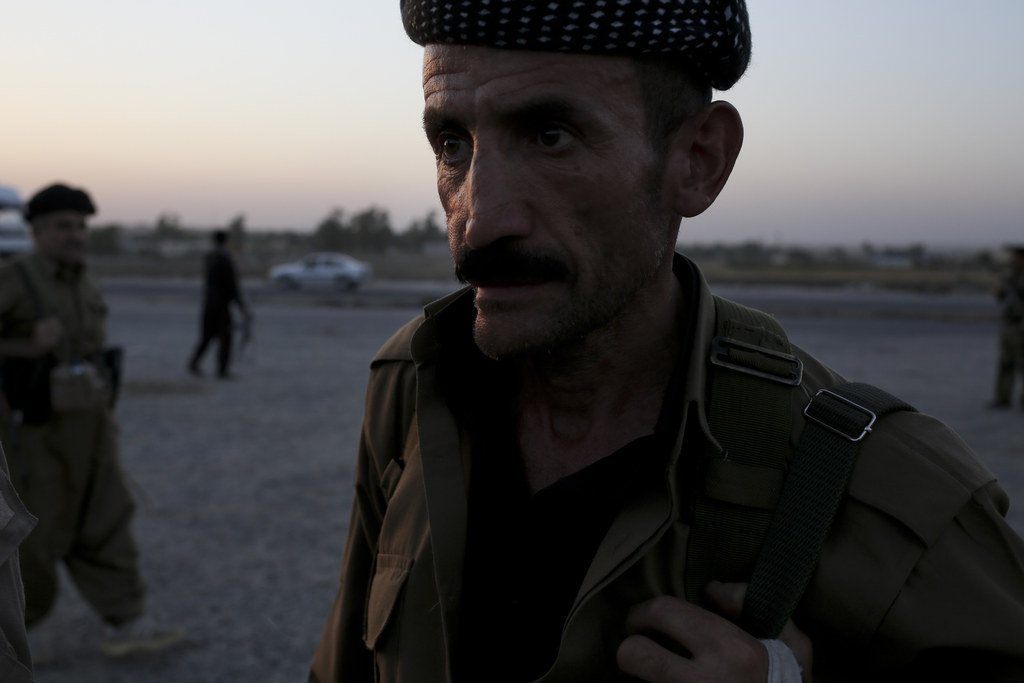 Sheera Frenkel is a cybersecurity correspondent for BuzzFeed News based in San Francisco. She has reported from Israel, Egypt, Jordan and across the Middle East. Her secure PGP fingerprint is 4A53 A35C 06BE 5339 E9B6 D54E 73A6 0F6A E252 A50F

Contact Sheera Frenkel at sheera.frenkel@buzzfeed.com.

Got a confidential tip? Submit it here.