'No Way' Kerry Will Get Detailed Framework Agreement For Peace Talks, Says Senior Israeli Official
As Secretary of State John Kerry heads back to the U.S. after the latest round of talks in the Middle East, there is little enthusiasm for the type of framework agreement he is pushing.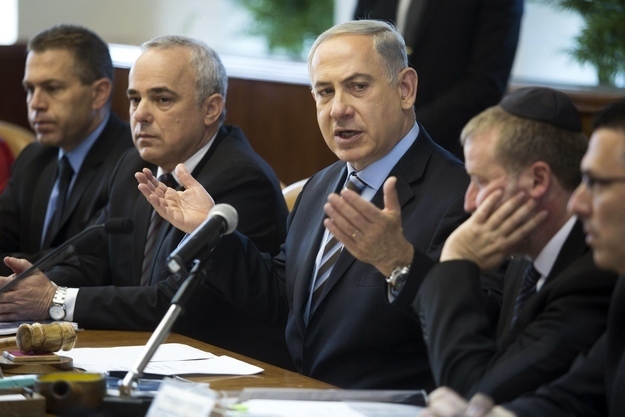 JERUSALEM — Secretary of State John Kerry has "no chance" of getting a detailed framework for Israeli-Palestinian peace talks approved, a senior Israeli official said Monday, in one of the starkest statements to date about Israeli reticence towards the peace process.
Deputy Defense Minister Danny Danon told BuzzFeed that while Kerry is "very persistent and pushing very hard to promote his agenda," the U.S. was not in a position to dictate policy in the Middle East.
"Kerry is pushing for details in the agreement, but there is no chance for this," said Danon. "If he will speak about 1967 lines, I can tell you very clearly we will not go for it." President Barack Obama has said that the 1967 borders should be a starting point for a peace deal.
Kerry left the Middle East on Monday, having failed to get Israelis and Palestinians to agree to a framework agreement, which is little more than a non-binding document that lays out the most basic parameters for peace talks going forward. While Israeli and Palestinian leaders reluctantly agreed to the US-sponsored talks after Kerry expressed enthusiasm and commitment towards finding a creative solution for the long-deadlocked negotiations, they have both expressed doubt over their ability to bridge the wide gaps in their negotiating positions.
Palestinians want specific terms set out in the framework agreement, namely that the outcome of the talks will be two states — one Palestinian and the other Israeli — and that the borders will be roughly based on the 1967 armistice line. Israel, said Danon, wants the framework agreement to be carefully worded, yet vague, so that it doesn't lock Israeli Prime Minister Benjamin Netanyahu into making concessions.
Kerry put a positive spin on the trip, his tenth visit to the region in the last year. "This has been a productive couple of days," he told reporters as he left the region. "The path is becoming clearer. The puzzle is becoming more defined. And it is becoming much more apparent to everybody what the remaining tough choices are. But I cannot tell you when, particularly, the last pieces may decide to fall into place or may fall on the floor and leave the puzzle unfinished."
Danon, who is the chairman of Netanyahu's Likud Party Faction and therefore holds and important voice in the party, said there was no way the Likud would back a framework agreement that mentioned the 1967 borders or dismantling settlements.
"My opinion, which represents the majority of the Likud Party is that the '67 lines and abandoning Jordan Valley is something we will not accept," said Danon. "If he will speak about 1967 lines, I can tell you very clearly that Likud will not agree with this."
Netanyahu has long faced challenges from more hardline elements within his own party who don't want to see any peace negotiations that would require Israel to evacuate settlements in the West Bank or give up land for peace. Some Israeli newspapers have reported that the internal challenges are so great, that Netanyahu has even considered breaking off from the Likud and forming a new political party.
The internal political pressure on Netanyahu, said Israeli political analysts was as much a barrier to Kerry's ability to hammer through an agreement as Netanyahu's own reservations.
"Netanyahu is under impressive pressure, both from Secretary of State Kerry, backed by President Obama, and by members of his party, who aren't letting him budge even if he wanted to. These are impossible working conditions," wrote Israeli columnist Shalom Yerushalmi in Maariv.
Kerry's shuttle diplomacy — which involved meetings in Jerusalem, a trip to Jordan and Saudi Arabia, and then a return to Jerusalem — has focused largely on the Jordan Valley, a narrow strip of land that hugs the eastern part of the West Bank along the border between Israel and Jordan. While Israeli officials have said that deploying security forces within the Jordan Valley would be a security necessity for Israel, Palestinian officials have said that Israel is trying to conduct a land grab, and that the fertile Jordan Valley area is key for Palestinian industry and agriculture.
In recent weeks, Danon and other hardline Likud members have taken tours of the Jordan Valley, where they invited cameras to film them promising to annex the area in new legislation.
"The Jordan Valley is a part of the state of Israel, and whoever thinks otherwise apparently is in the wrong party," said Danon during the tour. "The Likud position on the topic is clear. We must stand decisively and not recoil from the American pressure, we must remember always that our role is to ensure the security of the state of Israel."
Kerry, added Danon, was trying to pressure Israel to take "dangerous steps."
"[Netanyahu] needs to tell our allies very clearly – 'no we cannot.' We cannot compromise our security and our assets only for another ceremony in the White House."
Palestinians, meanwhile, have accused Israel of focusing on the Jordan Valley issue in order to scuttle peace talks and avoid making a public commitment to a two-state solution along 1967 borders.
"We know that Israel will only agree to a framework agreement that says nothing and promises us nothing. But the truth is that they don't even want that, so they focus on the Jordan valley and other issues and try to push us into a corner," said one senior Palestinian official, who asked not to be named because he was not authorized to speak to the press.
He added that while Israeli officials wanted the framework to be as vague as possible, Palestinians wanted detailed references made to Jerusalem as a shared capital for both peoples, as well as other contentious issues such as the right of return, and water rights.
"What is the point of a framework that does not advance our understanding of what is being discussed?" he said.
Israeli officials, however, said that the Palestinian negotiating team was looking for its own way to avoid making any commitment to Kerry's peace process.
"What we have here, in truth, is a situation where neither side wants to negotiate on anything because they own internal political situations are unsteady. They have no interest in the peace process Kerry is undertaking, except how to survive it with their own political futures intact," said one Israeli left-wing legislator.
Sheera Frenkel is a cybersecurity correspondent for BuzzFeed News based in San Francisco. She has reported from Israel, Egypt, Jordan and across the Middle East. Her secure PGP fingerprint is 4A53 A35C 06BE 5339 E9B6 D54E 73A6 0F6A E252 A50F

Contact Sheera Frenkel at sheera.frenkel@buzzfeed.com.

Got a confidential tip? Submit it here.