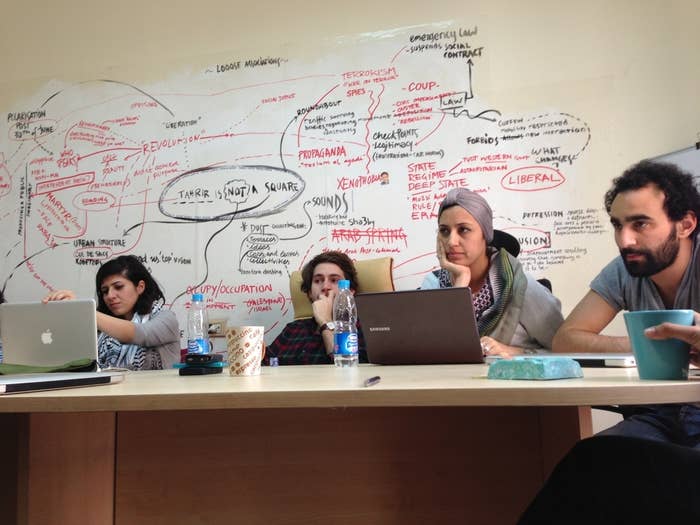 CAIRO — For the last half hour, the staff of the Mada Masr news site has been stuck on the topic of sexual harassment.
The editors and staff writers of one of Egypt's only independent news outlets have gathered for their weekly news conference, and the question of how to cover yet another public case of sexual assault hangs heavily on the largely female room.
"How do we write this in a different way," asks Lina Attalah, Mada Masr's editor-in-chief. "We need to consider all the sensitivities."
After throwing around various ideas, including offering a platform to a woman who was recently assaulted at Cairo University to tell her side of the story, they settle on a plan of action and get to work.
"Our credibility comes from being totally transparent about our editorial process and how we report our stories," Amira Salah-Ahmed, the site's general manager. "We really try to tackle issues with everyone's input, and with the greatest scope possible."
While their approach to journalism might not seem unique in the U.S. or Europe, in Egypt their strive for objectivity is increasingly rare. Since the military ouster of the Muslim Brotherhood on July 3, 2013, Egypt's press has become increasingly partisan. While all of the largest state-owned papers have gradually taken a staunchly pro-military, nationalistic tone, numerous websites have cropped up espousing the Brotherhood's deeply Islamist beliefs and teachings. Both sides level accusations at each other that are often impossible to prove, but further draw a line between the two camps. Doing journalism on either side of the divide has become increasingly dangerous, with Egyptian authorities launching a harsh crackdown on the press, and Brotherhood supporters threatening sites they see as a mouthpiece for the state.
Samir Haqaz, a journalist with Egypt's NileSat Television complained that he couldn't understand Mada Masr. He is a member of Egypt's journalist syndicate, the same group that launched a grassroots campaign to see Egyptian military strongman Abdel-Fattah el-Sisi run for president. Haqaz sees it as part of his job to take a side, and when shown recent articles by Mada Masr, he complained that he couldn't see a point.
"It's neither here nor there," he said. "It's confusing."
But for the editors of Mada Masr, which launched with an English-language site, that's exactly the point.
"In Egypt's increasingly polemic media landscape, there is no other publication that tries to walk the middle road, to represent both sides. In the West, this might seem normal for you, but in Egypt we are an anomaly," said Attalah, who is quick to smile and joke with her staffers, many of whom have worked together for years.
"Almost all of us here launched this project together, we believe in it together," she said.
Most of the staff, including Attalah, once worked for Egypt Independent, a longstanding English-language publication that was shut down in April 2013. While the owners cited the unprofitability of Egypt Independent as their main reason for closing it down, many, including Attalah, believe that they were unhappy with the editorial line being taken by the paper.
Within months of losing their jobs, the group cobbled together enough money to launch Mada Masr on June 28 — just two days before the launch of the protest movement that led to the ouster of the Brotherhood government.
"I wanted them to feel like they were journalists and that during this historic event they were doing their jobs," said Attalah. "We hit the ground running."
Their readership has grown from the single-digits into hundreds of thousands of unique visitors each month. Their content ranges from hard-hitting exposés on police brutality to movie reviews and editorials. Recently, they launched Mada Masr in Arabic.
"Even though we are all Egyptians here, it is the first time for many of us that we are writing in our own language for our own people," said Attalah. "It's been amazing."
But Arabic, she said, has the potential to put them on the radar of the Egyptian authorities, and they are increasingly concerned about their own security.
"We are trying to negotiate in a repressive, increasingly authoritative context," said Attalah. "We are always trying to negotiate between being careful and doing our jobs, and being paranoid, and not being able to properly do our jobs."
The crackdown on the press launched several months ago has been brutal. Several Al Jazeera journalists are currently on trial for charges that have been widely disputed by Western diplomats and the global journalism community, and dozens of other journalists have been detained or arrested in recent months for covering protests.
As an online site, Mada Masr is not recognized by the State as an official news outlet and cannot get press cards. While the company itself is legally registered, there is concern that if authorities wanted to crack down on journalists, Mada Masr would be an easy target.
"There have been a lot of people asking what sort of journalist would or would not be tolerated in Egypt today. As a journalist you do't want to be put in a position where doing your job means breaking the law," said Attalah. "But our most important priority is doing our jobs."