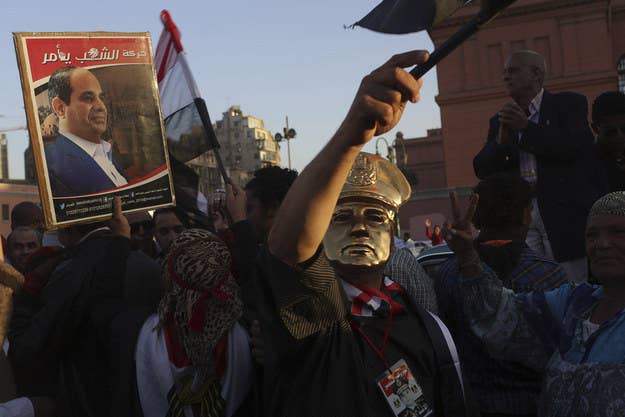 United States election observers say they are pessimistic about Egypt's chances of holding free and democratic elections in two weeks, the first time that an international monitoring group has spoken up to criticize Egypt's presidential elections.
Democracy International, a U.S.–based NGO has had a team on the ground for weeks, said the widespread arrest of Egyptian activists, a crackdown on protest groups, and mass death sentences were all signs that Egypt's elections, slated for May 26–27, can hardly be part of the "democratic roadmap" that the White House has required of Egypt in exchange for releasing aid.
"The environment for political participation is not as you would hope would be the case in a democratic transition," said Dan Murphy, the director of elections and political processes for Democracy International. Last month, U.S. officials announced they would resume some military aid to Egypt, following a previous decision to withhold aid until the country made progress on a "democratic roadmap." The decision to restore aid was criticized by many diplomats and observers, who said the decision was "baffling" considering Egypt's current human rights record.
U.S. officials have expressed hope that following this month's presidential elections, billions of dollars in aid will be once again delivered to Egypt. They have said that following the elections, the White House will determine whether Egypt is pursuing a democratic roadmap that would see a inclusive, pluralistic political environment.
According to the observers who have already been on the ground for weeks, Egypt's current state of affairs is hardly a transition toward democracy.
Egyptians go to the polls to elect a new president in just two weeks and neither of the two candidates — Egyptian military strongman Abdel Fattah al-Sisi and liberal politician Hamdeen Sabahi — has offered the public a platform of what they hope to achieve in office. There have been no debates, and very few public forums in which Egyptians can educate themselves about the upcoming vote, according to Democracy International, a private U.S.–based NGO funded by the U.S. Agency for International Development (USAID), which operates in more than 60 countries. The group recently took part in monitoring Egypt's national referendum on a new constitution, of which they expressed "serious concerns" about the political climate, which they said virtually guaranteed a yes vote.
"There was no real opportunity for those opposed to the government's roadmap or the proposed constitution to dissent," read a statement released days after the vote, citing "a backdrop of arrests and detention of dissenting voices."
Murphy said the Democracy International team was currently in Egypt to see if any of the recommendations issued following the referendum vote had been heeded. At the moment, he added, there was a great deal of concern.
"Have some of these problems, which we cited in the referendum gotten better at all? Have any of our recommendations been heeded? Is there space for people with dissenting views to participate in debate more than after referendum process? At the moment we are very concerned that this is not the case," said Murphy.
Democracy International and a team led by the European Union are the two largest foreign groups set to monitor the presidential vote. Both groups are already on the ground meeting with the two candidates, as well as with political groups, activists, and NGOs.
Jed Ober, director of programs for Democracy International globally, said that a key concern for the group was that there was little opportunity for Egyptians to publicly express dissent. He noted the increase in arrests and said the group had recently met with members of the Strong Egypt Party, dozens of whose members were arrested in January and stopped from publicly encouraging Egyptians to vote no on the constitution. "To this day they have 28 people in jail. That is troubling when a political party, representatives of a political party, can't go and get their message out," Ober said.
Egyptian rights activists and opposition politicians say the country is in the midst of a sweeping crackdown, which they say is returning Egypt to its most repressive political state in decades. By the most conservative estimate at least 16,000 mainly Islamist dissidents have been arrested in the last six months. Many have been sentenced in mass trials that last a number of hours and offer little opportunity for defense.
The recently ousted Muslim Brotherhood Party has been banned from taking part in elections, while other high-profile candidates from the 2012 presidential campaign have boycotted the race, complaining about the absence of free expression in Egypt. Khaled Ali, a labor lawyer, the Islamist Abdel Moneim Aboul Fotouh, and Hosni Mubarak's last prime minister, Ahmed Shafiq, all dropped out of the race, saying it would be impossible to campaign given the current circumstances in Egypt.
Sabahi, a former legislator and longtime labor advocate, is the only candidate running against Sisi. Critics say Sabahi is lending credibility to the elections by participating, but that he will never be given a real chance to run. State television networks have given Sisi prime-time slots to address the Egyptian public, and newspapers have run front-page stories and interviews with Sisi for several successive days, while relegating Sabahi to short, inside stories.
"All these things are contributing to an environment where those who voice dissenting opinions are being cracked down upon. The broader result of that is that people don't feel comfortable to share their views in public spheres," said Ober. "Right now it's fair to say we are pessimistic."