Israelis Are On The Ground Assisting In The Search For Nigeria's Missing Schoolgirls
"We both have a shared enemy."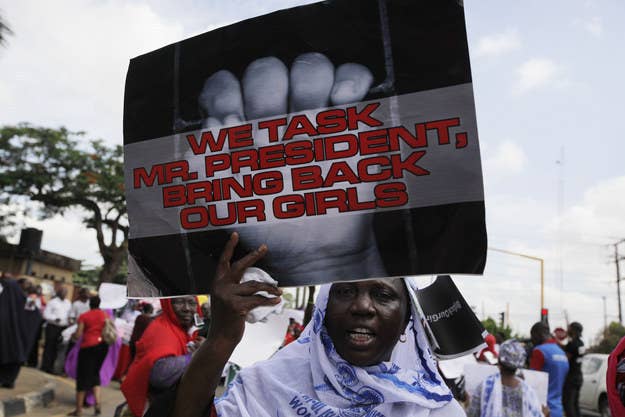 JERUSALEM — Israeli security forces are already on the ground in Nigeria, gathering intelligence and assisting in the search for hundreds of schoolgirls who were kidnapped by the extremist Islamist group Boko Haram.
"There are ongoing security ties and cooperation between Israel and Nigeria. In the wake of this crisis, Israel increased its assistance and we have been providing support in any manner possible," said one military official, who only recently returned from Nigeria. "We have been involved on this from the beginning."
A Nigerian delegation is also currently in Israel, an official at Israel's Foreign Ministry said. The official declined to provide information on what exactly they were doing in the country or how Israeli forces were assisting in the search for the girls. Israeli radio commentators have suggested that Israeli commandos could be on the ground in Nigeria, but Israeli officials would not confirm or deny that report.
On Monday morning, Nigerian President Goodluck Jonathan publicly accepted an Israeli offer of assistance made Sunday by Israeli Prime Minister Benjamin Netanyahu.
"Israel expresses deep shock at the crime against the girls," read a transcript made available by Netanyahu's office. "We are ready to help in finding the girls and fighting the cruel terrorism inflicted on you."
More than 200 schoolgirls were abducted last month by Boko Haram in an attack that has drawn global condemnation and prompted some Western powers to provide assistance. On Monday, a video was released showing about 130 of the kidnapped girls. Boko Haram leader Abubakar Shekau said the children would be held until all imprisoned militants had been freed.
Israel maintains defense ties with Nigeria, dating back to when the two countries restored relations in 1993, following the severing of relations during the 1967 Mideast War. Nigeria's military uses Israeli-made drones for surveillance and Israeli intelligence shares data with Nigeria's government.
"We both have a shared enemy, and a shared concern to battle the rise of militant Islam," said the Israeli military official, who wasn't authorized to speak to the press on the record. "The kidnapping of these young girls by Boko Haram is just one instance of many, many inhumane and terrible acts enacted by this group, that all Western countries, not just Israel, should be assisting Israel in combating."
President Barack Obama said last week that a U.S. team was already on the ground providing assistance.
In a diplomatic visit to Jerusalem last year, Nigeria's president announced that Israel would be assisting his government in combating terrorism.
"Combating the menace of terrorism is a challenge that we must address in partnership with all peace-loving countries and peoples of the world. I seek the cooperation of your country to confront the security threat from terrorist groups that my country is now facing," said Jonathan. "There is no doubt that Israel has had decades of experience in combating terrorism. Nigeria can benefit tremendously from your experience in this area."
Sheera Frenkel is a cybersecurity correspondent for BuzzFeed News based in San Francisco. She has reported from Israel, Egypt, Jordan and across the Middle East. Her secure PGP fingerprint is 4A53 A35C 06BE 5339 E9B6 D54E 73A6 0F6A E252 A50F

Contact Sheera Frenkel at sheera.frenkel@buzzfeed.com.

Got a confidential tip? Submit it here.