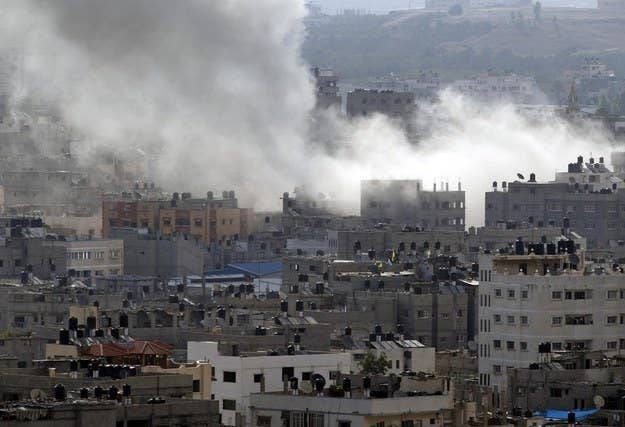 Updated — 8:30 a.m. ET
Israel resumed airstrikes on Gaza on Tuesday afternoon, after rockets launched by Hamas continued to hit at sites across southern Israel throughout the morning.
The cease-fire deal, which was set to launch at 9 a.m. local time, appeared to be over just six hours later, as Israel and Hamas traded barbs over who was to blame.
Israel had initially accepted an Egyptian proposal for a cease-fire, raising hopes of an end to the recent round of violence, which has seen nearly 200 Palestinians killed in Gaza, while millions in Israel came under threat of rocket fire.
But Hamas rejected the initiative, saying that it had not been consulted by Egyptian officials who drafted the cease-fire proposal. On Tuesday morning, Hamas' military wing tweeted that it would not hold itself to the cease-fire, as it did not meet any of the demands made by the Islamist group.
Hamas spokesman Osama Hamden told the BBC the first they knew of the cease-fire deal was when they heard about it in the media.
Israel's former deputy foreign minister, Danny Ayalon, raised the prospect of an ground invasion into Gaza, blaming Hamas for not accepting the cease-fire.
The Israeli security cabinet met earlier on Tuesday morning, with Prime Minister Binyamin Netanyahu holding a vote on the proposal. An Israeli army spokeswoman told BuzzFeed that as of 9 a.m. local time, Israel had frozen its offensive into Gaza, but this collapsed after Hamas continued to fire rockets into Israeli territory.
Netanyahu had earlier made it clear that he was willing to intensify the military campaign against Hamas if they rejected the Egyptian initiative.
"If Hamas rejects the Egyptian proposal and the rocket fire from Gaza does not cease, and that appears to be the case, we are prepared to continue and intensify our operation," Netanyahu said in a statement.
Ismail Haniyeh, Hamas' political leader in Gaza, had previously suggested in a televised speech that Hamas could be open to negotiations. "We are at an important stage in struggle against the occupier," he said, reiterating Hamas' demand for the release of its members in Israeli jails, including those arrested last month in a massive Israeli military operation aimed at wiping out Hamas in the West Bank.
A Hamas official who spoke to BuzzFeed by phone said that the group was not consulted regarding the cease-fire deal.
"We were left out of the loop. Our concerns were not brought to the table. Who negotiates a cease-fire deal with only one of the parties at the table?" he asked, speaking on condition of anonymity, as the group had not yet come to an official position regarding the deal.
A statement from the Egyptian foreign ministry called on "Israel and all Palestinian factions to immediately enforce a cease-fire, in view of the fact that escalation and mutual violence… is not in the interest of either party."
Both sides, it said, should stop "hostilities… via land, sea and air." Israel should refrain from a ground invasion as part of its military offensive, and Palestinian factions in Gaza should refrain from firing rockets, attacks on borders, or targeting of civilians. Crossings should open to allow the movement of people and goods "once the security situation becomes stable on the ground," read the statement.
Since Operation Protective Edge began last week, at least 190 Palestinians have been killed and more than 1,100 wounded. The U.N. estimates that around 75% of these were civilians. During that same period, more than 700 rockets have landed within Israel.
On Monday night in Washington, Barack Obama welcomed the Egyptian plan, describing the deaths of Palestinian civilians as a "tragedy" while restating Israel's right to defend itself against Hamas' rocket attacks.
"We are encouraged that Egypt has made a proposal to accomplish this goal that we hope can restore the calm that we are seeking," Obama said at an Iftar dinner at the White House to mark Ramadan. "The pictures that we are seeing in Gaza and in Israel are heart-wrenching."
Following a meeting of Arab League foreign ministers in Cairo on Monday evening, Egypt had indicated their hope that a full cease-fire could be in place by 6 p.m. on Tuesday. This would then be followed by separate talks between the two sides within the next two days.