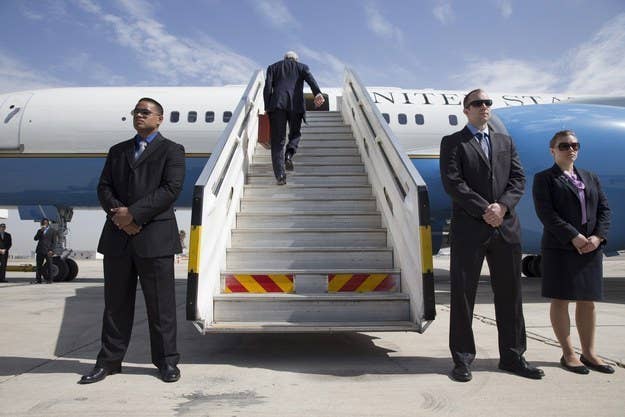 RAMALLAH, West Bank — Israeli and Palestinian officials both took steps Tuesday that could threaten already fragile peace talks, embarrassing U.S. officials who have repeatedly stated that the talks were moving forward and making progress.
"We don't know where the talks currently stand — we really don't," said one member of the U.S. negotiating team, who remained in Jerusalem to continue trying to bring the two sides together this week. He spoke to BuzzFeed on condition of anonymity, because he wasn't authorized to discuss the talks. "We are trying to keep this thing together, and that certainly isn't easy right now."
Despite pessimism from both sides, including op-eds written by some of the most prominent Israeli and Palestinian columnists stating that "peace talks were going nowhere," U.S. officials continued to spend time ferrying between Jerusalem and Ramallah, and also held briefings with reporters to insist there was "good forward momentum."
"We see every indication that both sides will extend these talks beyond the current deadline," one U.S. official told BuzzFeed in an off-record briefing last month, referring to the upcoming April 29 deadline set when the talks began. "They are both excited at the progress being made and have shown goodwill."
On the ground, however, a very different story has been developing and broke into the open on Tuesday, with each side taking unilateral steps it saw as necessary to pleasing its domestic audience.
Within hours of each other on Tuesday, Israeli officials announced 708 new homes in East Jerusalem settlements and Palestinians signed 15 international treaties on live television, while announcing they would take the unilateral step of seeking recognition at the United Nations.
Israel had previously promised U.S. Secretary of State John Kerry that it would refrain from making contentious announcements about the settlements while talks were ongoing, and Palestinians had said they would hold off on seeking recognition from international bodies while peace talks were underway.
On Tuesday evening, however, both sides were pointing fingers, each accusing the other of wrongdoing in a sign of just how far the two sides currently are from creating a lasting peace deal.
"The way we see this, Israel failed to honor their side of the agreement when they cancelled the final prisoner release," said Palestinian government spokesman Xavier Abu Eid. Israel had been slated to release a final group of Palestinian prisoners over the weekend. This group included some of the most controversial prisoners, including those with dual Israeli-Palestinian citizenship.
Israeli Prime Minister Benjamin Netanyahu said that Israel would not make a deal to free the prisoners "without a clear benefit for Israel in return." He acknowledged Sunday during a meeting with his cabinet ministers that negotiations to come to an agreement could potentially "blow up."
"This last phase was planned to take place if the talks were making progress as all sides had hoped for. They were not making progress, however, and Israel made it clear the final prisoner release would need to be re-negotiated," said one Israeli official close to the talks. "We were looking for a way to move forward on the talks when the Palestinians threw a new boulder into the road."
Netanyahu met with Kerry in Jerusalem over the weekend, and was pressing for Washington to free Israeli spy Jonathan Pollard, who was arrested in Washington in 1985 and sentenced to life imprisonment for spying on the U.S. on Israel's behalf.
"The emerging deal ... contains the following elements: the release of Jonathan Pollard before the Passover holiday (in mid April) and the extension of the negotiations with the Palestinians into 2015," one Israeli government source told AFP.
An Israeli minister said Tuesday that Pollard had rejected the deal, and U.S. officials reported that Pollard had waived a planned parole in a sign that he had no wish to be set free.
An aide close to Palestinian Authority (PA) Chairman Mahmoud Abbas told BuzzFeed that the PA had been "left out" of the talks on Pollard, and that Israel ignored a PA request that senior Palestinian prisoners be included in the next round of prisoner releases.
"We don't want to clash with the U.S. administration, but we are left with no choice," Abbas said in a televised address. "Secretary of State John Kerry made great efforts and I met with him 39 times since the beginning of the negotiations. We are not working against anyone but we have no other option."
He said that while the Palestinian leadership still seeks a solution to the conflict, through negotiations and through popular resistance, he would not give up the right to turn to U.N. agencies and international conventions.
The first document signed by Abbas was a petition to join the Geneva Convention, followed by institutions that have to do with human rights and civilian protection. Abbas also signed several international treaties that protected the rights of women and minors, said PA spokesman Abu Eid.
Palestinian officials have expressed doubt over the U.S.-led process for months, telling BuzzFeed earlier this year that they were preparing to go the U.N., and other international bodies when the talks failed.
"We have other avenues, other options for statement that we can explore," said Husam Zomlot, a prominent member of the Fatah Party. "We don't really see these talks extending past their nine-month deadline. I'm worried because if you can't do it in nine months, why do you think you can do it in one year and nine months?"
By Tuesday evening, it remained unclear on whether the Israeli leadership would continue the negotiations, in the wake of the Palestinian moves. An announcement by Kerry that he was canceling his Wednesday meeting with Abbas indicated that the talks were in a very fragile state.
"I'm a simple guy, and maybe I have simple opinions, but the way I see it both sides are not really interested in peace and are only staying in the process to appease the Americans," said Palestinian student Wissam Musleh, who on Tuesday night watched the rapid-fire developments from a small café in Ramallah. "Maybe they can drag this process on for a couple more weeks, but the writing is on the wall. Everyone is just doing what they want at this point."