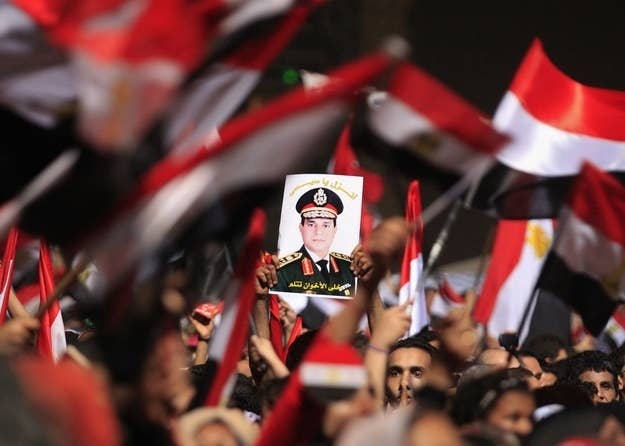 The scene looked more like a low-budget street party than an election rally. Pickup trucks were loaded high with stereos that blasted a mixture of electronic and nationalist Egyptian tunes through sandy speakers. About a dozen men snaked into the street, blocking the rush-hour traffic to dance their love for Egyptian Gen. Abdel Fatah Al-Sisi.
"We are here because we love Sisi, because we want him to be our president," said Magda Zaid, a 26-year-old who collected signatures for a petition to get Sisi to run for president. "We are just people who like Sisi."
But Zaid is, in fact, a former journalist, and the Thursday night event was being held in front of the Egyptian Journalist Syndicate building.
"The people of Egypt think that they have fallen in love with, discovered their love of Sisi by themselves. This is how love works. But they have tricked into loving Sisi," said one Egyptian television journalist, who asked to remain anonymous to protect her position. "In fact this is an arranged marriage."
She recalled a meeting with an editor last month, in which she discussed running a story on the ongoing attacks on Egypt's Coptic Christians. Her editor, she said, agreed, but asked that she add in one extra line.
"He told me to point out how much Sisi has done to help the Copts, to have this be an uplifting point of the story," she said. "There is this constant thing, this push to present Sisi as a hero."
Sisi has repeatedly denied that he has political aspirations, but has left the door open for a presidential running, telling one newspaper it was up to "God's will."
But in recently leaked audio recordings, Sisi can be heard discussing a media strategy that includes pushing editors and reporters to present him in a favorable light.
The recordings, which were published by the Rassd News Network, could not be independently verified. Sisi appears to be asking an editor of the Egyptian Al Masry AL Youm newspaper to initiate a campaign that would grant Sisi immunity as defense minister.
"You should lead a campaign with intellectuals to draft an article in the constitution to provide immunity to Gen. al-Sisi in his capacity as a defense minister and allow him to resume his role if he is not elected president," Sisi says.
In separate leaked recordings also published by Rassd earlier this month, Sisi tells a meeting of military officers that he wants to control the media and strengthen the image of the army in the Egyptian public.
A spokesman for Sisi refused to comment on the audio recordings, though numerous Egyptian media outlets expressed outrage at what they said were "faked" audio recordings of the defense minister. Al-Masry Al-Youm announced that they are suing Rassd for $7.2 million for publishing a fabricated clip.
While some Egyptians appeared shocked at the audio recordings, most continued to defend Sisi, especially online.
The Tumblr, Where else have you seen Sisi? has continued to grow in popularity, with everything from Sisi jewelry to little chocolates with the general's face on them.