Iraqi Prime Minister Announces He Is Stepping Down
Both the U.S. and Iran had been pushing for Nouri al-Maliki to go.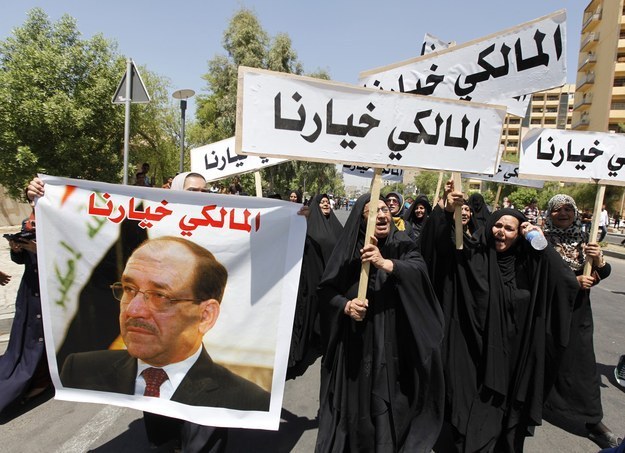 IRBIL, Iraq – Nouri al-Malki, the embattled prime minister of Iraq, announced Thursday night that he had agreed to step aside and support the nomination of Haider al-Abadi, ending a political deadlock that threatened to paralyze the Iraqi government as ISIS forces continued their steady advance towards the capital.
Maliki, who was pushing to stay for a third four-year term as prime minister of Iraq, finally succumbed to pressure by the U.S. and Iran, as well as Iraqi Kurds, Sunnis, and Shiites, who had all urged him to accept his successor rather than risk dragging the Iraqi government into weeks of uncertainty.
"I announce before you today, to ease the movement of the political process and the formation of the new government, the withdrawal of my candidacy in favor of brother Dr. Haider al-Abadi," Maliki said in a televised speech.
Maliki had previously argued that as his State of Law coalition had won the most seats in parliament in late April, he was entitled to choose the candidate who would form a government as Iraq's next prime minister.
As recently as Wednesday, Maliki said he wouldn't leave office until Iraq's high court had ruled on the matter. "The government will continue and will not be replaced until there is a decision from the federal court," he said in a speech.
International pressure on Maliki has increasingly grown, with both the U.S. and Iran pressuring him to step down and endorse al-Abadi, who they hope will form a more inclusive government.
Maliki has been accused of fueling sectarian divides in Iraq by supporting a pro-Shiite agenda and alienating the Sunni minority in Iraq. ISIS, the much-feared terror group now controlling large swaths of Syria and Iraq, capitalized on Maliki's politics to sway local Sunni groups into supporting their movement.
The advance of ISIS toward Baghdad led the U.N. to declare Iraq a "Level Three Emergency" this week, as they pointed to hundreds of thousands of refugees fleeing from towns in northern and western Iraq where ISIS has taken hold.
The advance of ISIS into Kurdistan spurred the U.S. to launch airstrikes against the group this week, and speedily deliver much-needed arms to the Kurdish Peshmerga forces putting up the only line of defense against ISIS in northern Iraq.
In western Iraq, the Iraqi army engaged in firefights with ISIS in Fallujah, only 40 miles west of Baghdad. ISIS has held Fallujah since early January, and in June extended their control to Mosul, Iraq's second-largest city.
Now, all faith will be put in al-Abadi, who many hope will be able to rally Iraqi forces against ISIS.
President Barack Obama has repeatedly said that Iraq needs to adopt an inclusive government in order to address the crisis, including the growth of ISIS. "The United States stands ready to support a government that addresses the needs and grievances of all of the Iraqi people," Obama said earlier this week, in a speech seen as dismissing Maliki altogether.
The U.N. Security Council on Thursday urged al-Abadi to work swiftly to form "an inclusive government that represents all segments of the Iraqi population and that contributes to finding a viable and sustainable solution to the country's current challenges."
National Security Advisor Susan Rice issued a statement later Thursday praising the development:
Today, Iraqis took another major step forward in uniting their country. We commend Prime Minister Maliki for his decision to support Prime Minister-designate Haider al-Abadi in his efforts to form a new government in line with the Iraqi constitution. We have heard from a wide range of leaders across the Iraqi political spectrum who have expressed their commitment to work with Dr. Abadi to form a broad, inclusive government with an agenda that can address the needs and legitimate aspirations of the Iraqi people. In the last few days, we have also welcomed statements of support from all over the world for the new Prime Minister-designate. These are encouraging developments that we hope can set Iraq on a new path and unite its people against the threat presented by the Islamic State of Iraq and the Levant. The United States remains committed to a strong partnership with Iraq and the Iraqi people.
European officials also praised the move:
Sheera Frenkel is a cybersecurity correspondent for BuzzFeed News based in San Francisco. She has reported from Israel, Egypt, Jordan and across the Middle East. Her secure PGP fingerprint is 4A53 A35C 06BE 5339 E9B6 D54E 73A6 0F6A E252 A50F

Contact Sheera Frenkel at sheera.frenkel@buzzfeed.com.

Got a confidential tip? Submit it here.