The Internet is abuzz after a bizarre and unverified recording of Egyptian General Abdel El Fattah El Sisi saying he can foresee the future in his dreams — including that he will one day become president — was leaked on Wednesday.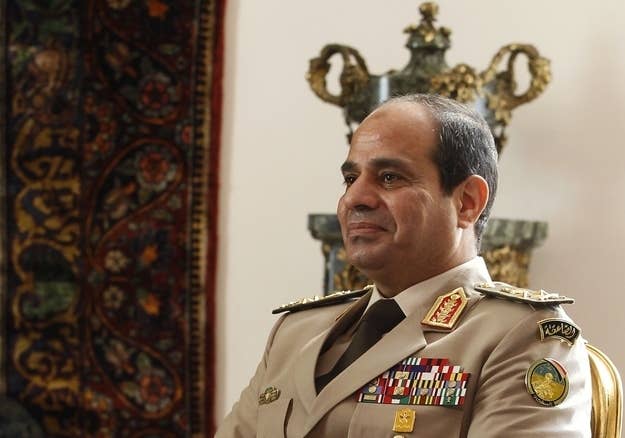 The recording, which has not been verified by any official source, was supposedly leaked from off-the-record comments Sisi gave during an official interview with the Egyptian daily newspaper, Al-Masry Al-Youm, in October. Rumors over the tape's source abounded: some claimed it was false and a ploy, perhaps by the Muslim Brotherhood, to discredit Sisi; others speculated the government had orchestrated the leak to test public opinion of a Sisi presidency.
The claims, whether true or not, are outlandish. The speaker claims he can foresee future events through dreams and described three that allegedly allude to Sisi's predestined presidency: 35 years ago he dreamed that he was holding a sword with the words, "There is no God but Allah," while wearing an Omega watch adorned with a big green star. In another dream, he met the late President Anwar el-Sadat who told him he would be president. In a third unconscious incident, a voice proclaimed, "We will grant you what no one has had before."
Many in Egypt weren't sure what to make of it all.
Some thought his mentions of "raising a blood sword" and having a conversation with Sadat's ghost were a little scary.

And of course, many wondered when the Omega/Sisi advertisement campaign would launch.
Time will tell whether the presidency vision will come true. But a series of memes under Arabic hashtags meaning #SisiDreams and #SisiLeaks harshly mocked the General. Here "Omega" is deconstructed to mean "Sisi is really stupid."
Others wondered whether Sisi had the crazy dreams because he was not properly covered up while he sleeps, per Egyptian lore. Here Sisi recounts that Sadat told him he would be president. Sadat responds that he should cover up well before he sleeps.

Another meme advises: "Yes, cover him well like this and he won't dream again. #Sisi's_Dreams."

Here is Freud telling Sisi: "An Omega watch in the dream means victory."

Here, Sisi's Omega watch boasts a green Star of David adorned with Hebrew letters...
Here is Sisi photoshopped as the Pope with the sword from his dream. Earlier this week Sisi supporters were appalled when the General didn't make TIME Magazine's official person of the year list after winning the online reader's choice poll.

"Time Magainze changed their mind... and put Sisi as man of the year."