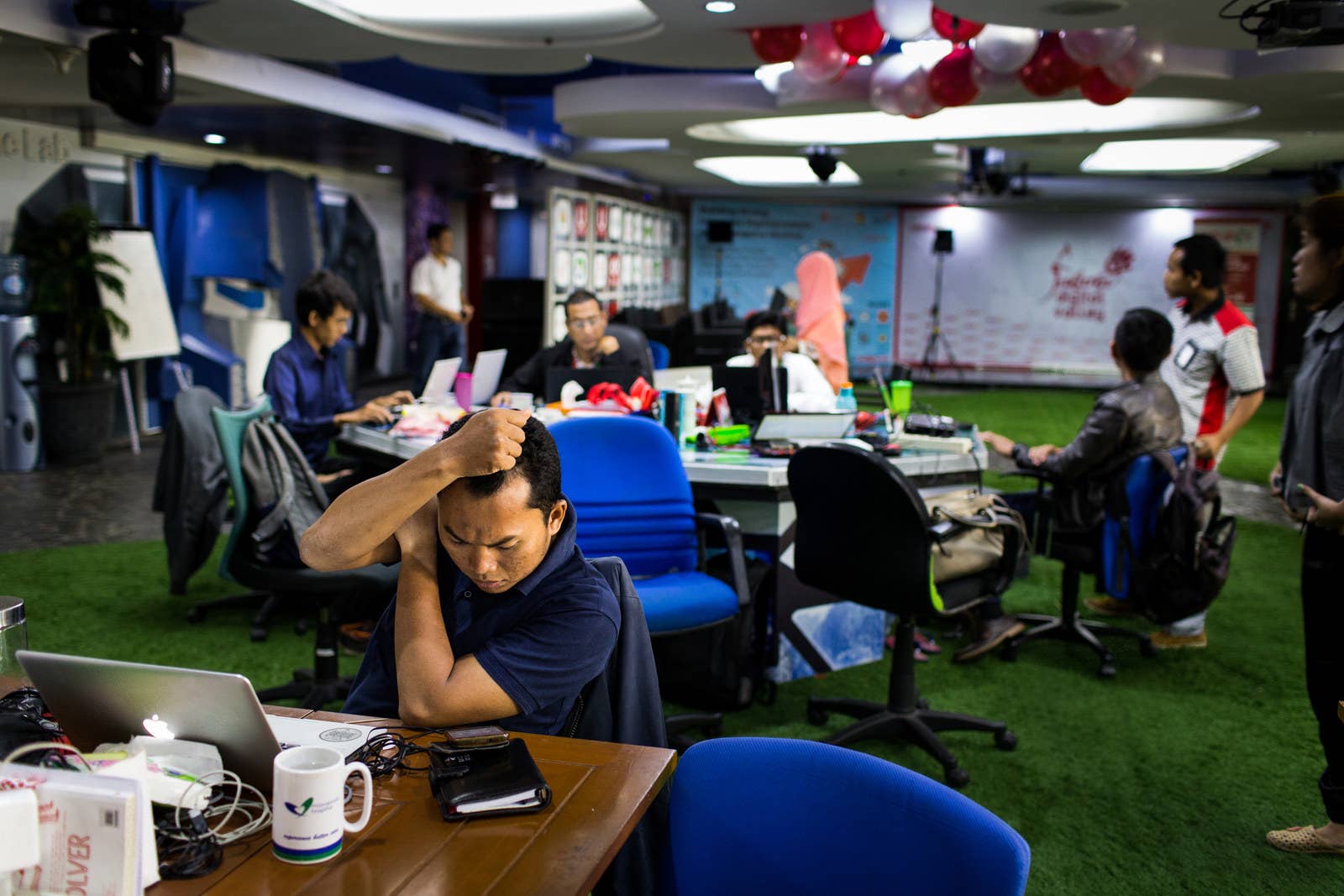 JAKARTA, Indonesia — When Indonesia's telecommunications minister took the stage at Google's first ever major event for tech developers in Jakarta, the stakes were high. Many saw the event as affirmation that the country's time had truly come, that it had cemented its place in the world as a center for tech innovation. Instead, Minister Rudiantara opened his mouth and announced he was considering banning Pokémon Go. The otherwise boisterous crowd drew a sharp, collective, intake of breath.
"I just was thinking, oh shit, don't let them ruin this," Nik Sauteng, a 25-year-old developer based in Jakarta, said. It was not, Sauteng said, the kind of thing he expected at Google's first-ever large-scale event in Indonesia.
"We need to show Google that we are here, we are ready, we want everything they can give us," Sauteng, who had plastered Google stickers across his cell phone in anticipation of the event, said. "It's not about Pokémon Go, that game is already old. It's about the next thing, and we want that next thing to come from Indonesia. We want the rest of the world to see that Indonesia is actually already way ahead of them."
So it was a relief when Rudiantara continued his speech, explaining that although many in Indonesia's security establishment had urged him to ban the game, he was also listening to young Indonesians who, "really want to play Pokémon Go."
"My relationship to Google is like I'm forced to be married to someone," said Rudiantara, who noted that his government eventually spoke to Google, who created the technology behind the maps and accounts that make the insanely popular game possible and had made sure the game was being played away from sensitive military sites. "We can't say go to hell to Google or to technology. But we also cannot allow them to do everything they want to do."
"It's about the next thing, and we want that next thing to come from Indonesia."
Walking the line between tradition and technology — a tightrope faced by governments across the developing world — was "really the most interesting thing happening today," said Caesar Sengupta, vice president of Google's "Next One Billion Project." Sengupta, whose job it is to not just bring the next one billion users online, but to make sure the internet works in the context of their lives, spends a lot of time coaching those world leaders on how to walk that tightrope. Outside of a few lonely holdouts — North Korea among them — the issue of whether the rest of the world is ready to come online has moved from a question of if, to a question of when, Sengupta said. And companies like Google have moved from pivoting towards Asia to planting regional headquarters to usher in the billions sprinting towards the internet in what will one day (they hope) be their biggest market.
"We have the option to build a whole new set of products here. We have been going across the company to get every product, every team to engage in these markets, in places like India, Indonesia, and Brazil. And to think deeply about how users will use our products," Sengupta told BuzzFeed News in an interview during the conference in Jakarta. "We are thinking about how we actually make these products better for the users. We have to think about what users want to accomplish and then think differently about it."
So this week, when Google announced an offline maps function that lets users keep track of where they are going, even with no internet service, the audience cheered. When Google announced those maps could be saved to an SD card, they cheered even louder.
It's the kind of thing, Sauteng said, that people in the US probably don't think about.
"People in the US have their iPhones or whatever and unlimited data plans. That's not what we are working with here," Sauteng said, who has family in Chicago, though he was born and raised in Jakarta. "When you are paying for every gig of data you get, being able to save to a SD card and then store a map there is huge. It's the kind of thing the average person here will get into."
Google also announced that it would begin rolling out "light" searchers that will let users in areas with low connectivity do a streamlined search, as well as save and retry their search for when they can get a better internet connection. On Maps, Google said that they would start including travel times with Indonesian buses and, even more crucially, with Go-Jek, the Indonesian ride-hailing company which is like Uber on steroids.
"Will we see some governments overreact to some forms of technology? Possibly. But will we also see some governments take that technology and create new things with it? I hope so," Sengupta said at the end of the conference, where Google announced it would train 100,000 new developers in Indonesia and two million more in India. "The same tech that we use in Pokémon Go can also be used with elderly people and visually impaired people to help them move around in a much better way. So it's really about us thinking about using tech in the right way, and hopefully not overreacting. ... It's about getting people to take that technology and create."
If there was ever a TV ad for tech innovation in Indonesia, it could star Nicky Suwundi.
The 24-year-old weaves his motorcycle in and out of gridlocked cars, all the while bopping his head to a newly released hip-hop track from Indonesian YouTube sensation Rich Chigga. He's one of a fleet of 200,000 motorcycle drivers working for Go-Jek, Indonesia's answer to Uber and Lyft. Google Maps may have estimated that the journey through Jakarta's legendary traffic would take 45 minutes, but Suwundi gets there in under 20 minutes, and, if requested beforehand, he would have delivered a fresh cup of coffee or a sandwich to go along with the ride.
"I want a startup — I want to design something that lets you match your music to the speed you are driving. I want to be able to speak to it, so that when I'm on my motorcycle I don't have to touch anything to change the music," Suwundi said. "I want my phone to do everything for me in life."
"I can't remember the last time I was on a laptop. That isn't necessary."
He doesn't like to compare Go-Jek to Uber, pointing out that the Indonesian company was founded in 2010, long before other ride-hailing companies became household names here. Go-Jek was the brainchild of Nadiem Makarim, a native Indonesian who started the company after he graduated from Harvard and dreamt of returning to Jakarta to launch a call center for rides on scooters. The company didn't really take off until 2015, when with a new round of funding it introduced a mobile booking app to tap into the country's cell-phone obsessed public. It has since evolved to include rides with cars, and services that let you order everything from a massage or makeup artist to coffee and groceries delivered to your house.
Just this month, Go-Jek announced it had closed $550 million in new funding, bringing the company's value up to $1.3 billion, one of the few unicorns in Southeast Asia. It's up against Uber, will recently announced it was selling its China operation to Didi Chuxing, a move that was seen as a precursor to expanding its brand to Southeast Asia and India.
"I use all of the apps, but I like Go-Jek the most," Rio Teguh, an engineer in Jakarta, said. "The moment I got it on my phone it replaced everything else. … I could sell my own scooter."
Last week, Teguh was busy looking over a company report, planning a conference call, and making sure his elderly mother got her prescription filled — all activities he does solely through his phone.
"I can't remember the last time I was on a laptop. That isn't necessary," he said.
Indonesia now has the world's fifth-largest population of internet users, according to Tony Keusgen, the head of Google Indonesia, and almost all of them are what tech companies like to call mobile-first, meaning their phones are their first, and often only, connection to the internet. Companies like Go-Jek is what Google is after when they pay to train developers and launch new products in-country.
"The question is how do we make the internet more Indonesian?" Keusgen said. "It's a huge market, and by 2025, at $46 billion, it will be the largest e-commerce market in Southeast Asia."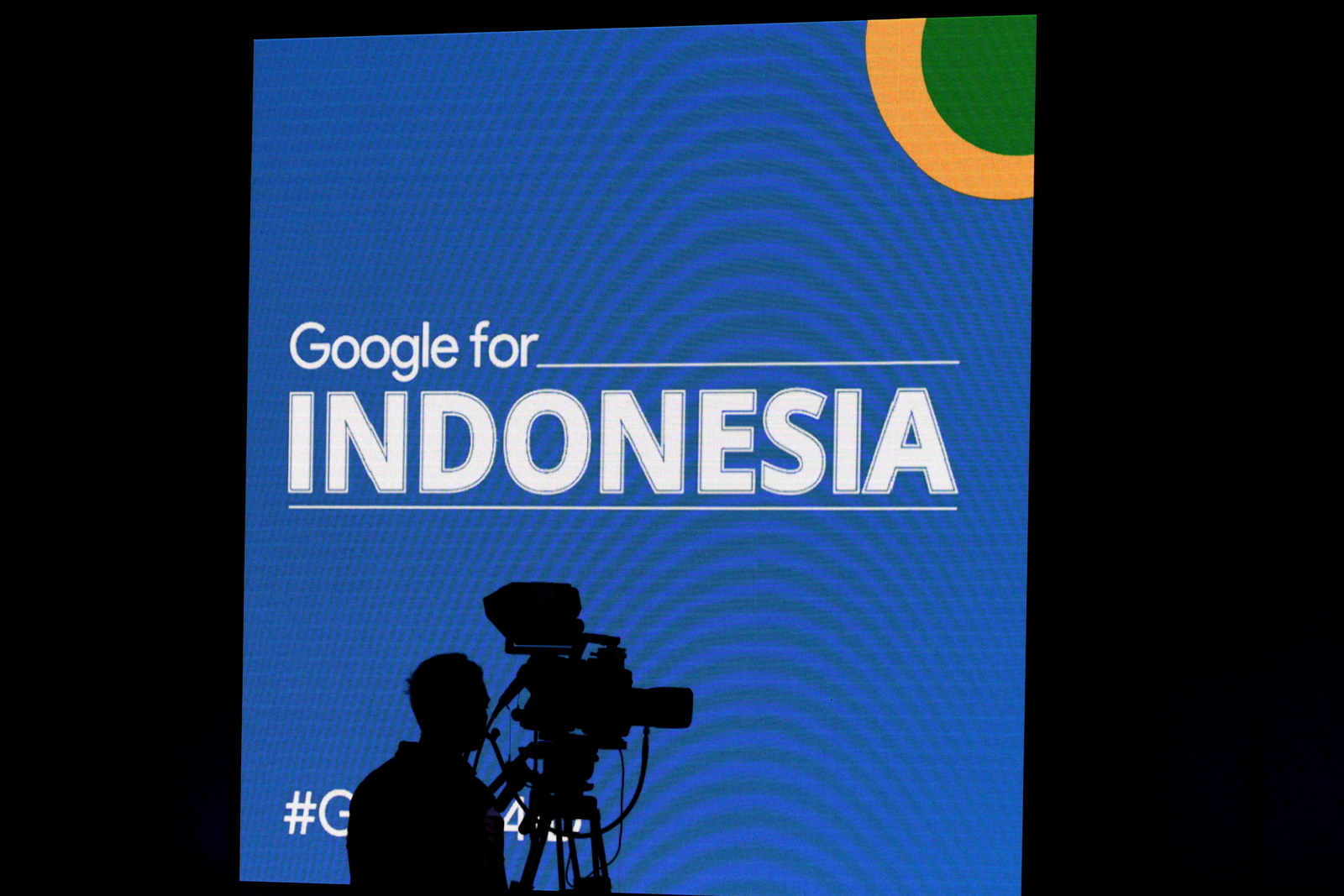 A sea of mobile phones go up in the air as Sengupta takes the stage.

"This is the future," Sengupta says with with a smile, and the crowd goes wild.
While the era of tech moguls as rock stars has been well-established in Silicon Valley, the presence of a Google VP, especially one announcing new products aimed at improving the online experience of the average Indonesian, still feels exciting in Jakarta. Sengupta, who only recently took his title as head of the Next One Billion Users project, is still figuring out what that title means. Companies disagree on the exact numbers, but at the moment, roughly 2.8 billion of the roughly 7 billion people on the planet have regular access to the internet. Sengupta's recent relocation to Singapore is a clear sign of where Google is focusing on bringing online their next two or three billion customers.
Google's interest in the region is two-fold: They want to get people online, and they want to make sure their experience with the internet is good enough so that they stay long enough to get addicted to Google's full arsenal of products. If the first few times a new user comes online are filled with pages that fail to load and videos that endlessly buffer, they won't be as likely to explore what the internet has to offer.
"I would find it very insulting if someone gave me this product and said, 'oh, I have this beautiful product for the US and you in India, here take this lesser version'"
"The way they are using products and computing is very different from the way you and I use it, or the way that Google's first one billion users used computing," Sengupta told BuzzFeed News in an interview after the conference. "They are going to be mobile first, in many cases mobile only, and they, all their user habits, all their preferences, their learned behavior is going to be very different."
Take for instance, the way the average person in the US would respond to a white box on the screen, Sengupta said.
"If that were shown to you or I, if we saw that white box we would start putting in text. But that is not something that occurs as naturally to someone who didn't grow up typing on a computer but pressing a screen," he said. So Sengupta and a team of VPs from across Google, from departments ranging from search to maps, are staying on in Indonesia for another five days for what they call immersive learning.
The trips aren't new, they say, but they have become more important as the company increases its focus on new markets.
"This isn't a new thing, but now it is full on," said Kentaro Tokusei, director of product management for Google Japan and Google Korea, who has been working for Google in Asia since 2003. "These markets are like forerunners, in many ways."
Google, Facebook, and a dozen other companies are racing to be the first to develop a system that brings the developing world, and its billions of potential users, a fully-functioning internet. From an engineering point of view, there are the methods that everyone knows will work — the types of things that bring the internet to the homes of most Americans like laying down fiber optic cables, or like working with telecommunication companies to build towers which let our phones connect to the internet through 3G and LTE networks. And then there are the more experimental projects. Google's Project Link is an initiative to build fiber and Wi-Fi networks that has already launched in Uganda and Ghana, and which Sengupta said will soon expand to cities in other countries. Meanwhile Project Loon, which will send balloons into the stratosphere to provide the internet in remote places, will take years to get off the ground. Facebook recently announced Open Cellular, an open-source wireless access platform, which is designed to be built cheaply and quickly, and support network options ranging from 2G to LTE speeds. Facebook has also beta-tested a giant drone, designed to provide internet by flying over remote areas.
Facebook's largest endeavor, however is Free Basics, an initiative it started last year and has rolled out in 37 countries to date. The program offers access to certain websites, namely facebook.com, through partnering with local telecommunications companies in each country. Facebook CEO Mark Zuckerberg has said the program will "break down barriers to connectivity," though critics have argued that it violates net neutrality, by incentivizing people to use one service over another.
Nowhere has the fight over Free Basics played out as publicly as it has in India, which last year announced it was banning the Free Basics program. Facebook has now launched a new effort, called Express Wifi, in which it is working with local internet service providers and carriers to provide wireless hotspots across the country. The program is similar to Google's India Railways project, which offers free W-Fi across the country's railway systems and which sees over two million people connect to the internet each day, Sengupta said.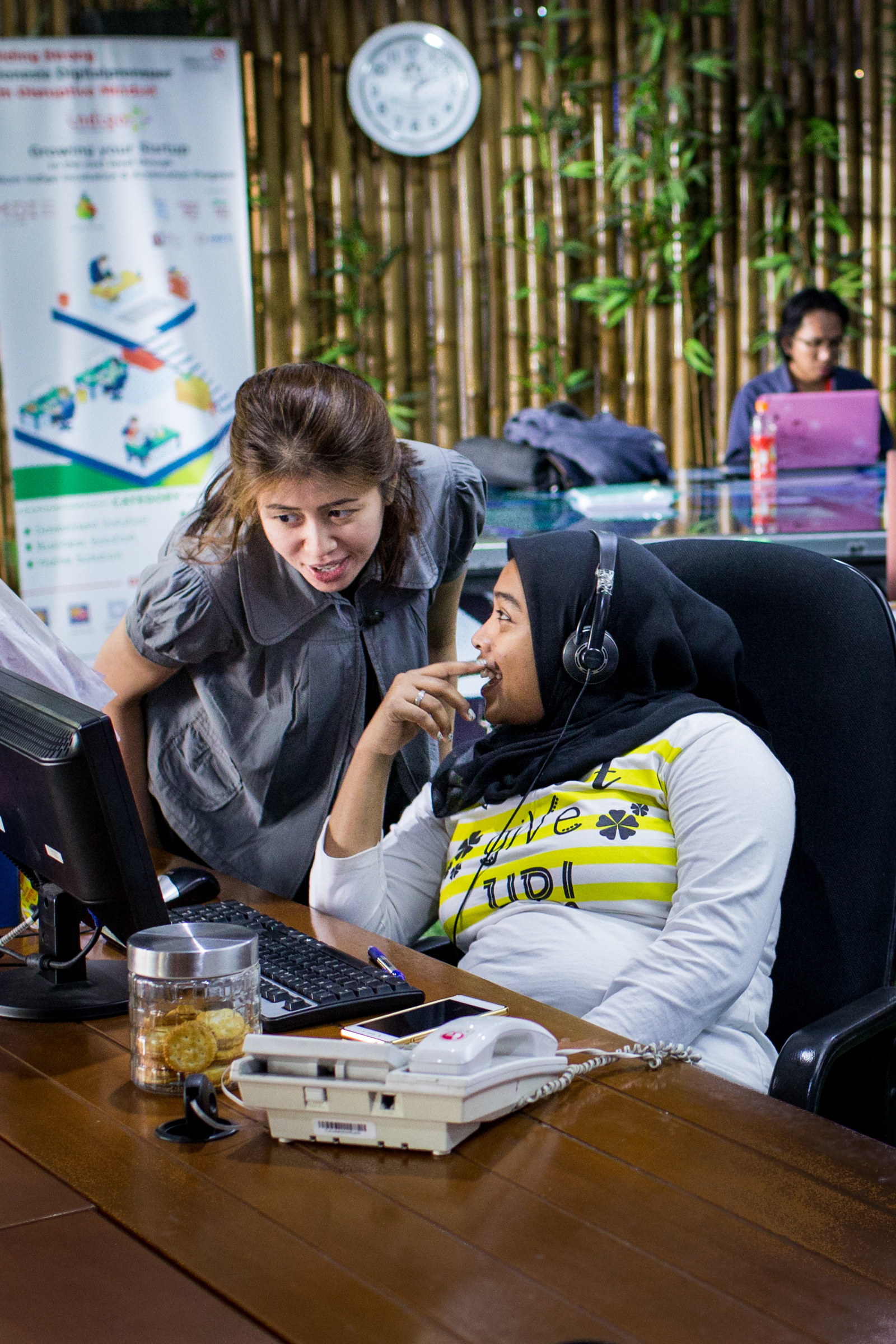 Sengupta also said he wouldn't comment on Google vs. Facebook's vision, but that to him, "it's really important to have an open internet."
"I have an aversion for building a different product for 'you guys.' I grew up in India. I would find it very insulting if someone gave me this product and said, oh, I have this beautiful product for the US and you in India, here take this lesser version," Sengupta said. "We want to offer the same internet for everyone."
He's still not sure, though, who should be teaching people about the safe use of the internet. Sengupta recalls how in Singapore, his daughter was taught in school how to create a safe password for herself.
"Schools should be teaching it, governments teaching it, and Google should be doing it. We should be teaching people about the internet and keeping them safe," said Sengupta.
Safe passwords are one thing, but what about being able to safely practice free speech? While Google, Facebook, and Twitter are predicated on the idea that people should share and discuss their thoughts freely online, that idea isn't upheld by many of the countries those companies are now expanding into. Just a few recent examples are Muhammad Ruhul Amin Khandaker who was jailed in Bangladesh for joking about his desire for the Prime Minister to die; the six people in Iran who were arrested for dancing in a video to Pharrell Williams' song "Happy"; and the Indonesian man arrested and jailed for two years for posting "God does not exist" on his Facebook account.
Sengupta frowns when asked about some of those cases, or about Myanmar, where human rights groups say they have lost track of how many have been arrested in the last few years as the country suddenly allowed the widespread use of the internet among its citizens.
"Lot of countries and governments are now waking up to the internet. They hadn't quite understood what the internet could be, both as a positive and as a negative. The speed at which internet is evolving is forcing them to ask a lot of questions," said Sengupta. "Technology itself is something that causes opportunity and the same time it causes change so there is always this fear whenever there is this new tech that comes in. For us, the most important thing to do is to take a very thoughtful approach to any new technology that comes up."
In Indonesia, they already have local slang they use to refer to the tech giant. "Mbah Google," which roughly translates as a sage grandfather, is used by Indonesians both out of admiration, when it answers or helps with a problem they are having, and out of frustration, when the site is being slow or fails to load.
"Mbah Google, like our old uncle or grandfather, is complicated," said Teguh, the Jakarta-based engineer. "We love it, but maybe we can teach it some things."