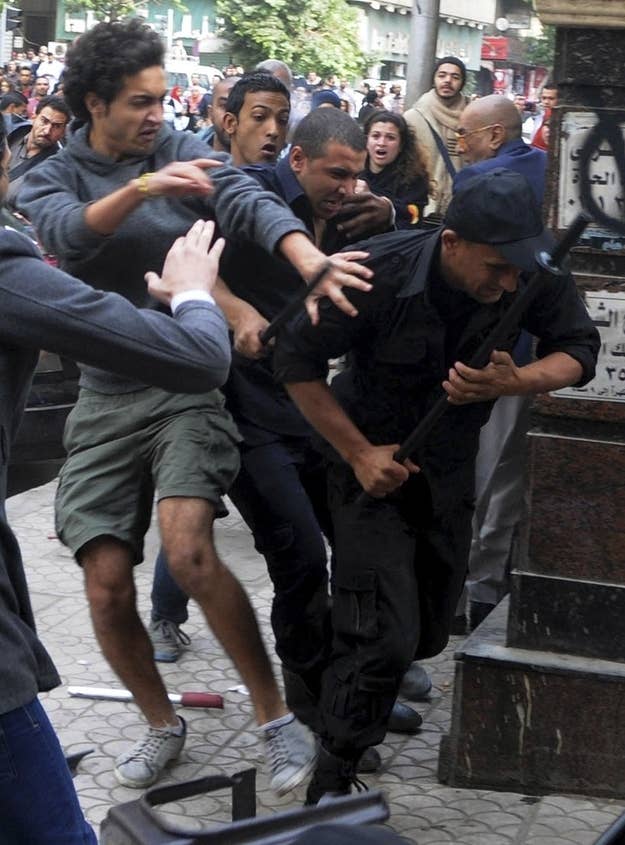 It used to be that if you were arrested in Egypt, you had to rely on an eyewitness or friend getting the word out.

Occasionally, it didn't go very well. Many Egyptians have common last names, and Egyptian media often mis-identifies people.

But now, Egyptians have an app that can let friends and loved ones know as soon as they are stopped by security forces.
Beyt2ebed 3alia, or, "I am being arrested," works on Android and Blackberry phones.
After downloading the app, users are asked to make a list of emergency contacts. If, one day, they are arrested, all they have to do is press a button and their contacts are sent a message saying "I've been arrested" along with the GPS coordinates and time stamp.
"The main point is that it's really simple to use. You just press the button and it sends immediately...When you're arrested here, you don't get to make a phone call. People need to be able to send an SMS to their family that communicates their location. We have many different police entities arresting people, so if your friends and family know your last location, they can determine which entity was managing that area and can put pressure on the government to release you. Otherwise there's little chance you will get released" developer Badr Moharam told the Wamda news site in 2011, when the app first came into development. Now, they've relaunched with a new interface and design.
Users say there is more need for the app than ever before. Since the political upheaval of 2011 which ousted the regime of Hosni Mubarak, Egypt has seen a slow return to the police state, culminating in the widespread arrests of political activists this fall. Human rights groups say that Egyptian security forces have arrested thousands in the last few months, and warn that a new law that bans unapproved protests will allow them to arrest many more.
"Part of me thinks it's sad, that Egypt has come to this," said Yasmine Helawy, a 24-year-old student activist. "But then I know I will download it because it could be very useful if I get arrested."
On Sunday, as an Egyptian panel was conducting its final vote on a new constitution for Egypt, Helawy was among hundreds who demonstrated in Cairo. Security forces fired tear gas at the protesters, who rallied against the law to limit protests and a law that would allow military tribunals for civilians.
"This country is not headed in the right direction. We are going to keep protesting and probably getting arrested so at least we have an app now," said Helawy.