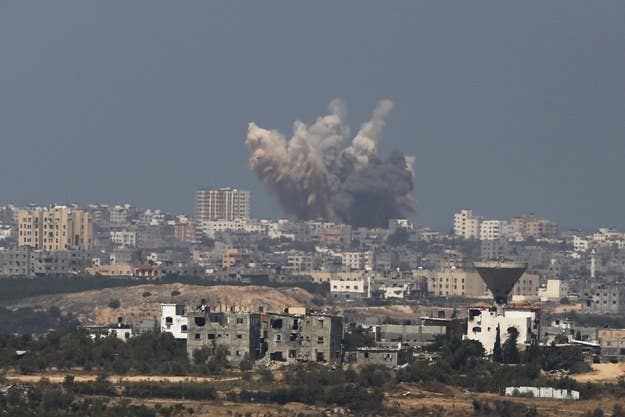 JERUSALEM — The cease-fire between Israel and the Gaza Strip collapsed on Friday, as talks to try to reach a more lasting truce reached a deadlock.
Militant groups in the Gaza Strip fired several rocket salvos from Gaza in the early morning hours, while Israel hit the northern Gaza Strip with artillery and navy fire marking an end to the three-day cease-fire.
On Thursday, both Palestinian and Israeli officials had appeared hopeful that they could extend the cease-fire for an additional three days. Egyptian officials have been mediating between the various Palestinian factions of the Gaza Strip, the Ramallah-based Palestinian Authority (PA) government, and Israeli representatives.
But on Thursday night there was a breakdown in the talks. One PA official still in Cairo said that the Palestinian factions felt their key request for a lifting of the blockade in the Gaza Strip was not being honored.
"They wanted guarantees that the blockade would be lifted and they got none of those guarantees," said the official, who spoke on condition of anonymity as the talks are ongoing. "Both Israel and Egypt were unwilling to budge on the demands that Gaza made."
He said Egypt has refused to consider opening its Rafah crossing with Gaza, citing security concerns over militant groups operating in the Sinai, while Israel has said that demands of an easing of the naval blockade a seaport to Gaza are "unrealistic."
Analyst Gershon Baskin, who was a mediator in the talks between Israel, Egypt, and the Gaza Strip during the negotiation process for captured Israeli soldier Gilad Shalit, said that Hamas was was making unrealistic demands.
Israeli officials said they had withdrawn their negotiating team from Cairo early on Friday morning, and they would not continue to talk while rocket fire from Gaza is ongoing.
"Firing on Israeli citizens as a way of exerting pressure is a test of Israeli deterrence for years to come," said Israeli cabinet minister Naftali Bennett. "The response must be firm."
The three-day cease-fire agreement reached by Egyptian officials expired on Friday morning at 8 a.m. local time. There was an unconfirmed mortar attack from Gaza at just after 4 a.m., and at 8:04 a.m. several rockets were intercepted over the coastal region of Ashkelon. The militant group Islamic Jihad took responsibility for those attacks, though their representatives had been present at the cease-fire talks in Gaza.
By 10:45 a.m. Israeli artillery had begun shelling the northern Gaza Strip, as the navy opened fire on several coastal areas. Officials from the U.N. said thousands of Palestinians were frantically seeking shelter in northern Gaza, amid fears another full-scale assault would hit the area.