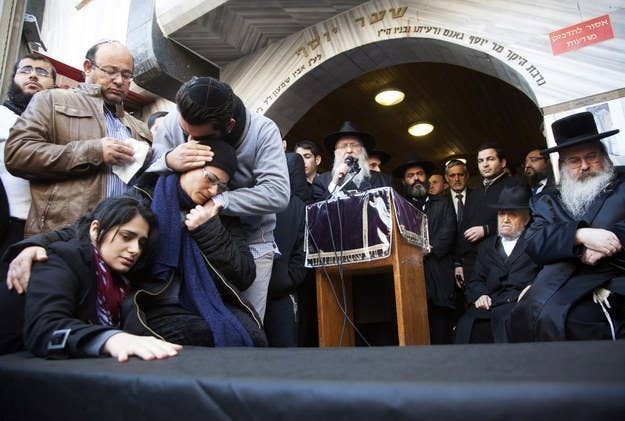 JERUSALEM — Joseph Biton left the funerals of four French nationals killed in an attack on a Kosher supermarket in Paris and went to buy a house in Jerusalem.
The 61-year-old Parisian said he has long talked about moving his family to Israel, but the attacks last week in the French capital pushed him to finally act.
"For years I talked, now I act. I've made appointments with real estate agents for after the funeral. I'm going to buy something here and move my family," Biton said. On Monday, he caught a flight from Paris to Israel, once it was confirmed that the funerals would be held in Jerusalem's Givat Shaul cemetery. Yohan Cohen, Yoav Hottab, Francois-Michel Saada, and Phillipe Braham were buried there on Tuesday. The four were killed last week during a tense hostage standoff. Over the weekend, their families asked that their bodies be buried in Jerusalem.
"It just seemed like the right thing, to have the funerals in Israel," said Biton. "Even if we don't live here yet, for French Jewry there is this feeling, a pressure on us, that makes us feel like France is not safe and Israel is our ancestral home."
Among the hundreds who gathered in the cold winter sun Tuesday, there was more French being spoken than Hebrew. Busloads of mourners came from Israel's coastal cities, areas that have become increasingly populated with French immigrants. Most did not know the men who were killed, but came because they felt like one of them had been targeted.
"French Jewry, we think of ourselves like that as a group, and when this happened it felt like it was happening to us all," said Bernadine Mazul, a 61-year-old mother of three who immigrated to Netanya, in northern Israel, seven years ago. "I felt like I was coming to the funeral of a cousin, even if I didn't know them."
For the family and friends of those who knew the men, the outpouring of support was heartening, but at times overwhelming.
In one far corner, sat the friends of Yohan Cohen, one of the victims. They turned their red, tear-stained faces away from the well-wishers in the crowd and the numerous TV cameras at the site.
"We aren't used to this spectacle at the funeral," said one of the friends, who asked only to be identified as Rachel. "I know this is an Israeli thing but for us it is strange."
Next to her sat Zari Simon, one of the survivors of the Hyper Cacher attack. Zari had been sitting at one of the cash registers when Coulibaly burst in. He made her sit on a chair, said her friend, and told her that because she was a woman he would kill her last. Simon asked not to speak to press, but as she looked over the mourners she repeated to her friends, "How can we go back to Paris? How will I go back there?"
Israeli Prime Minister Benjamin Netanyahu, who gave an address at the funeral after returning from a trip to Paris, reminded the French community, once again, that they were welcome to immigrate to Israel.
"Jews should be able to live anywhere and feel secure, but they know in the depths of their hearts, that they have one country the state of Israel," Netanyahu said.
Like many funerals held for victims of terror, the ceremony ended with the Israeli national anthem, the Hatikva.
The friends of Cohen stood in respectful silence, but said they did not know the words to join in song. Instead, afterwards, one of them hummed a few bars from the Marseillaise.
He said he wasn't sure why he was singing, although the tune was "important" to him.
"I'm not making any kind of political statement," he said, asking not to give his name. "I'm not one thing or the other. I'm just sad about my friend."
The four French Jewish nationals buried Tuesday in Jerusalem were:
Yoav Hattab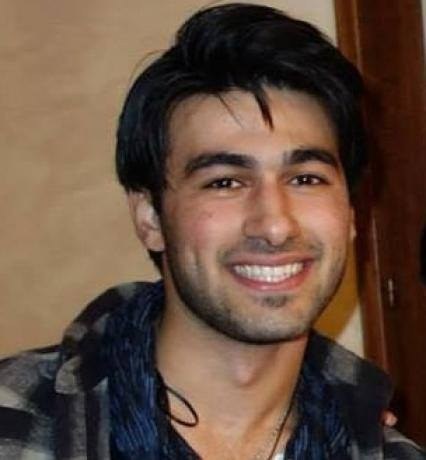 Hattab finished high school in Tunisia, and recently voted in the elections there. He was in Paris completing a degree in marketing. Various witnesses quoted in French media reported that Hattab was killed when he tried to snatch one of Coulibaly's weapons. The gun jammed before Hattab could fire it, and Coulibaly opened fire, killing him. Hattab's grandfather is a well-known rabbi in Tunisia; family members from both Tunisia and France flew to Jerusalem to attend his funeral.
Yohan Cohen
Cohen worked at cash register of the Hyper Cacher supermarket. Friends at the funeral described him as "one of the sweetest guys you'll ever meet." The 22-year-old was into rap music, they said, and "got along with everyone." On Facebook, Cohen was friends with Lassana Bathily, a Muslim from Mali who helped save the lives of several hostages by hiding them in a store freezer, and then sneaking out and briefing French police on the situation unfolding inside the supermarket.
Francois-Michael Saada
Saada, a recently retired store manager in his sixties, moved to France from Tunisia. He is survived by his wife, Laurence. His two children both live in Israel.
Phillippe Braham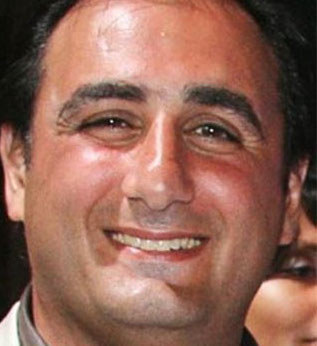 Braham, a sales manager in his forties, attended services at the synagogue of Montrouge and was the brother of the rabbi at the synagogue of Pantin, according to French daily Le Parisien.