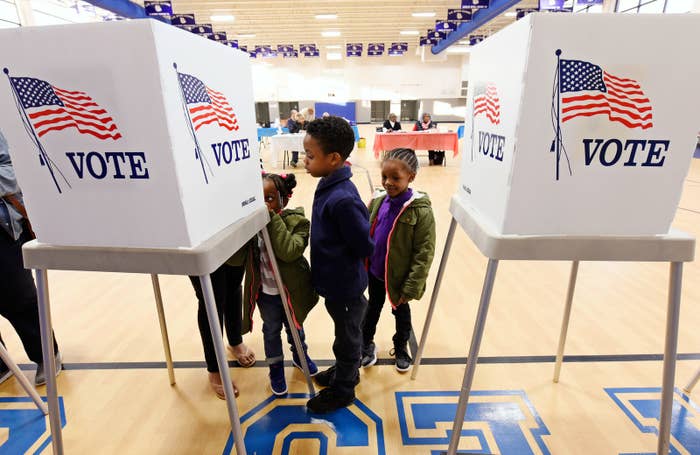 SAN FRANCISCO — Election monitoring officials said they have seen "no evidence" to claims that Russia, or any other group, rigged or tampered with the election in the United States this week.
Rumors that election results were altered in favor of President-elect Donald Trump have been mounting since he defied nearly every pre-election poll to win the presidency. But officials who monitor the vote on a state-by-state basis, as well officials who work at the Department of Homeland Security and oversea the national tally of votes, told BuzzFeed News that they saw no irregularities, nor had they received any official complaints from the Democratic or Republican Party regarding the vote.
"Both the Republican and Democratic Party campaigns are always involved in the process of tallying the official results. If there are any issues, like anomalies, they bring them up," said Kay Stimson, spokeswoman of the National Association of Secretaries of State (NASS) which is responsible for tallying the votes. "We haven't heard of any issues."
The Department of Homeland Security (DHS) did not respond to a request for comment from BuzzFeed News. A DHS official who helped secure the vote Tuesday agreed to speak on condition of anonymity.
"I've seen the rumors being posted. The stuff on Facebook. And I can tell you there is no basis to it," he said, "We understand that the polls didn't predict the outcome that we saw Tuesday, but that is a question for the folks running the polls. The results are the results and we saw no evidence of tampering of any kind."
One Facebook post, written by Alexandra Chalupa, a DNC consultant who had been researching ties between Trump campaign staffers and pro-Putin elements in Ukraine, has been shared over 500 times. In the post she writes that "close analysis must be done of the actual voting results (machine tabulations and paper ballots cast) versus the vote reporting (to the board of elections and the Secretary of State offices)."
Chalupa wrote that she was worried because of Russia's well-established role in trying to influence the elections in favor of Trump by hacking and leaking emails of Democratic Party officials. She also wrote that on election day, DHS and Department of Justice officials teamed up with the Anonymous hacktivist group, and saw activity "from the Russians."
The DHS official who spoke to BuzzFeed News said his office did not work with Anonymous to monitor Russian activity, nor did they see any unusual activity on November 8.
"That is just not accurate," he said.
Stimson said that while there were isolated incidents of specific machines not working on November 8, "We aren't seeing anything widespread, we aren't seeing any widespread issues."
Counties in New York, Illinois, Kentucky, Texas, Ohio, and North Carolina reported issues at polling stations that ranged from a handful of machines malfunctioning to systems briefly going down and needing to be rebooted. In North Carolina, laptops used to confirm voter registrations malfunctioned in 57 precincts in Durham County, leaving local officials to use pen and paper to register voters. The machines caused widespread delays, which led to the North Carolina State Board of Elections granting a one-hour extension for the polls to stay open.
In Colorado, the statewide voter database went down for 29 minutes, between 2:47 p.m. to 3:16 p.m. MT. The outage did not create any widespread issue and its cause is being investigated, though Secretary of State Wayne Williams stated that it did not appear that the system disruption was due to anything external.
Stimson said it would take several weeks before each State counted absentee and mail-in ballots and reported its official results to the NASS. Throughout the process, she added, Democratic and Republican Party representatives were free to request an audit of counties of machines to ensure that no results were altered. To-date, no audit requests have been made.