Israel And Hamas Agree To New 72-Hour Cease-Fire
As Israel's offensive in Gaza ends its 28th day, cease-fire efforts have intensified.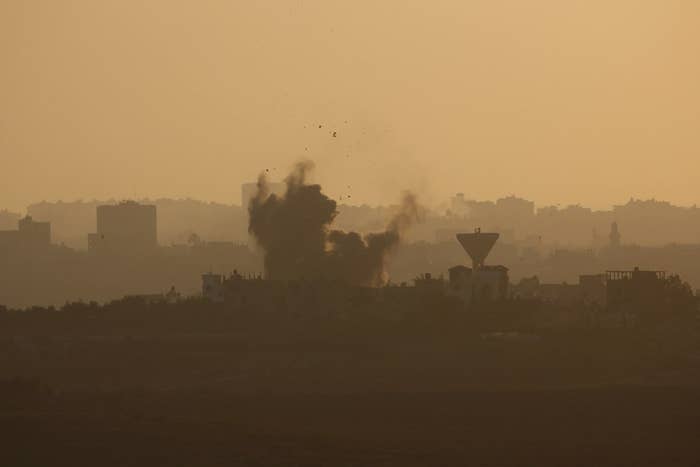 Reuters and AP reported Monday night that an Israeli official had told them that Prime Minister Benjamin Netanyahu had accepted the cease-fire deal.
Egyptian officials said they had "strong indications" that a planned cease-fire proposal set to start Tuesday at 8 a.m. local time (0500 GMT) would go forward as planned, with the agreement of both Israel and the Palestinian factions.
Palestinian officials in Cairo confirmed to BuzzFeed that they had agreed to the deal, which would see a 72-hour cease-fire commence beginning Tuesday morning. Israeli officials said they were sending their delegation to Cairo Tuesday morning, and would not have an answer on the deal until their own team had viewed the details of the agreement.
"We believe the Egyptians saw our demands as reasonable and relayed that information back to the relevant parties," said one Palestinian member of the delegation, who spoke to BuzzFeed by phone from Cairo on condition of anonymity, as the talks are ongoing. "This is the agreement we should all move forward on."
Ziad al-Nakhaleh, deputy head of the Paestinian Islamic Jihad group, said in a TV interview that he expects a ceasefire agreement to be announced "in the coming hours."
Various Palestinian factions gathered in Cairo over the weekend to discuss details of the cease-fire agreement. Their demands include lifting the blockade on the Gaza Strip by loosening restrictions on the Erez and Kerem Shalom crossings with Israel and the Rafah crossing with Egypt. The factions also asked for U.N. and international assistance in rebuilding the damage caused by the nearly month-long offensive in Gaza.
Israel has demanded that Gaza become "demilitarized," though it is unclear how they would force Hamas, and other Palestinian factions in Gaza, to give up their armed wings.
Egyptian officials have attempted to negotiate several ceasefire deals since Israel and Gaza began the most recent round of violence 28 days ago. Palestinian groups, however, accused Egypt of purposefully keeping the Islamist Hamas movement that governs the Gaza Strip out of the loop.
"Egypt understands Israel's position vis-à-vis Hamas," said the Israeli diplomatic correspondent for Channel 2 news, Udi Segel.
On Monday afternoon, when Israel's unilateral and partially imposed cease-fire in Gaza ended, Israeli Prime Minister Benjamin Netanyahu vowed to continue the campaign against Hamas militants despite growing world demands for a lasting truce.
Netanyahu said the Israeli army had nearly completed its goal of detecting and destroying dozens of attack tunnels under the Israel-Gaza border, but he said Israeli forces would continue to fight until there is "a prolonged period of quiet and security" for Israeli citizens.
Nearly 1,900 Palestinians have been killed in Gaza, most of them civilians according to Gaza's Health Ministry. Sixty-four Israeli soldiers have died, as well as three Israeli civilians.
Sheera Frenkel is a cybersecurity correspondent for BuzzFeed News based in San Francisco. She has reported from Israel, Egypt, Jordan and across the Middle East. Her secure PGP fingerprint is 4A53 A35C 06BE 5339 E9B6 D54E 73A6 0F6A E252 A50F

Contact Sheera Frenkel at sheera.frenkel@buzzfeed.com.

Got a confidential tip? Submit it here.