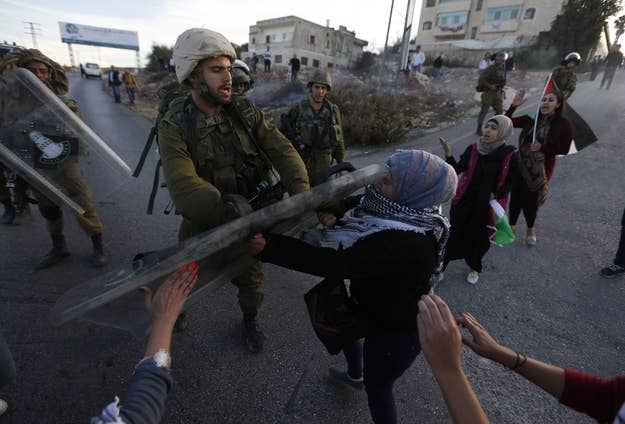 More than 1000 Bedouin activists and their supporters clashed with Israeli security forces on Saturday in protests against a plan to forcibly evict 40,000 Bedouins from their homes in the southern Negev region.
Israel's parliament will vote on the bill, known as the "Prawer Plan," before the end of the year. If it passes Bedouin who live in villages that are "unrecognized" by Israel will be forced to move to seven townships built by the government.
"This is not like leaving a tent in the desert for a nice apartment in the city. The townships they have built for us are terrible. There is crime and no jobs and it is overcrowded," said Jamil Hussein, a 27-year-old Bedouin activist. "Our ancestral homes are in the Negev and just because Israel doesn't recognize it doesn't mean they get to move us like cattle."
The Prawer plan has managed to create a rare alliance between various Palestinian and Israeli groups who on Saturday tweeted and uploaded videos and photos of the protests in real time under the hashtag #StopPrawerPlan.
The Activestills photo collective followed the protests as they spread to more than half a dozen cities throughout the day.
Israeli police spokesman Micky Rosenfeld said that 28 protesters were arrested. He said the demonstrators had thrown rocks at police and injured 15 officers.
Protesters said the Israeli security services used brutal tactics and uploaded videos of protesters being beaten upon arrest.
Protesters also said that children as young as seven were being arrested. Israeli police said they could not confirm the arrest of any children. Update Sunday, 2pm: The +972 blog reports that a 14-year-old child was arrested, for "holding a stone."
As night fell, protesters burned tires and blocked roads.

Bedouin activists and their supporters have vowed to continue protesting in the weeks they have left before Israel's parliament holds a final vote to approve the Prawer plan.
"It may pass a vote, but the youth here and in the Negev will resist democratically in any way possible and stop them," Arab legislator Haneen Zoabi told Reuters.
More than 200,000 Bedouin live in southern Israel, and approximately half have already relocated to government-built townships.
Israeli Prime Minister Benjamin Netanyahu has argued that the plan is meant to give Bedouin a "better life" and modernize their way of living.
"The attempts of a boisterous and violent minority to deny a better future for a large population are grave. We will continue to promote this law for the better future that it will provide for all the Negev's citizens," Netanyahu said.
A government spokesman said the plan calls for compensating Bedouins with land and cash incentives during the relocation.
Bedouin activist Atiyeh el-Ghassan, who represents the unrecognized Bedouin villages in court, said Netanyahu's plan was a land grab and an "exile plan."
He said that the government hoped to convert the land the traditionally nomadic Bedouin used for grazing land into farm land for Jewish agricultural ventures.