Doctor Convicted Of Carrying Out FGM In Egypt
After a years-long legal battle, an Egyptian doctor has been found guilty of carrying out FGM.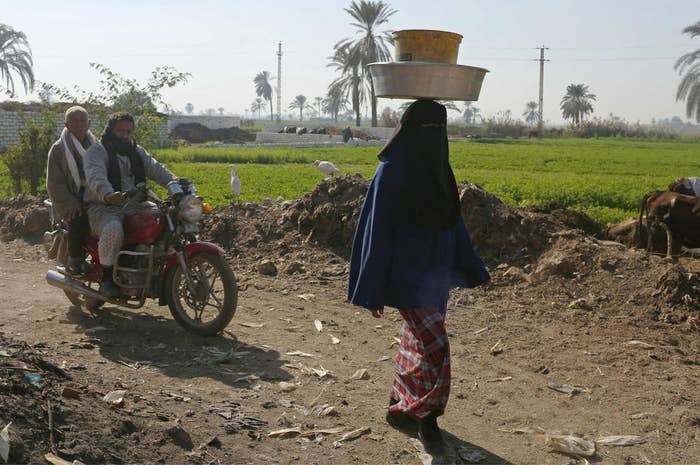 In a surprise turnaround, an Egyptian doctor has been convicted of carrying out female genital mutilation (FGM) surgery, a lawyer and a campaign group said Monday.
Two months ago, the doctor had been found not guilty. The verdict Monday was a result of a retrial brought about by human rights groups involved in the case.
Raslan Fadl was sentenced to two years in prison for manslaughter, with a further three months for FGM in the case of 13-year-old Suhair al-Bataa. The father of al-Bataa was also handed a suspended sentence Monday.
Soheir al-Bate died on June 6, 2013 after undergoing a procedure in the doctor's clinic. Al Batea's family initially filed a police report saying she died as a result of FGM, and told reporters who visited their home that they had taken their daughter to the well-known village doctor. Several months after her death, however, they appeared to reconcile with the doctor, and the lawsuit that was filed against both Dr. Fadl and al-Batea's father was brought by a collection of Egyptian rights groups.
The international human rights group, Equality Now, said forensic reports showed the little girl had suffered an allergic reaction to the penicillin used by the doctor. Reda el-Danbouki, a lawyer involved in bringing the case to trial said the doctor had paid the family 60,000 pounds, or about $8,500, for reconciliation.
"It is fantastic news that Soheir has finally been given justice," said Suad Abu-Dayyeh, the Middle East and North Africa consultant for Equality Now. "The country has shown that it will implement its laws and we hope that this is the first step towards ending this extreme form of violence against women once and for all."
The practice of FGM was banned in Egypt in 2008 but is still widespread.
Equality Now estimates that 91% of Egypt's female population has undergone FGM, though exact figures are unavailable. Egypt formally banned all forms of FGM in 2007, though it continues to be practiced in makeshift clinics across the country. FGM – which involves cutting off parts of the female genitalia and, in some cultures, the sewing together of the labia – is practiced in 29 countries, most of them in East and West Africa. It is practiced by both Muslims and Christians, who believe that prevents a girl's sexual appetite from growing out of control, and makes it easier for her to get married.
Sheera Frenkel is a cybersecurity correspondent for BuzzFeed News based in San Francisco. She has reported from Israel, Egypt, Jordan and across the Middle East. Her secure PGP fingerprint is 4A53 A35C 06BE 5339 E9B6 D54E 73A6 0F6A E252 A50F

Contact Sheera Frenkel at sheera.frenkel@buzzfeed.com.

Got a confidential tip? Submit it here.