Distrust Between U.S. And Israel At All-Time High, But Military Support Will Continue
"Obama and Netanyahu are like little kids who have been paired together by their science teacher, but who still want to try and jab and hurt each other as much as possible."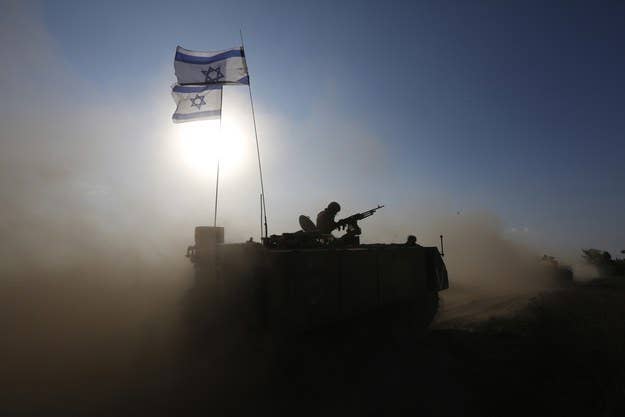 Distrust and resentment between the U.S. and Israeli leadership have reached an all-time high, even as the military and intelligence branches of the two countries continue to enjoy a close rapport, according to Israeli officials.
The disconnect has led to moments like this weekend, when the U.S. Senate approved $225 million in emergency funds for Israel's Iron Dome Missile interceptor, then, less than 24 hours later, the State Department issued its harshest condemnation of Israel's actions in Gaza in years.
But many observers feel that strong words from the Obama administration will not translate into change on the ground. "The U.S. can't do more than talk," boasted one Israeli diplomat, currently in Jerusalem but formerly posted in the United States. "The money and aid is pretty much written into U.S. law."
The deteriorating relationship between Israeli Prime Minister Benjamin Netanyahu and President Barack Obama has been well-documented, and dates back to 2009, when both entered office. The two men just "don't get along," according to both Israeli and U.S. officials who have watched the two men over recent years. Shared security arrangements between Israel and the U.S. continue because of mutual interests in the region, but diplomacy on the Israeli-Palestinian peace process and Iran nuclear talks, amid other topics, has stalled as a result of the faltering relationship between the two leaders.
The relationship is dysfunctional at best, said the Israeli diplomat, who was speaking on condition of anonymity, and has recently manifested in both the U.S. and Israel not taking an active role in cease-fire talks led by Cairo to try and end nearly a month of intense fighting between Israel and Hamas. Over the last month U.S. Secretary of State John Kerry has repeatedly visited the region and spoken with Israeli and Palestinian leaders to try and reach a deal. But not only was Kerry rebuffed, his efforts were lambasted in the Israeli press. Writing in Maariv, popular Israeli columnist Ben Caspit called Kerry "an ongoing embarrassment, with the characteristics of a snowball. The further he rolls, the greater the embarrassment."
"If Israel and Hamas do come to a cease-fire agreement, it will not be because of the United States," said Israel's Channel Ten Arab world reporter, Zvi Yehezkeli.
U.S. officials in Egypt confirmed to BuzzFeed that an American diplomat dispatched to Cairo to take part in cease-fire talks left on Monday morning, before Palestinian factions could hammer out a joint position on their demands for a truce. And despite pressure from both Egypt and the U.S., Israel has refused to send a representative to those talks.
"The administration is frustrated with Israel, Israel is frustrated with the administration, and that creates an atmosphere where it's hard to reach a resolution on any front," said Gershon Baskin, co-chairman of the think tank the Israel/Palestine Center for Research and Information. Baskin was deeply involved in negotiations between Israel and the Gaza Strip following the war in 2008.
The Israeli diplomat said that while contacts were ongoing between the military heads of both countries, diplomacy has been strained to the breaking point due to a number of leaks. Last week, an alleged leak to Israel's Channel Ten news sought to paint Obama as bullying Netanyahu on peace talks, while failing to see Israel's security needs.
"Obama and Netanyahu, they're like little kids who have been paired together by their science teacher, but who still want to try and jab and hurt each other as much as possible," said the Israeli diplomat. "They know it might hurt their grades, but they can't help themselves."
The diplomat went on to call the behavior by Netanyahu "irresponsible and short-sighted" to Israel's long-term interests. Netanyahu, who has always boasted that he has close ties to the Republican party, enjoys almost unprecedented support in Congress. In 2011 when Netanyahu gave a speech to a joint meeting of Congress he received no fewer than 29 standing ovations.
Along Pinkas, an Israeli diplomat who last served as counsel-general to the United States, said there have been numerous cracks and dents to the U.S.-Israel relationship over the last six years.
"Does it mean Congress is less supportive? No. But it means that Netanyahu has turned support for Israel into a political issue in the U.S.," said Pinkas. "The U.S. feels confident enough to condemn Israel every once and a while."
Pinkas said that the condemnations and the personal distrust between Netanyahu and Obama do not, however, affect the basic strength of the relationship.
Sheera Frenkel is a cybersecurity correspondent for BuzzFeed News based in San Francisco. She has reported from Israel, Egypt, Jordan and across the Middle East. Her secure PGP fingerprint is 4A53 A35C 06BE 5339 E9B6 D54E 73A6 0F6A E252 A50F

Contact Sheera Frenkel at sheera.frenkel@buzzfeed.com.

Got a confidential tip? Submit it here.