Diplomats Surprised By Verdict In Egypt's Al Jazeera Trial
Officials believed the journalists would be given a pardon or lighter sentences. "Obviously, we were wrong."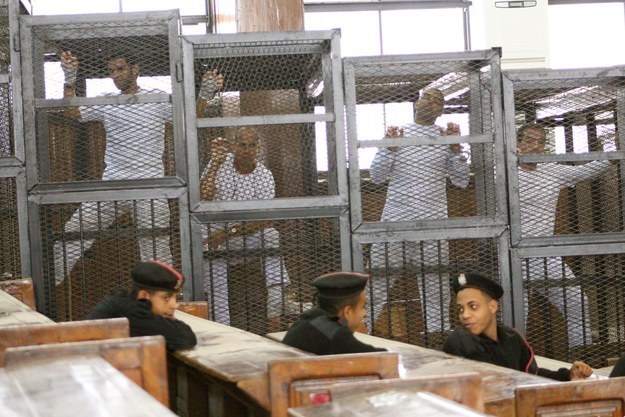 American and European diplomats admitted Tuesday they were surprised by the verdict in the Al Jazeera trial, adding that internal assessments were that the three journalists would be let off lightly to avoid causing international embarrassment to newly elected Egyptian President Abdel Fatah el-Sisi.
"Obviously, we were wrong," said one European diplomat, who spoke on condition of anonymity and said he had been briefed on the case just days before the verdict. "I know our thinking was, as was the Australians', that [Australian national Peter] Greste would likely receive the lightest sentence and the other two, with Egyptian nationality, would have a harder time. The verdict of seven years for each of the three was very shocking."
Peter Greste and Mohamed Fahmy were each sentenced to seven years in prison on Monday, while cameraman Baher Mohamed got three years tacked on to the seven for possession of a single spent bullet casing which he had kept as a memento from one of the protests. The judge found them guilty of spreading false news and supporting the now-banned Muslim Brotherhood movement. The evidence against them included videos of trotting horses, a BBC documentary on Somalia, and photos of family ski vacations.
The verdict against the three has led to international outcry, especially from the Australian government, which has protested strongly against the treatment of one of its nationals.
Friends of Peter Greste told journalists before the trial that the family had been led to believe that he would be let off lightly, and that his parents, who watched the verdict from afar in Brisbane, Australia, even had a bottle of champagne on ice to celebrate what they hoped would be his imminent release.
Secretary of State John Kerry, who visited Egypt just one day before the verdict, also appeared surprised at the harsh sentence. In a statement, Kerry denounced the "chilling, draconian" sentences.
"Egyptian society is stronger and sustainable when all of its citizens have a say and a stake in its success," Kerry said in a statement. "Today's verdicts fly in the face of the essential role of civil society, a free press, and the real rule of law."
Yet Kerry stopped short of stating that the sentences would damage U.S.-Egypt relations, or that he would take any further actions past calling his Egyptian counterparts and expressing his displeasure. Just a day before, he announced that the U.S. was in the process of restoring $575 million in military aid to Egypt and that the much-vaulted Apache helicopters would be coming, "very soon."
During his pit stop in Cairo, Kerry said he had held a productive meeting with Sisi and that the topic of the Al Jazeera journalists on trial had been raised.
"The mood from the meetings was very productive, very positive," said one U.S. diplomat, who gave BuzzFeed a background briefing on Monday, following the Sisi-Kerry meeting. "We believe that the issue over the Al Jazeera journalists will be resolved shortly … we have had positive indications."
When asked for comment on the verdict the next day, the same official said only that there was "surprise," adding that the U.S. was "reviewing the decision."
In comments to the press, Kerry urged Sisi to "review all human rights legislation, to provide the protections for free expression and assembly as well as the fair trial safeguards that are required by Egypt's international obligations." Hopes were briefly raised that Sisi would issue a presidential pardon for the three men. But those hopes were dashed when Tuesday morning Sisi gave a televised speech in which he vowed not to interfere with Egypt's "independent judiciary."
Little was heard from the Canadian government, despite Fahmy's dual Canadian-Egyptian citizenship. A lawyer for Fahmy told BuzzFeed that Egyptian courts do not recognize dual citizenship, and that Fahmy was tried as any other Egyptian national.
"The Canadians did little for him," said one friend of Fahmy's, who asked to remain anonymous. "They didn't even show up to many of his interrogations. For all they know, they left him to be tortured while they sat in their comfortable air-conditioned embassy."
The Canadian prime minister's parliamentary secretary said Monday, "We don't want to insult them," adding that Egypt was "moving towards democracy."
Sheera Frenkel is a cybersecurity correspondent for BuzzFeed News based in San Francisco. She has reported from Israel, Egypt, Jordan and across the Middle East. Her secure PGP fingerprint is 4A53 A35C 06BE 5339 E9B6 D54E 73A6 0F6A E252 A50F

Contact Sheera Frenkel at sheera.frenkel@buzzfeed.com.

Got a confidential tip? Submit it here.