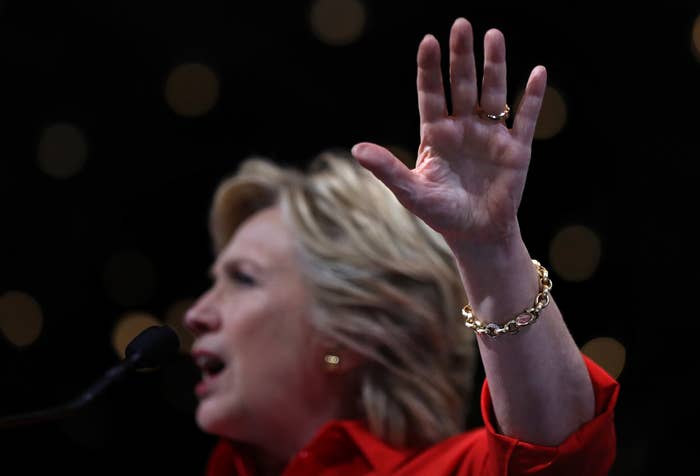 LAS VEGAS — A fundraiser for the Clinton campaign is being held at Black Hat, a major cybersecurity conference that launches this week in the midst of the fallout of leaked emails from the Democratic National Committee's hacked servers.
The two hour-long fundraiser, which was first reported by cybersecurity researcher Steve Ragan, will be attended by Jeff Moss, founder of the Black Hat and DefCon cybersecurity conferences, which are being held in Las Vegas over the next week. Jake Braun, a former liaison between the White House and Department of Homeland Security, and Michael Sulmeyer, the Clinton campaign's Cybersecurity Working Group Coordinator, are the other speakers listed on the campaign's official invitation. Clinton herself, however, won't be in attendance.
The first half of the event, which Black Hat is dubbing "unofficial," is open to all Black Hat attendees; a spokesperson for the conference did not return an email asking if the event would be open to press. Ticket prices run from $100 per person to a maximum of $2,700.
"This event was organized by supporters without any involvement from the campaign," a Clinton campaign official told BuzzFeed News in an email.
The fundraiser comes as the DNC deals with the fallout from the hack, which embarrassed the Democratic Party ahead of its convention and forced the resignation of its chair, Rep. Debbie Wasserman Schultz. Clinton also remains shadowed by investigations into Clinton's use of — and the security surrounding — a private email server during her time as Secretary of State.
The Las Vegas fundraiser is being held just days after new reports surfaced that the same group that hacked the DNC's servers also breached Clinton's own campaign network. Private investigators and experts have pointed to Russia as the likely source of the hacks. Republican presidential nominee Donald Trump has been skeptical about that claim but still called on Russia to release any emails of Clinton's they had.
"I hope whoever comes from the Clinton campaign turns off their wi-fi and Bluetooth on their phones," one young cybersecurity professional in Vegas for Black Hat could be overheard telling a friend as rumors of the fundraiser spread. "They are going to be target number one for everyone at the conference!"
It was unclear if members of the Clinton campaign would be attending any of the events for DefCon. Sometimes dubbed the unruly older sister of the Black Hat conference, DefCon begins soon after Black Hat ends each year and draws a more diverse crowd of cybersecurity researchers and hackers from around the world.