Al Jazeera Journalists Held In Egypt Released On Bail
Mohamed Fahmy and Baher Mohamed are Al Jazeera journalists who were imprisoned in Egypt on charges of spreading false information. They were released Thursday.
On Friday, just after 5AM local time the families of Mohamed Fahmy and Baher Mohamed tweeted that they had been released.
Mohamed's family uploaded this family photo to the Facebook page campaigning for his release.
While Fahmy's brother tweeted he might finally go on vacation.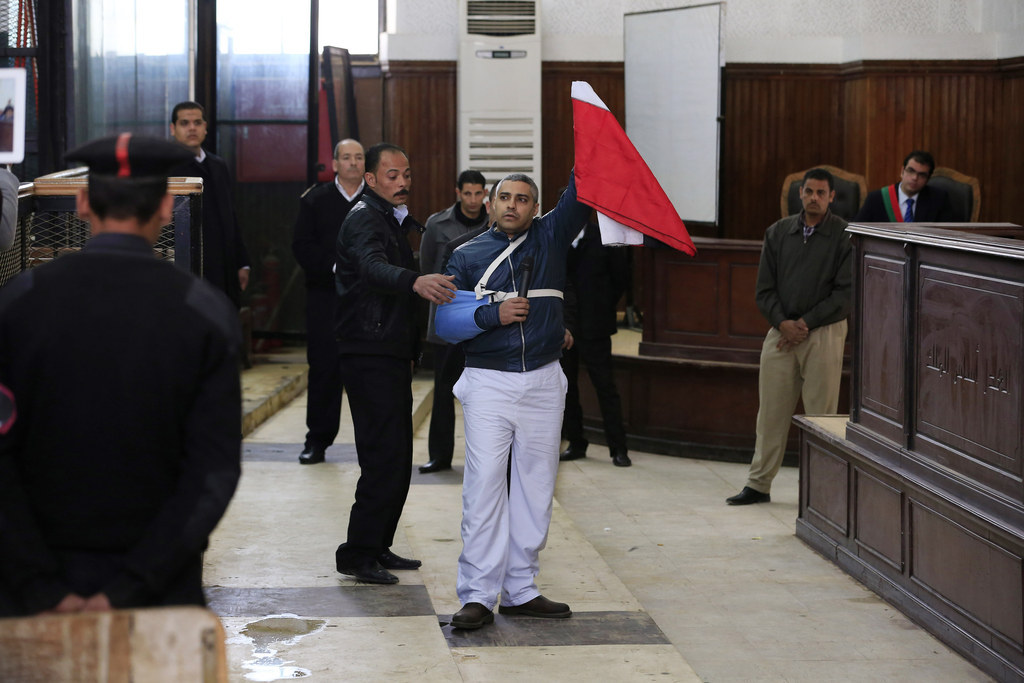 Al Jazeera journalists Mohamed Fahmy and Baher Mohamed — who are being retried in Egypt for allegedly aiding terrorists, doctoring footage, and conspiring against the Egyptian state — were from jail Thursday, according to multiple reports.
Fahmy was released on bail of 250,000 Egyptian pounds, or about $32,765, Reuters reported. Mohamed was released without bail.
The men have been in prison for 441 days.
Fahmy, a Canadian-Egyptian journalist, was sentenced along with Mohamed and Australian Journalist Peter Greste in 2014 to seven years in prison, even though there was little evidence to support the verdict and the trial was derided as a "kangaroo court" by politicians, diplomats, and human rights groups.
The three said they were innocent and that the charges are the result of a political feud between Qatar, which owns Al Jazeera, and Egypt.
Greste was freed last week under a newly established law allowing the deportation of foreign nationals to their home countries. Fahmy has renounced his Egyptian citizenship to qualify under the same law and be released to Canada, but has not yet received word on whether he will be given the same deportation order as Greste. Mohamed has no foreign passport.
After a brief recess Thursday, Judge Hassan Farid adjourned proceedings of the men's retrial until Feb. 23 and ordered that they be released.
Fahmy's release came as something of a surprise. His supporters tried to get him released Thursday, but initially said he would have to wait until Saturday.
After the judge's decision, this tweet was sent from Mohamed's account:
Sheera Frenkel is a cybersecurity correspondent for BuzzFeed News based in San Francisco. She has reported from Israel, Egypt, Jordan and across the Middle East. Her secure PGP fingerprint is 4A53 A35C 06BE 5339 E9B6 D54E 73A6 0F6A E252 A50F

Contact Sheera Frenkel at sheera.frenkel@buzzfeed.com.

Got a confidential tip? Submit it here.