Obama's Letter To Iran Ferried By Sultan Of Oman
The U.S. and Iran look to new diplomatic options amid a flurry of activity that could signal a breakthrough in relations.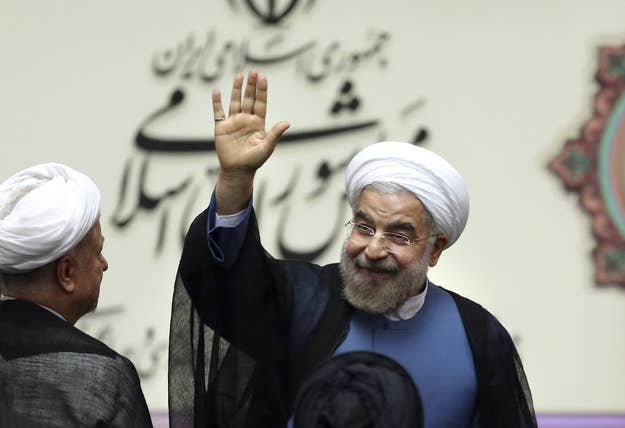 The sultan of Oman hand-delivered a letter from President Barack Obama to Iran's newly elected President Hassan Rouhani last month, taking the first step in what could be a diplomatic breakthrough on Iran's nuclear program.
The White House asked Sultan Qaboos of Oman if he would deliver the letter, which an Omani official who had seen the letter described as a "note of congratulations to Iran… with a stern reminder that the world would not tolerate an Iran with nuclear weapons."
"We were aware of this important step, and were happy to take part in moving past the stalemate we have all been trapped in these many many years," the official said. He also congratulated the White House on "seeing the opportunity" to take advantage of Sultan Qaboos' trip to Tehran.
Last month, Sultan Qaboos became the first foreign leader to visit Iran since Rouhani took office.
"It can be guessed that the Sultan of Oman's trip to Iran can mean that afterward this country, instead of playing the role of mediator in relation to Iran and America, wants to play the role of host for these two countries with regard to negotiations," Qassem Mohebali, an Iranian analyst on the Middle East, wrote in the reformist Bahar newspaper last month.
"The channel that was most likely used was that of the Omani Sultan, who visited Iran a few weeks ago," said Trita Parsi, president of the National Iranian American Council. "The Omanis have been used in the past, as have the Turks, Japanese and others."
The letters exchanged between President Obama and Rouhani have prompted speculation that the two leaders could move towards direct contact. The last time a U.S. president met an Iranian leader was in December 1977, when then president Jimmy Carter met with Shah Mohammad Reza Pahlavi.
The White House yesterday was forced to issue an official denial to reports that President Obama would meet with Rouhani during the U.N. General Assembly (UNGA).
"There are currently no plans for the president to meet with his Iranian counterpart at UNGA next week," White House press secretary Jay Carney told reporters.
But officials in the State department said that several countries have already lined up to be intermediaries between Iran and the West, preparing the (back)stage of the U.N. for diplomacy on Iran's nuclear program.
Oman has mediated between the two countries in the past. It helped broker the release of three American hikers detained in Iran in 2011 and then helped negotiate the release an Iranian scientist held in California on charges of violating U.S. sanctions this year.
Rouhani was recently elected partly on a platform of improving relations with the West, and has said that he is "not opposed to proper moves in diplomacy." The statement was seen as Iran possibly opening the door to negotiations with the West on the sidelines of the U.N.
"There has been discussion of – if the time comes that we want to form a back-channel that is – that in that time we would have the right intermediaries there to deliver our communications," said one State Department official who said there were "half a dozen, maybe more" possible countries who could take part in what he called the "diplomatic dance."
In addition to Oman, he named Japan, Turkey, Germany, Russia, and Azerbaijan as the countries that regularly speak to both the U.S. and Iran and who could step in if it appeared a possible diplomatic breakthrough was on the horizon.
"There is always a passing of messages, of sentiments, but at this U.N. meeting it will be especially important for their to be communication between Iran and the West," said one German diplomat who will take part in the UNGA.
The U.S. has in the past used Germany as an emissary, a country that it considers to have similar values to the U.S. and can be trusted to convey the nuance of its diplomatic policies.
Another country that has been used as an intermediary is Switzerland. "Usual is the Swiss, but it wasn't the Swiss this time," said one Iran analyst when asked about the Obama–Rouhani letter exchange.
Japan and Turkey are also considered good mediators, said the State Department official. Turkey has long been positioned as a bridge between Iran and the West and the Turkish government has wanted to assert itself as a global diplomatic voice of authority. Japan has maintained strong diplomatic relations with Iran as it relies on Iranian oil exports. Japan also played a previous role in a 2010 Turkey–Brazil proposal that nearly found a compromise on Iran's nuclear facilities.
Other countries who could serve as intermediaries include Azerbaijan, which borders Iran to the north and is the only country in the world in which citizens do not require a visa to visit Iran.
Azerbaijani–Iranian relations have been tested in recent years as the Azeri government increases its ties with Israel. In 2011, the Israeli defense contractor Aeronautics opened a factory for military drones in Azerbaijan, and the next year Israel's Aerospace Industries sold Azerbaijan $1.6 million worth of weapons. In exchange, Azerbaijan supplies Israel with 40% of its oil, and is involved in a lucrative oil and natural gas drilling contract off the coast of Israel.
Israel regularly uses Azerbaijan as a listening post into Iran, while Iran regularly sends its Revolutionary Guard members to gather intelligence there. Now, some are comparing Azerbaijan capital, Baku, to Casablanca — a city which during World War II filled with spies, soldiers, government officials and Nazis (picture the Mos Eisley Cantina from Star Wars).
Rather than being stuck in the middle, the Azeris have capitalized on their position to pass messages between the two countries and to the U.S., (which also has an active presence in Azerbaijan), creating a regular channel for communication.
The British government could serve as yet another intermediary. Iran's foreign minister, Mohammad Javed Zarif, has said that he will meet with British Foreign Secretary William Hague on the margins of the UNGA.
But British officials said that they have received no official request.
Lastly, and some would argue most importantly, are the Russians. Having recently assumed a renewed importance on the world stage for taking the lead on brokering a deal on Syria's chemical weapons, many are wondering if the Russians couldn't be working on a similar deal with Iran.