A Day In The Life Of A Cairo Protest
A rally that last year drew tens of thousands to mark the anniversary of 40 Egyptians killed in clashes on Mohamed Mahmoud Street, this year led to confused protests and clashes between groups.
The mood was calm, almost listless when activists began to trickle onto Mohamed Mahmoud Street near Tahrir Square on Tuesday. The street still bears the names and images of those killed during the Egyptian uprising of 2011.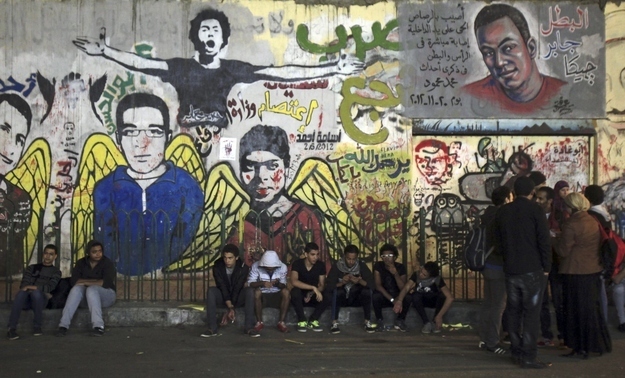 People milled and admired the new graffiti that had gone up overnight. Most said they had no idea what to expect from the day.
The energy picked up by midday, when hundreds filled the street. Banners hung at the entrance to Tahrir said that those supporting the military, the old regime, or the Muslim Brotherhood were not welcome.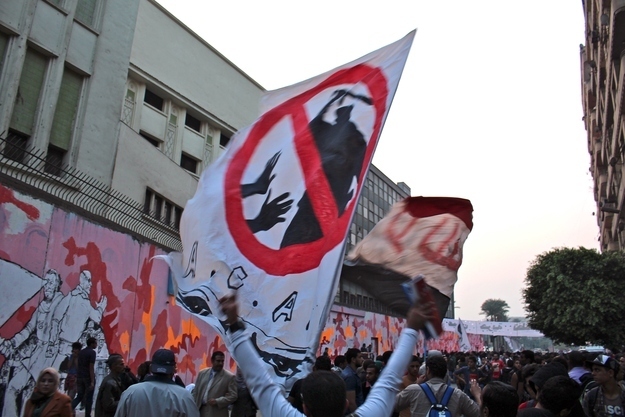 In Tahrir, supporters of Egyptian General Abdel Fattah al-Sisi held their own rally for those killed in 2011. They said they disagreed with the anti-military protesters and believed Sisi could lead Egypt out of its current deep divisions.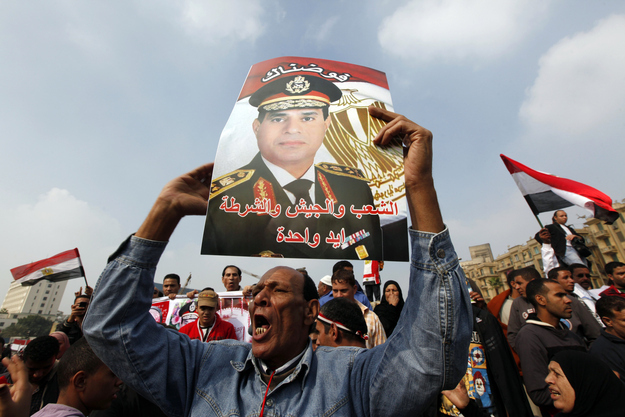 They were a small but vocal crowd, and they accused the anti-military protesters of being "terrorists."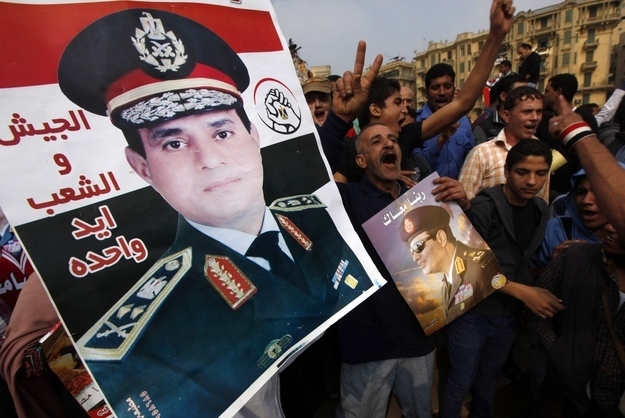 Tensions rose and clashes broke out between the Sisi supporters and the other protesters.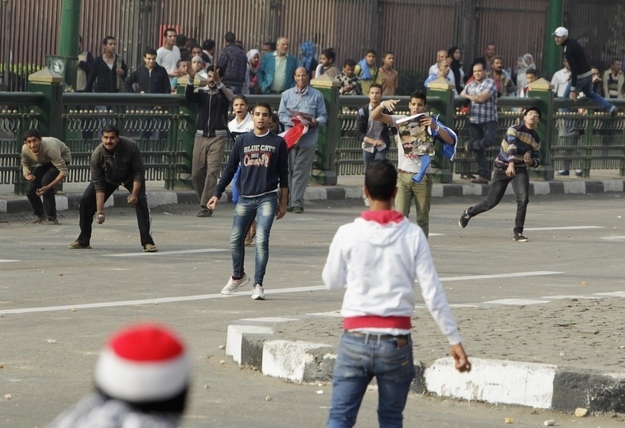 Riot police and security forces stood close by and intervened to disperse the protesters when hundreds entered the fray.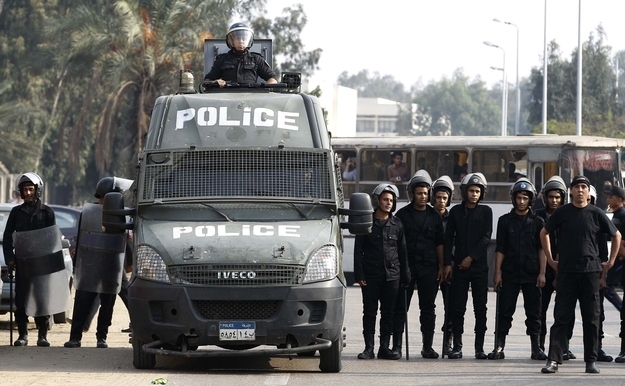 But by early evening, the Egyptian World Cup Qualifying Soccer match with Ghana distracted many of the protesters, who took a break to watch the game.

It almost felt like someone had called for a half-time break in the clashes.

By 10 p.m., the game was over. Egypt had lost and the clashes resumed, though it was unclear who was fighting whom. Police fired tear gas into Tahrir to disperse the groups, but many continued fighting on side streets.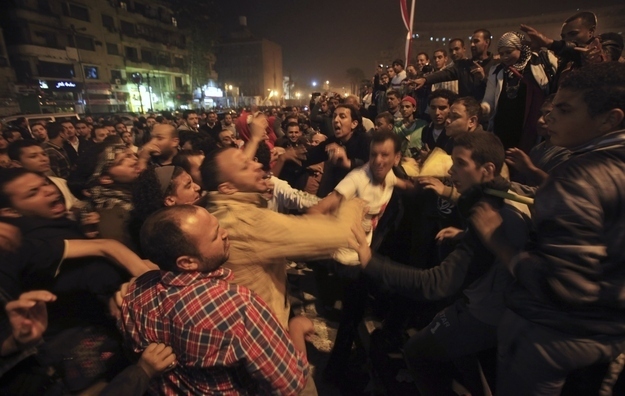 The day invigorated some of Egypt's original revolutionary activists, who claimed it signaled a "new wave" of protests to challenge the army's current popularity.

"This is just the beginning. We are here to show that the revolution is not over," said Mustafa El Hagry, who said he has been taking part in protests in Tahrir since 2011.
Others, however, were less optimistic. "There are not many people here, and of those who have come there are divisions — it is confusing," said Bassem Amr, 40, who stood on the sidelines to watch youthful crowd on Mohamed Mahmoud.
"Most Egyptians do not understand what these groups represent," said Amr. He pointed to a banner proclaiming that supporters of the army, Brotherhood, or old Mubarak regime were not welcome. "OK, so we know what they don't want, but what do they want?"
Nabil Bahgat, a photographer who has been following the original Tahrir revolutionary groups for two years said that now was a difficult time for the group.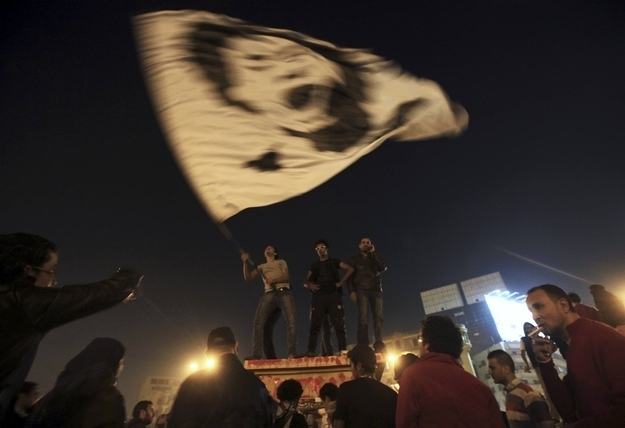 "This is the chance for a real revolution to rise up, to organize themselves again," he said. "But I haven't seen it yet. People are tired."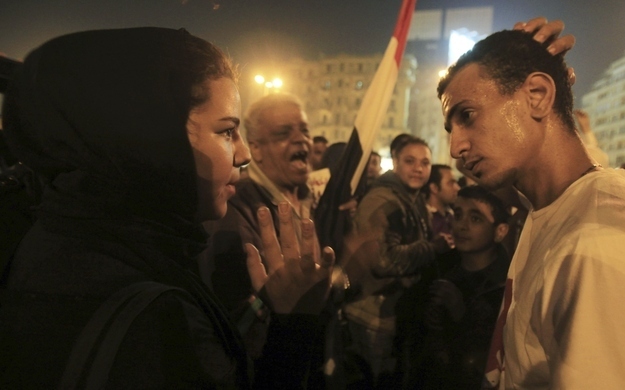 Bahgat said he had been motivated to come to the protest when he saw that a monument built by the army and dedicated to those killed during the upheavals in Egypt was defaced less than 10 hours after it had been erected.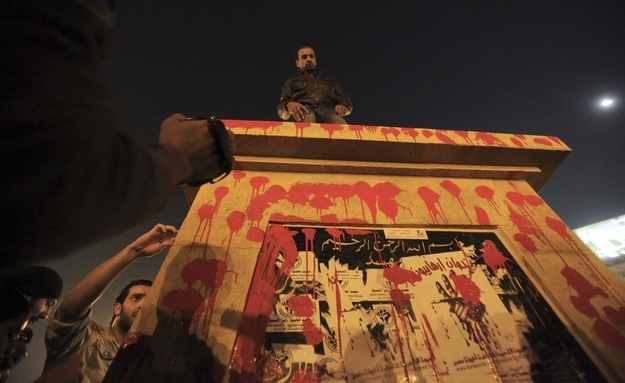 The names of the Egyptian ministers who inaugurated the monument had been scratched out. In their place, was the names of those killed.
On top of the monument, a symbolic coffin was placed. "We honor those killed, not the army who did the killing," said Amr.
Sheera Frenkel is a cybersecurity correspondent for BuzzFeed News based in San Francisco. She has reported from Israel, Egypt, Jordan and across the Middle East. Her secure PGP fingerprint is 4A53 A35C 06BE 5339 E9B6 D54E 73A6 0F6A E252 A50F

Contact Sheera Frenkel at sheera.frenkel@buzzfeed.com.

Got a confidential tip? Submit it here.