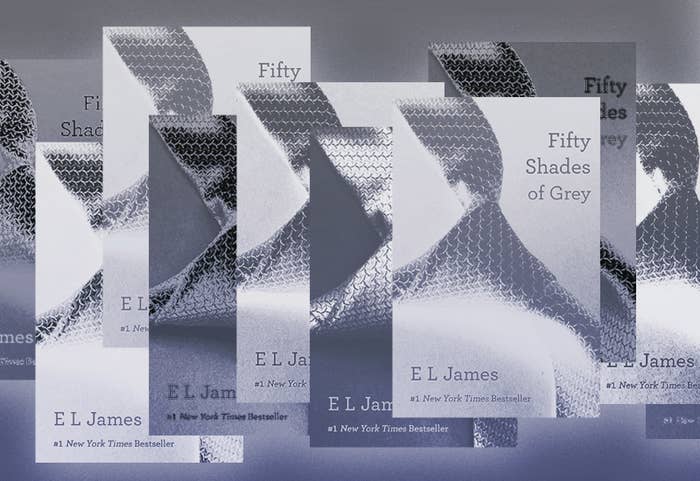 The year is 2012. You're wary of being ambushed by a crowd dancing to "Gangnam Style" at seemingly any moment. Obama is the first sitting president to declare his support for marriage equality, all while various states move to explicitly ban it. The campus sexual assault wars are heating up; this is the year after a Yale fraternity was temporarily suspended for making its pledges march through campus chanting, "No means yes, yes means anal," while carrying signs reading, "We love Yale sluts."

At the time, I was a student on a different college campus less than 50 miles away, trying to foster meaningful connections as a volunteer for our sexual assault prevention program. I hosted semi-regular talks at the Feminist Center about representations of gender and power in pop culture, and 2012 was a particularly fruitful year on that front: The November release of The Twilight Saga: Breaking Dawn Part 2 marked the end of a franchise that had bemused, titillated, and annoyed the hell out of my generation throughout our entire adolescence. Meanwhile, that same year, a book originally written as Twilight fanfiction under the title Master of the Universe and published online under the pen name "Snowqueen's Icedragon" was rereleased first as an independent ebook and order-on-demand paperback before getting picked up by Vintage Books as a three-part series. The British author, real name Erika Leonard, who took the pen name E.L. James, recast the Twilight characters — a 100-plus-year-old vampire named Edward Cullen and his teenage bride, Bella Swan — as business titan Christian Grey and spunky, virginal college student Anastasia Steele; the latter becomes swept up in the former's BDSM lifestyle as they fall in love and lust.
Now titled Fifty Shades of Grey — so named, as Anastasia says, because her control-obsessed boyfriend is "fifty shades of fucked up" — the first book in the series was an instant sensation, quickly outstripping Harry Potter to set a record in the United Kingdom for the fastest-selling paperback of all time. In the US, the novel was the bestselling book of the decade (its sequels earned spots 2 and 3), and as of 2017, the series had sold more than 150 million copies worldwide. Much like the books, the film adaptations were critically panned but commercial successes; the first, made on a $40 million budget, enjoyed the biggest international opening for an R-rated movie of all time, raking in $94 million in domestic ticket sales and $158 million at overseas box offices over Valentine's Day weekend in 2015.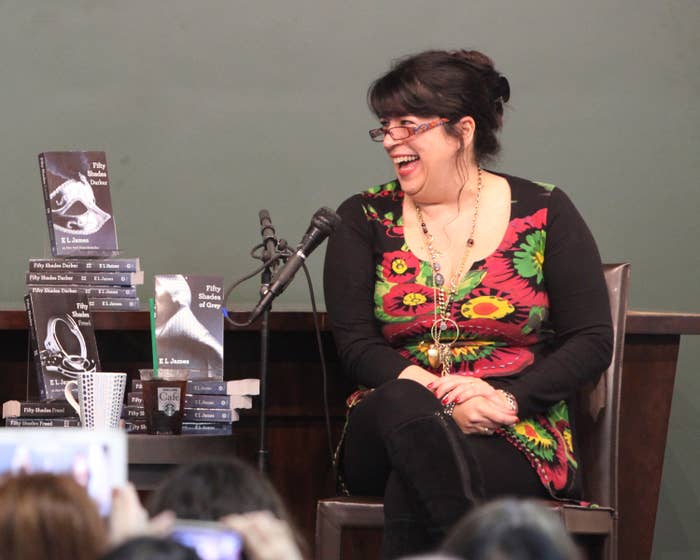 What did it all mean, that a poorly written work of fanfiction (anyone active in that world could tell you that there's much better fic to be found for free online) had circumnavigated traditional publishing routes to become such a mind-boggling success? To some, this was a story about the anonymous appeal of e-readers like Kindles, where most of the book's first 250,000 copies were sold, according to data from Nielsen. "Romance and erotica have been at the forefront of the e-book revolution because you can take e-books anywhere without telltale lurid covers revealing your reading habits," Rose Fox, Publisher Weekly's fantasy and romance reviews editor, told the Christian Science Monitor in 2012. To others, the explosion of Fifty Shades was about activating the long-dormant lust in bored housewives; tabloids and blogs were calling the series "Mommy Porn," even though many of its readers were also childless women in their 20s and 30s, as well as teenage girls.
Katie Roiphe, in a Newsweek cover story from 2012, had her own theory about the book's surprising success: "It's the happy convergence of the superficial transgression with comfortable archetypes, the blushing virgin and the whips," she wrote. "To a certain, I guess, rather large, population, it has a semipornographic glamour, a dangerous frisson of boundary crossing, but at the same time is delivering reassuringly safe, old-fashioned romantic roles. Reading Fifty Shades of Grey is no more risqué or rebellious or disturbing than, say, shopping for a pair of black boots or an arty asymmetrical dress at Barneys." What she found most alarming, what gave the phenomenon "its true edge of desperation, and end-of-the-world ambience," was that "millions of otherwise intelligent women are willing to tolerate prose on this level."
The massive outcry brought to the fore our culture's darkest fears and desires when it comes to kink, sexuality, and the role of feminism — inside the bedroom and beyond it.
To me, the most interesting thing about the series — then and now, 10 years later — is just how much vehement criticism it's received across the ideological spectrum, from the right-wing Christians who thought Fifty Shades was making a dangerous mockery of traditional family values, to anti-porn feminists objecting to what they saw as the romanticization of "women's enslavement," to the kinksters and queers who were horrified to see their lifestyles portrayed in the mainstream as a mental illness or the unfortunate byproduct of childhood abuse (which is the case for Christian Grey). The massive outcry from so many different corners of the United States to the Fifty Shades phenomenon brought to the fore our culture's darkest fears and desires when it comes to kink, sexuality, and the role of feminism — inside the bedroom and beyond it.
A reporter for Progressive Magazine spoke to a menagerie of the series' critics as they protested the release of the first Fifty Shades movie across the country in 2015, including male communists outside a theater in Los Angeles who chanted, "Fifty shades of degradation! Fifty shades of humiliation!" and a retired dominatrix who pointed out, "When Hollywood makes it, it's art; when the S&M community makes it, it's a crime."
E.L. James, writing in a brief forward to the 10th-anniversary edition of Fifty Shades, which came out earlier this month, has nothing but thanks for her many detractors. "It's not just love that sells books, hate does too," she writes. "So, to everyone who wrote impassioned articles about Fifty Shades and its flaws, thank you."
For James, "the essence of these books" is "unconditional love — what it's like to receive it and what happens when a child doesn't." When we first meet Christian Grey, he's a tightly wound business mogul who, because of his childhood trauma, can't stand to be touched, and whose sexual proclivities — he identifies as a dominant — allow him to feel pleasure without accessing his pain.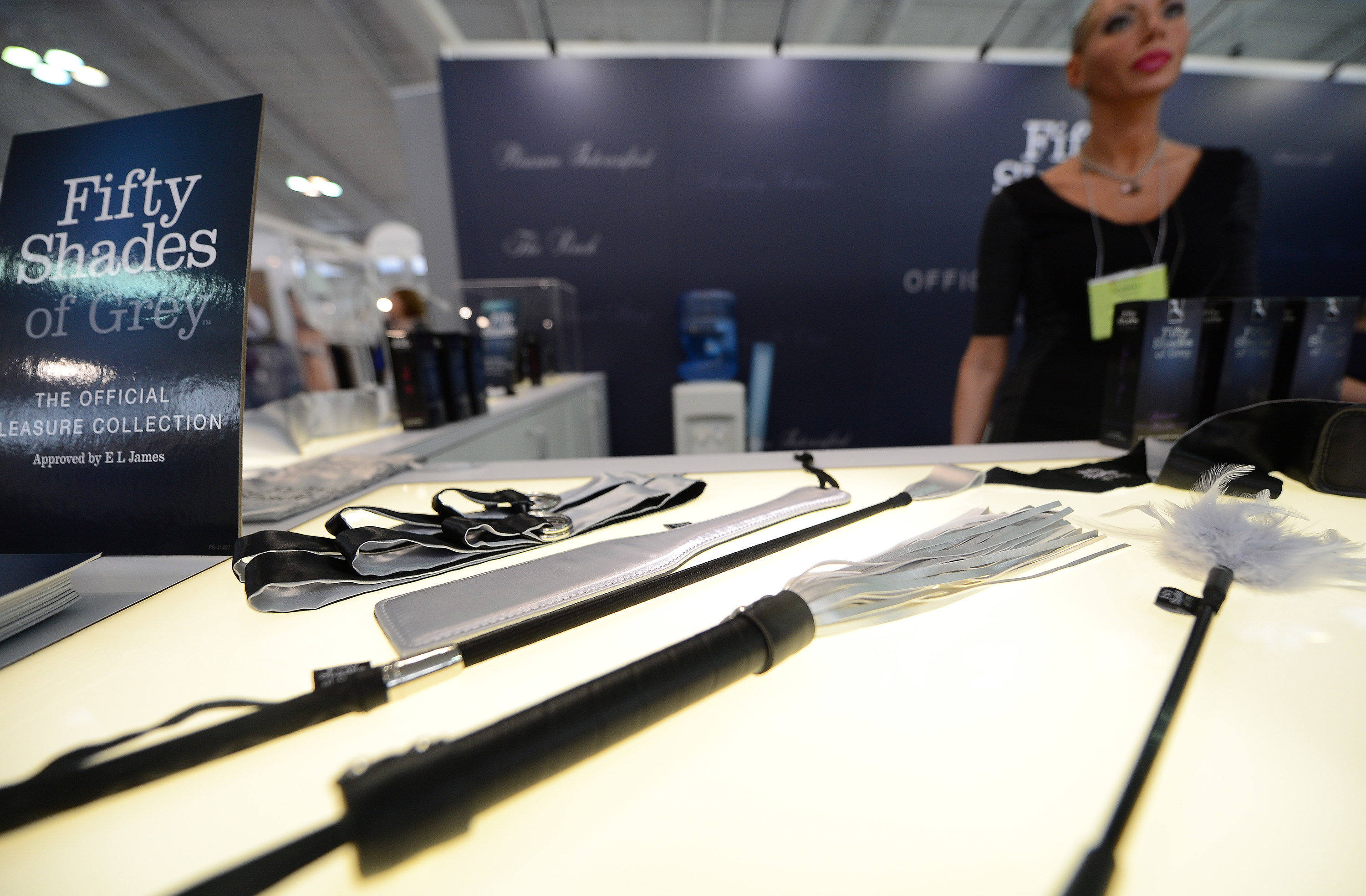 Throughout the first novel, he tries and fails to get Anastasia to succumb to his lifestyle; she refuses to sign a legal contract agreeing to be his submissive. It's funny how capital-S Scandalous this book was at the time when the actual sex acts represented are relatively tame, even by vanilla standards — though the consistent wishy-washiness of Ana's consent is concerning. Throughout the first book, Anastasia builds herself up to first letting Christian spank her, a "grueling sensation" that she endures only for his sake, and later, in the final act, after Anastasia asks him to show her "how bad" a BDSM relationship can really be, he whips her with a belt. After quickly ending the session, she tells him, "You are one fucked-up son of a bitch," before leaving him, potentially for good.
The BDSM aspects of the series aren't written aspirationally, as many Christian moms worried about at the time. Those scenes, few and far between, are presented as nothing but mental and physical anguish for young Ana. She, and presumably many readers, just want to get back to tamer sex acts with Christian, outside of his Red Room of Pain, which James writes with steamy gusto. Ana doesn't want to be a submissive, or even to get (consensually) pushed around every once and a while; she wants to effectively "cure" Christian of his darkest impulses. The books get steadily less kinky as the series progresses, as Christian learns to both give and receive unconditional love, redeemed of his supposedly deviant sexuality.
This is what had kinky people so (rightly!) up in arms. Experienced members of the BDSM community don't violate each others' boundaries by pushing up against someone's limits, as Christian continually does with Ana. Rather, in a healthy and established BDSM dynamic, "the mores of sexual interaction will be intentional, rigorous, nonnegotiable, and completely understood by everyone involved," Emma Green wrote in a 2015 Atlantic story about the troubling sexual politics of Fifty Shades. "For all the talk of nipple clamps and butt plugs," she points out, BDSM throughout the series "is actually presented as a pathology, not a path to pleasure."
Experienced members of the BDSM community don't violate each others' boundaries by pushing up against someone's limits, as Christian continually does with Ana.
Ten years ago, when I gathered a bunch of college students to share their thoughts on Twilight, Fifty Shades, and Rihanna's newly released song and video for "S&M," most people wanted to talk about how sad it was — that so many women would submit to their own degradation, and even glorify it. The fact that a lot of self-declared feminists take pleasure in violent or other kinds of kinky sex might have been inconvenient to their arguments had they not simply assumed those feminists have been duped by internalized misogyny.
But that kind of anti-porn, anti-sex, anti-men-in-general feminism was supposed to be on the decline. "Some second-wave feminists had treated heterosexual sex — as well as remotely kinky queer sex — as inherently degrading, if not counterrevolutionary, which naturally drove many women away from feminism," Michelle Goldberg explained in a 2021 New York Times opinion piece. In the aftermath of "puritanical trends in feminism that ignored the reality of women's desires," she writes, sex-positive feminism "understood the demand for celibacy or political lesbianism as a dead end, and saw sexual fulfillment as part of political liberation." Certainly, my college peers and I, smack in the middle of the Obama era, entertained some notion of sex positivity and "choice" feminism — the belief that any individual woman's decision is inherently feminist — while indulging in our messy hookups, but the sexual culture on campus was never one that felt fully safe for women, let alone liberating. Though we'd have hated to have admitted it at the time, our sex lives looked a lot like the encounters on Lena Dunham's Girls, which we were all pretending to hate, and which inspired my film professor to ask our Advanced Gender in Film class, "is all the sex you guys have this terrible?"
Goldberg, citing Amia Srinivasan's excellent and important new book, The Right to Sex: Feminism in the Twenty-First Century, as well as a BuzzFeed News story that year about Gen Z women who think sex positivity is overrated, concludes that sex-positive feminism is falling out of fashion among young women. She also references a 2021 Rebecca Jennings Vox story about why it's impossible to have a nuanced discussion about sex work on TikTok, where Jennings found "that "young, presumably progressive women (for the most part) who think that what's sometimes called 'choice feminism' caters to 'patriarchy and the male gaze.'" Jennings quoted the caption to one video: "Liberal feminism telling young girls that hookup culture is liberating, conditioning them to think that if you don't have extreme kinks at a young age then they're boring and vanilla, and encouraging them to get into sex work the minute they turn 18."
Shamey and conservative anti-sex, anti–sex work, and anti-kink arguments on TikTok mimic a similar fight that plays out every so often on Queer Twitter, where one random 17-year-old with 74 followers condemns displays of kink and overt sexuality at Pride events, and then that's all anyone can tweet about for two days. In my leftist queer social media bubble, there's overwhelmingly anger and/or boredom with the "no kink at Pride" takes, especially since they're not popular enough to even bother pushing back on, in my bubble or far beyond it. According to a national poll by BuzzFeed News and Whitman Insight Strategies in 2016, 72% of all LGBTQ people think displays of kink should be welcomed at Pride parades and events, with 13% not caring either way — only 10% think people "like bondage and leather groups" should be forced to stay home (or else show up more fully dressed).
Straight people's relationships with kink and other supposedly deviant forms of sexuality remain more fraught. Even as Fifty Shades of Grey, for better and for worse, helped usher kink further into the mainstream, young women are still asking themselves what it means about their politics if they like something they've been told they shouldn't. In Joachim Trier's Oscar-nominated film from 2021, The Worst Person in the World, the main character, Julie, writes a viral blog post about oral sex in the age of #MeToo, wondering if she can still call herself a feminist if she likes being violated in the bedroom.
It frustrated me when watching the film, as it did listening to my college classmates 10 years ago, that there isn't enough nuance afforded to the wide gulf between anti-porn, anti–sex work, anti-pleasure feminism, and pro-choice feminism — often indistinguishable from white feminism — that insists that any choice any woman makes, ever, is feminism, and any critique of her, ever, is sexism. Women can and should have agency (...obviously), but that doesn't mean her every choice is sacred, or immune to the machinations of patriarchy. This is complicated stuff — far, far more complicated than Fifty Shades of Grey and the horny British woman who brought it to life were ever prepared to deal with.
Feminism, much like BDSM, doesn't figure into the text of the Fifty Shades trilogy itself, nor does politics more broadly. In her foreword for the 10th-anniversary edition, James writes, "we've watched loved ones suffer and often lost them, and we've seen the world become more fractious, less equal, and less tolerant." At the same time, she writes, "I've seen a rise in people re-reading the Fifty Shades trilogy and watching the movies, returning to a safe space of pure fantasy and enjoyment." Of course the series has cultural and political implications. But for the millions who've enjoyed it around the world, those don't really matter — only the "pure fantasy." We might still question these fans' taste on moral or aesthetic grounds, but hey. Their choice, right? ●