On a snowy Sunday in January, in a nondescript room inside a community center in the small, quintessential New England town of Dover, New Hampshire, a group of ballerinas rehearse on pointe. As they lift their bodies onto their toes, their shoes stretch and creak. The dancers move across the floor, the compact material in the top of their shoes makes a dull but distinct thud each time they plant their toes. Jump, thud. Foot flex, creak. Legs shuffle, thud, thud, thud. Spin, creak, thud.

These are the sounds of ballet performed on a hard, solid floor — the kind you find in a community center, not a performance hall. The sounds are jarring, especially in comparison to the flow of the rest of their bodies, the sweeping of their arms, the circling of their legs, the way they seem to float across the room. Yet, watching from the audience of the theater, all that noise is lost, the beauty of the dance alone remains. The thuds and creaks are masked but they are present.
Lissa Curtis, 26, knows all about a dance full of creaks and thuds, and she is an expert at polishing them away for a performance. After the rehearsal, she stands to the side of the nearly empty room, a towel draped around her neck. The group of ballerinas have just finished working on a short piece about a woman who experienced sexual violence and who survived it. It is a ballet, Curtis says, about her.
The piece is about what she says happened to her over a nine-day stretch in March 2014, during an international ballet competition in Romania. She says her ballet instructor first sexually assaulted her on the plane, and then repeatedly throughout the trip. Curtis believes she was lucky to get away and on a plane back to the States.
She quickly pressed charges, but the FBI had jurisdiction and only over the international plane flight. According to Curtis, the bureau requested that the family lie low, so for nearly 18 months they privately dealt with a new, different Lissa, one who, they say, was diagnosed and living with severe PTSD.
After warning a handful of fellow dancers about what had happened and watching them return to work with her former instructor, Curtis decided to go public. She filed a civil suit against him in November of last year and she requested from the court a protective order to ensure he could not legally come near her, which it granted.
And so, Curtis now walks into courtrooms with her shoulders back and her head up, and she records interviews recounting her story in front of cameras without hesitation or flinching. She dances to help spread this message.
Curtis's journey offers insight into what it's like to go public, at a time when we see it more and more: from the woman assaulted by Brock Turner, to those who stood alongside Lady Gaga at the Oscars earlier this year, to those who came forward with allegations against Donald Trump during his presidential campaign.
Saying publicly that you were sexually assaulted can open you up to scrutiny and to the pain of having to repeatedly defend yourself from all corners against claims that you are lying or seeking attention. You also risk becoming narrowly defined not only as "the woman who was raped" but also "the resilient survivor." You are both simultaneously what happened to you and recovered from it, too. There is no room to exist somewhere in between. To be not just a survivor, but someone who is actively surviving.
Curtis advocates on behalf of survivors through her ballet, even as that very art triggers her severe PTSD and pushes her to her mental and emotional limits. "I feel as though I live with a ticking time bomb inside my chest," Curtis says. "Some days the bomb goes off — the flashbacks, memories, and terrifying PTSD flooding happens, which cripple me for the hours after and often the next day. Other days I just hear the tick, but it's always there, a rattling anxiety in my chest."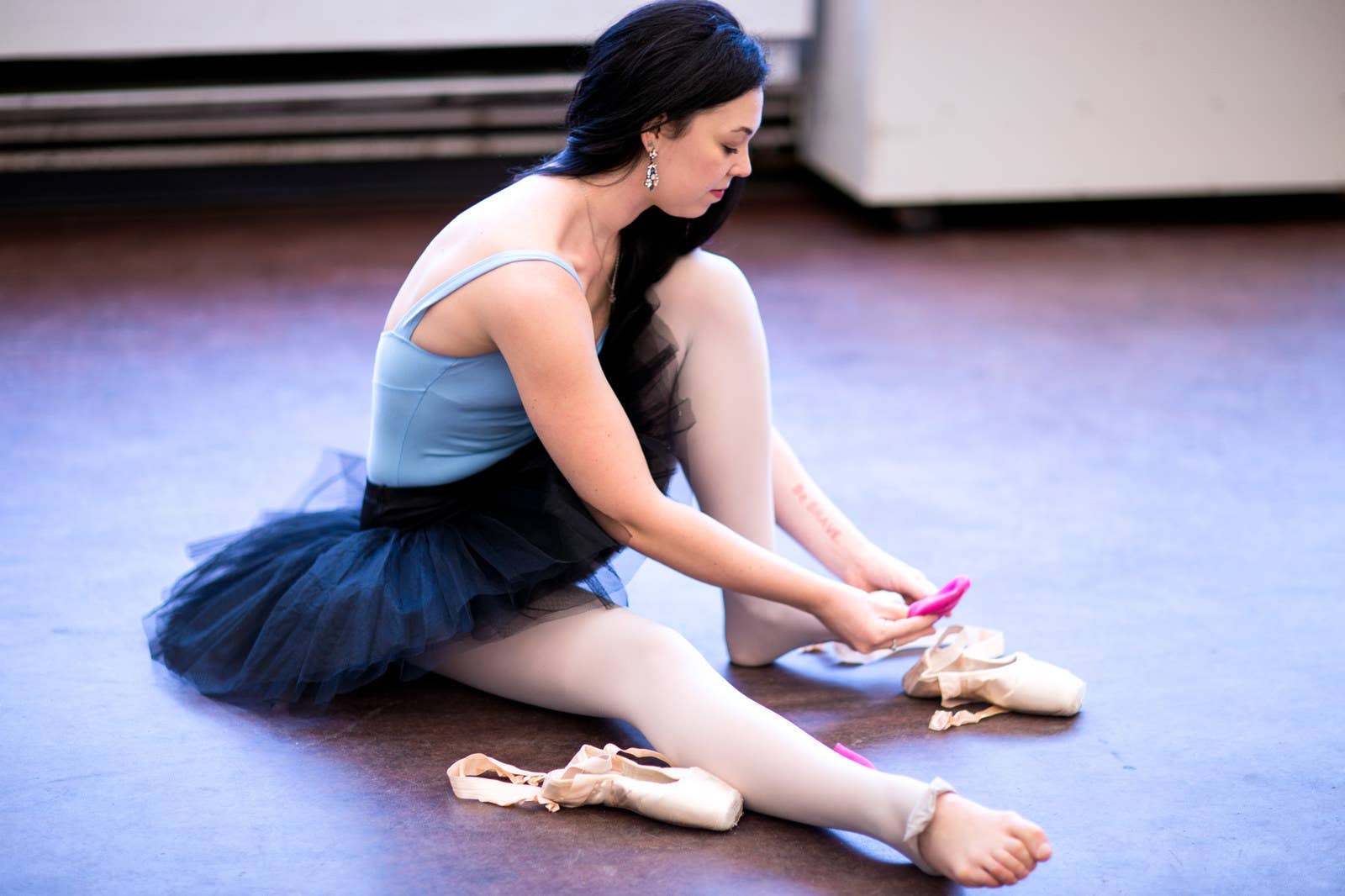 Curtis's description of herself as a "survivor" is her own, her story unproven in a court of law. Cosmin Marculetiu, the executive director and co-founder of both the New England Movement Arts and the International Ballet Academy of Norwell and the man who Curtis says raped her, is legally innocent. He has not been charged with a crime, even though Curtis says he is under investigation by the FBI (something the FBI will not confirm because, they told BuzzFeed News, "in keeping with DOJ policy, the FBI can't confirm or deny the existence of an investigation").

Curtis has also filed a lawsuit against him in civil court; he has responded with his own countersuit for defamation saying that "the accusations of rape and abuse were untrue, amounted to material misstatement of fact, and without factual basis." In an email sent to BuzzFeed News from Marculetiu's lawyer, he gave the following statement: "Mr. Marculetiu categorically denies the claims made by Ms. Curtis. Mr. Marculetiu has done nothing wrong and intends to prove that in a court of law. He asks that the public not make any premature judgments until all of the evidence is presented in court."
Curtis accompanied Marculetiu to the World Ballet Competition (WBC) in Sibiu in March 2014, in which she performed and he judged. Edra Toth, for whom Curtis dances at the Dover-based Northeastern Ballet Theatre, says "this beautiful, vibrant, wonderful young woman goes to Romania, competes" — and afterward, "what I saw sitting in front of me was this shattered, absolutely shattered young woman."
Curtis first met Marculetiu at the end of summer 2013, when she was 23, and visited his studio to see if she'd be a good match for one of his dancers. Curtis, who'd been dancing since she was 6, was working as a professional ballerina, getting short-term contractual gigs at smaller, regional companies in the New England area and subsidizing her income by teaching Pilates.
Curtis was a talented ballerina — she had attended numerous dance schools by a young age, including the Boston Ballet, and signed her first professional contract at the age of 14 — but was not at the top tier of the ballet world. Regional companies are how Curtis and ballerinas like her make their living. Toth says her company and Marculetiu's are "at the bottom end of the food chain" in the ballet world. Toth's company can't offer annual contracts but instead pays dancers for individual productions. Curtis is often the principal dancer in Northeastern Ballet Theatre's shows. For a few months in 2013, she was also under contract for performances with Marculetiu.
In fall 2013, Curtis was finishing her undergraduate studies at the University of New Hampshire and training at Marculetiu's studio. In December, she was the lead in the company's Nutcracker performance. Come March, they were traveling together to the WBC.

Curtis says that on the flight from Boston to Munich, she fell asleep in the seat next to Marculetiu. "I woke up to his hand starting to rub me," Curtis says. "His hands wandered down my pants and up my shirt, and I just froze." According to Curtis, he continued until the cabin lights came on, at which point, she remembers, "he completely let go of me, released his grip on me, and he acted like everything was normal."
From Munich, they flew to Sibiu, Romania, the site of the WBC. When they got to the hotel, Curtis says she expected to pay for her hotel room. Instead, though, "he paid for my room" and checked them both in. Afterward, he gave her a key and, she says, kept a copy for himself. "I didn't think anything of it," Curtis recalls.
Curtis's voice is unwavering as she recounts what she says happened to her. This is the fourth time we have talked on the phone and, as she has done each time, she methodically lays out what she remembers, her words sure and confident. Curtis says he used that key to enter her room. He assaulted her after check-in and later that night. "I was traumatized, to say the least," she recalls. She did not contact any of her family until the next day. "I sent a text to my mom." It read, "I'm ok. I'm here. But can you pray for me? Something has come up, please just pray."
Over the next two days, Curtis competed as a soloist. Each morning, she participated in a warm-up class with the other competitors. Then she got 10 minutes of scheduled stage time to practice where she would later perform. Marculetiu joined her onstage during these rehearsals, coaching her, giving her individualized corrections about such things as the position of her feet or reminding her to spot while she was turning. He was nothing but professional. But, she says, each evening, after the competition, he would use her key, enter her room, and rape her.
"From that moment on," Curtis recalls, thinking back to her third night in Sibiu, "I was petrified." She claims he began to talk about them both remaining in Romania indefinitely and working with the Sibiu Ballet Theater. She started to believe she might never go home.
The competition wrapped up that weekend. Curtis didn't win anything, which was fine. She was happy to be able to perform at all given what was happening offstage. Not knowing what else to do, she remained in Romania for a few more days with Marculetiu. He continued to assault her, she says. She was barely sleeping, exhausted, stressed, and scared. On her final night, Marculetiu tried to convince her to stay but Curtis says she told him that she had to go home because she was under contract for a performance the weekend she returned. After her flight in Sibiu was canceled, Curtis took a five-hour taxi ride to Bucharest to catch a flight home. She finally landed in Boston on Thursday night, March 27, where her husband Phil, 31, was waiting.
"I just remember feeling really guilty when I saw him," she says. The drive home was silent.
It's January 2016 and Curtis's mother, Barb Silk, 51, is in the family's Dover kitchen. The room has high ceilings and large windows that open onto a snow-filled backyard. Silk is often found here, standing between the counters and the island, planning dinners she can simmer in the Crock-Pot or making sandwiches for lunch for whichever of her three kids or their spouses are home in the middle of the day. Her husband, Don Silk, 51, will serve you any coffee or tea that he has on hand as long as you are willing to drink it out of a Penn State mug.
At the time, her brother, Zach, 23, and her sister, Tiffany, 21, lived in her parents' home, along with Curtis and her husband, Phil. At any point during the day, all six of the family members might be milling about the house, making small talk about their day, playing with Curtis's two small dogs, or discussing where everyone is off to next.
But this morning, in January, the feeling in the kitchen is more tense. The kids are all at work, and Barb is trying to recall something that happened in April 2014, weeks after her daughter returned from Romania. She gets up from the table and goes over to a desk, where she pulls out a paper calendar. She sits down, opens the calendar, and flips back until she gets to the month in question. Don is next to her, looking over her shoulder.
They remember that the first few days of her return were OK, but strange. Everyone was aware that something was wrong with Curtis; she had texted from Romania telling them that "something had come up" and asking for their prayers. Still, they assumed her behavior was related to severe jet lag.
She was dealing with acute traumatic stress that was on
its way to becoming PTSD.
Curtis played in her church's band and performed in Toth's company's production of Snow White over that weekend. By Sunday night, everyone was ready to rest. Barb, though, needed answers. She cornered her daughter in a bedroom and asked what was wrong. Curtis rambled at first, but she said enough that finally Barb asked her directly if she had been raped. Curtis couldn't answer. She hung her head and burst into tears. Barb remembers her lying on the bed, bawling.
The family immediately went into crisis mode, and they are not sure they have yet escaped it. After telling what she could of her story to her parents and husband, Curtis "was hysterical," Barb says. "We're not sure what to do. She's frozen, crying, like hypersensitive [to the touch]." She wanted to sleep, so they let her. They all had yet to learn that she was dealing with acute traumatic stress that was on its way to becoming PTSD.
The next day, they asked their church's pastors to come over. "As soon as she told us her story to the best as she could at that time," Barb says, "it was immediate vomiting. And it was nonstop, through the night." Curtis was dizzy and couldn't walk, and was delirious at times. They decided to take her to the emergency room.
At the hospital, a nurse administered a rape kit. A police officer from the local PD arrived and interviewed her. The police officer was kind, Barb says, but he told them the case was out of his jurisdiction and it would have to go to the FBI. Curtis stayed overnight in the hospital; she returned home the next day but was immediately sick again. She was so weak she could no longer walk and had to be physically carried. She stayed in the hospital one more night.
"It feels like the utmost betrayal. Colleague to colleague, dancer to dancer, teacher to teacher, there's just no excuse."
That was early April. A few weeks later, the FBI contacted Curtis and she went to meet the agent and tell her story. She was alone in the room with the investigator and a video camera recording, no family members by her side and no lawyer, even though her father had secured a lawyer almost immediately following her return from Romania.
After the interview, Curtis says, the FBI told her family, "You're going to be extremely frustrated with us." The case was complicated and would take a long time to investigate. The Curtises and Silks did not realize it would be years. They heard from the FBI in February 2015, and then almost nothing until the end of that year. So far, 2016 has been much of the same.
Of the few people Curtis told, four were other dancers she considered friends who had also worked with Marculetiu, a couple of whom she had known for many years. Most of them kept dancing with Marculetiu, which was particularly painful for Curtis. "It feels like the utmost betrayal," she says. "Colleague to colleague, dancer to dancer, teacher to teacher, there's just no excuse."
That frustration pushed her to speak out in the summer of 2015. Curtis decided she should share her story publicly in order to let people know that "this ballet director and man was under federal investigation for rape," she says.
Once she went public, her family was able to finally explain to their friends why they had all but disappeared. "Some people just thought we didn't like them anymore," Barb says. "Even my closest friends."
Curtis filed a civil suit in Superior Court in Massachusetts, the state where Marculetiu lives and works, in November 2015. The lawsuit makes a complaint of "rape, assault and battery, indecent assault and battery, assault with an intent to rape, intentional infliction of emotional distress, false imprisonment, [and] drugging a person for sexual intercourse." In a counterclaim filed earlier this year, Marculetiu denies all of these charges and says he has been defamed, writing that he "has been subjected to hatred, contempt or ridicule from the public, has been caused damage to his reputation, has lost teaching or other affiliations, and has suffered severe emotional distress," including losing his job at Dean College.
The "ridicule from the public" is possible because Curtis has pursued a wide public platform. On Nov. 23, 2015, she gave an on-camera interview in Toth's New Hampshire studio, to local news station WMUR, detailing the allegations, including the impact on her physical and mental health. On both her Twitter and Instagram bios, she describes herself as a "Principal dancer with Northeastern Ballet Theatre. Sexual assault survivor."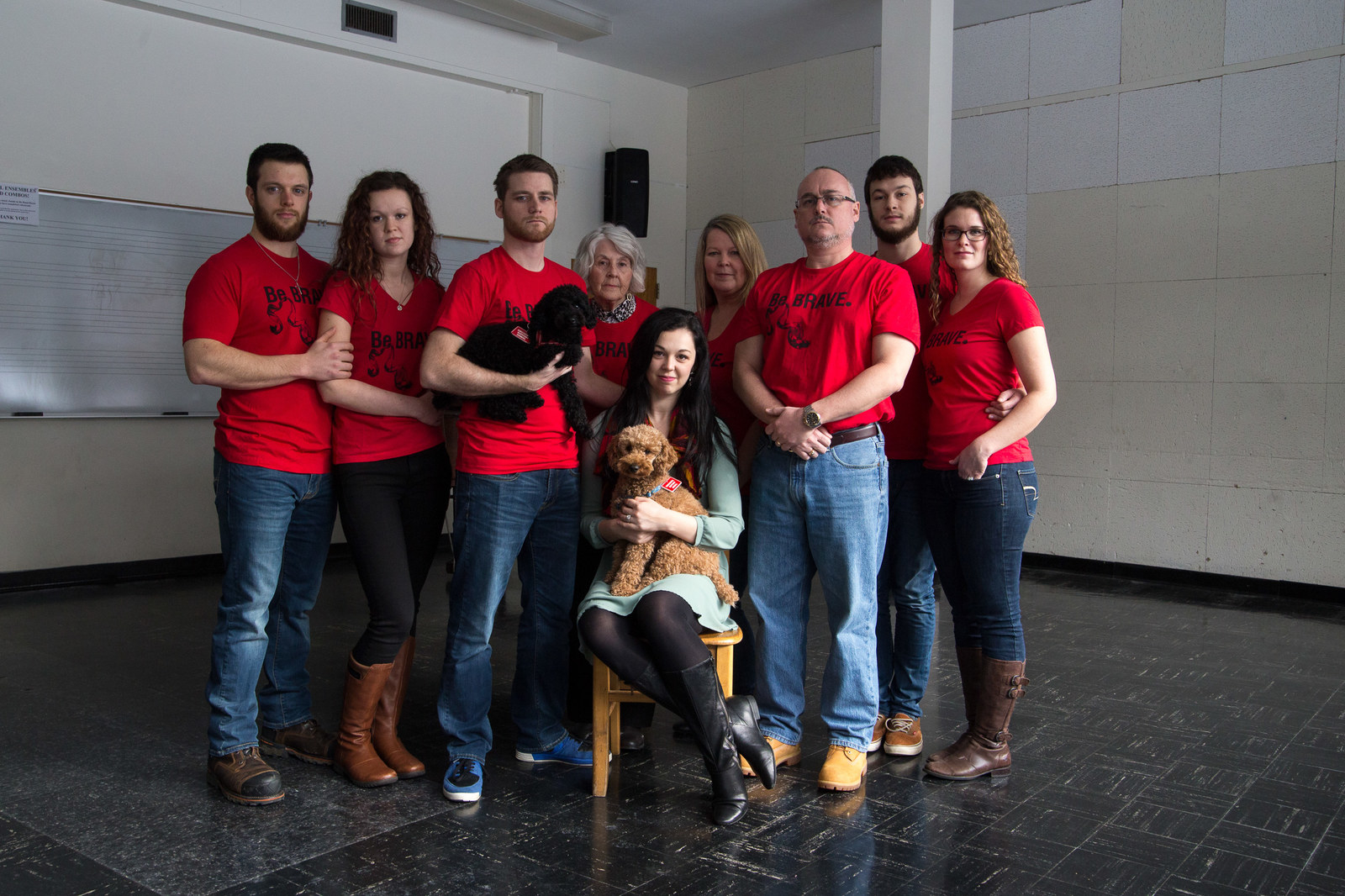 After Romania, Curtis's mental demons kept her from ballet. "I never thought I would dance again," she remembers. "It was just too painful emotionally." When she would try to dance, memories would invade her mind and trigger her PTSD. "All I could hear was his voice in my head, this rolling sex tape in my head. Hitting certain ballet position or poses, I'd hear his corrections in my head. I would just lose it."
It was Edra Toth, her dance instructor, who, Curtis says, "nursed me back to dancing." Toth recalls that after she returned, Curtis "was so shattered that she was going to stop dancing." Toth wouldn't hear of it. "I told her, absolutely you cannot. You cannot. You are a dancer, that's who you are."
Curtis's first introduction to ballet was when she was 3 years old — so young she has no memory of it. Her mother says that she took Curtis to see The Nutcracker to support a friend who was performing. "She sat through the entire thing mesmerized, first act, second act," Barb says. Soon her parents had her enrolled in a toddler dance class, and Curtis "loved every moment of it." Her full-time hobby became a career when she got her first paid gig at the age of 14.
Returning to her pre-Romania form was a long, hard journey. In early May 2014, Curtis contracted mono. When Curtis was able to return to the dance floor, Toth and Curtis worked together privately, sometimes for mere minutes. From Toth's vantage point, it was obvious when Curtis would hit the mental and physical wall. "I could see it in her body," she recalls. "The fluidity of movement wasn't there. I could literally see it just stop and seize up. And it was like, 'OK, we've had enough for today, this is good.'"
Eventually Curtis made it back to the point where she could take a full class alongside other students. Then she returned to teaching and performing. In October 2014, she was Lucy in the Northeastern Ballet Theatre's performance of Dracula. This spring, she was the titular character in the company's production of Sleeping Beauty and was the lead in its Nutcracker performances this month.
"Ballet, post-trauma, has been the one thing that has kept me grounded, kept me sane," Curtis says. "It's been a huge escape for me." Of Toth, Curtis simply says, "She saved me."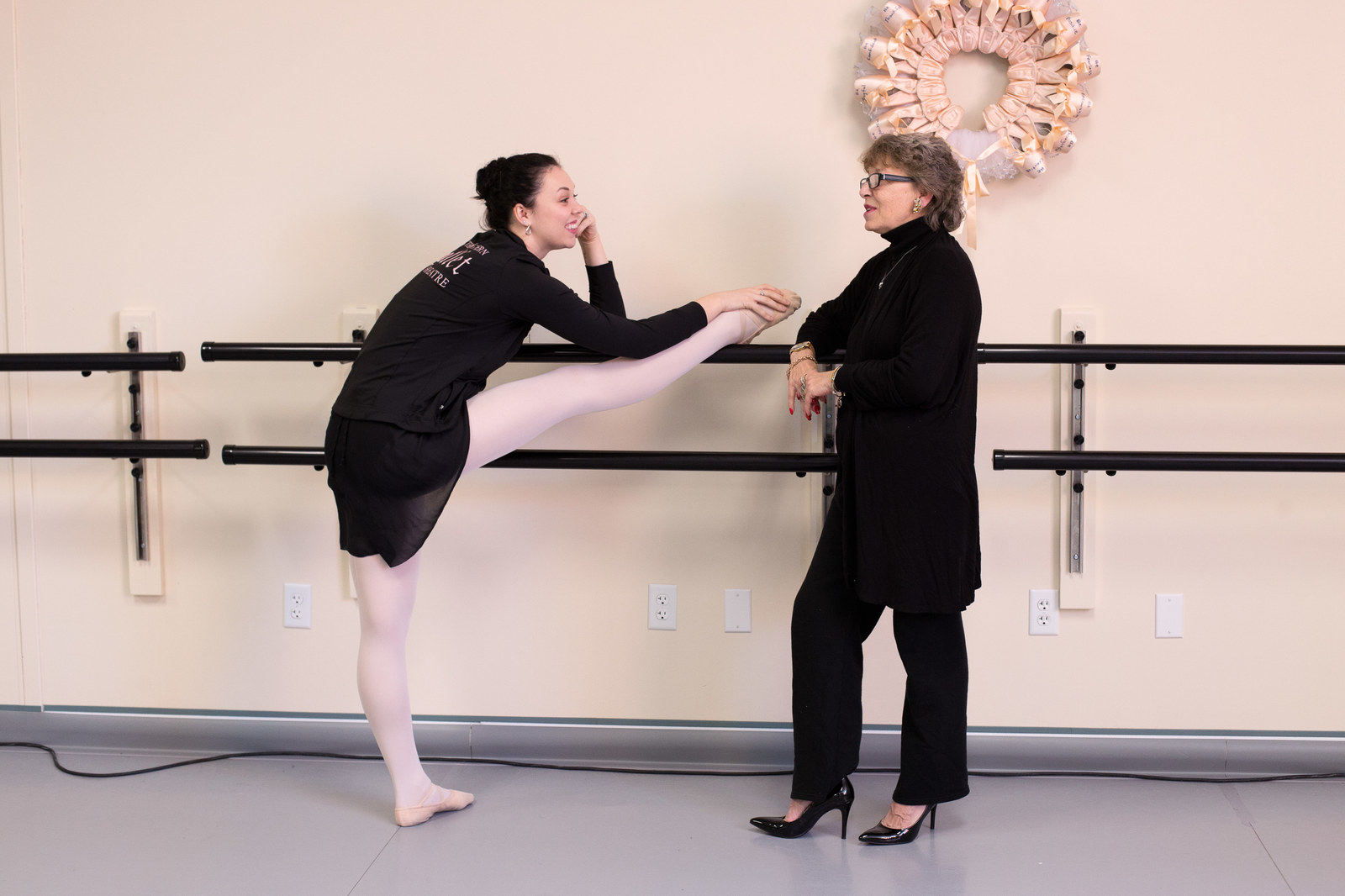 Standing in the community center after her rehearsal, Curtis looks down at her forearm. There she has tattooed in bright red ink and in a basic block script, "Be BRAVE." It is a simple idea. "It's the end of the story," she says. "Be brave, period."
It is her own personal mantra, an often-needed reminder while she is dancing. "Sometimes when I feel like I'm kind of in a dissociative state, like I'm not fully present, my eye will catch the red ink and it does help bring me back, kind of ground me. It's always in my vision, even if it's peripheral ... I got it really for me," she explains, "as a constant reminder."
Curtis has taken the phrase from her arm and created a campaign around it, one that encourages sexual violence survivors to tell their stories in whatever form they can to whomever they can. "I've had tons of people ask me lately, 'How are you doing this, Lissa? Do you feel called to do this?' And my answer is 'No.' I don't feel ready to be a spokesperson. But if I can do it, anyone can do it."
Curtis choreographed an intensely personal ballet, itself titled Be Brave, and friends from Northeastern Ballet Theatre perform it with her. She plays herself, a male dancer is Marculetiu, and she is surrounded by other women who mirror her emotional journey and give her strength. Curtis eventually pushes the male dancer away and he ends up on the floor, while she remains defiantly strong in her dancing, accompanied by the women around her. They expel him from the stage. Then, together, up on pointe, the women put their hands over their mouths, then let their hands float down alongside their bodies, palms out, as her brother Zach sings, "Time to be brave."
For Curtis, "Be Brave" is about "encouraging others to have the courage to speak out, to be brave and talk to someone. Sometimes just talking to a family member is really scary, or going to any type of authorities."
In February 2016, she performed at a formal dance gala at Plymouth State and a week later participated as part of the One Billion Rising Seacoast event in Portsmouth, New Hampshire, which honored survivors of violence against women. In September, she hosted a Be Brave gala at her alma mater, the University of New Hampshire, during which she performed the ballet. Proceeds from the event were split between the three crisis centers in New Hampshire that Curtis says have helped her since she returned from Romania: the Crisis Center of Central New Hampshire, HAVEN, and the university's Sexual Harassment & Rape Prevention Program (SHARPP).
Curtis is doing all of this in public, though, while trying to manage an emotional and mental private recovery that is often made more difficult by her public work.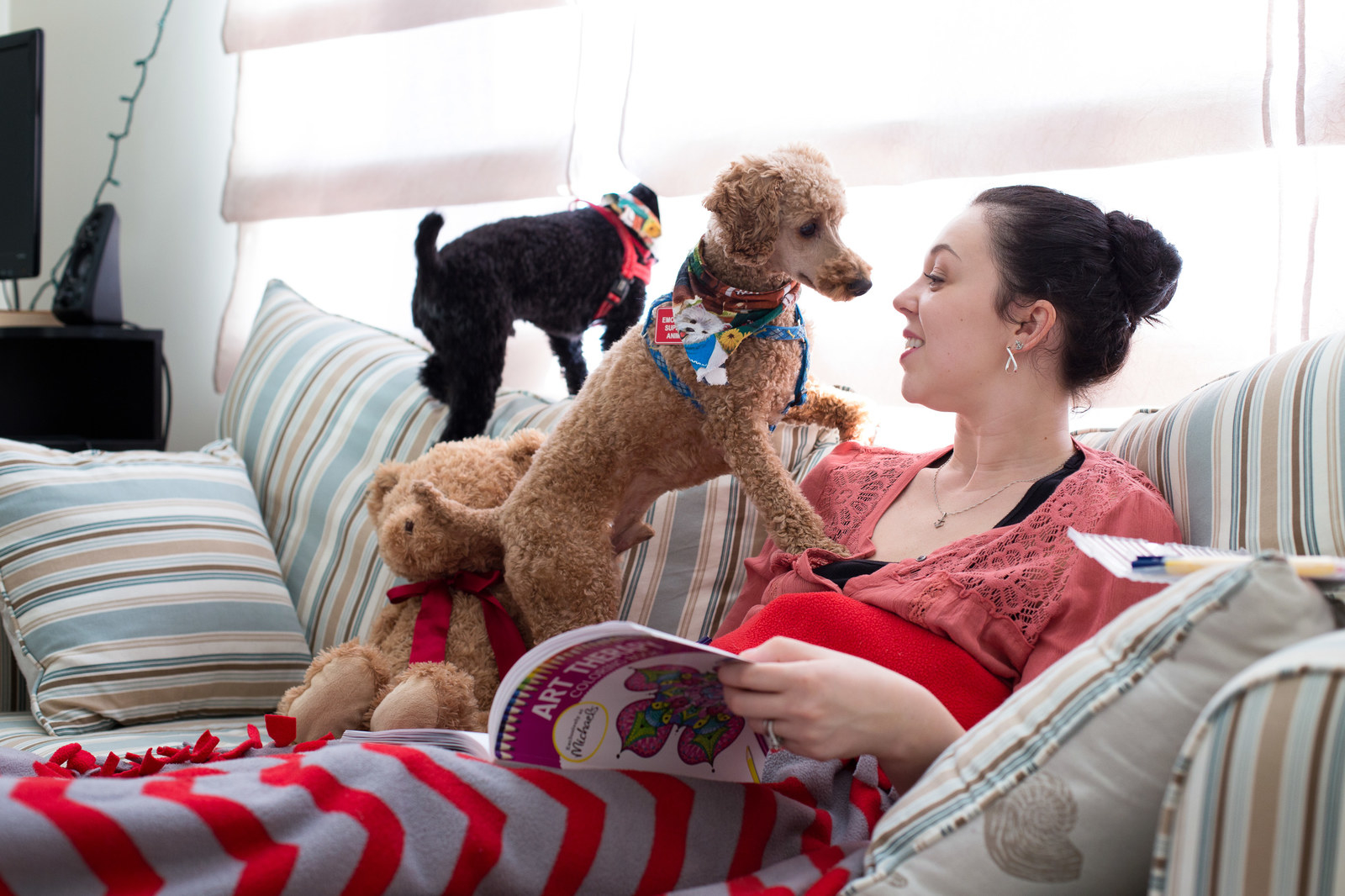 Nights are when it is the worst, after the sun sets and after her mind settles. Something triggers her. A memory from Romania, a loud noise, unexpectedly running into someone around a corner, the sound of a fork being dropped on a plate, and being in the backseat of a car have all done it.
"Frozenness" is the easiest description Curtis can give for what it feels like to have an episode. Nothing is in her control, and there is no consoling her. "I feel like I can't move," she told me over the phone this past spring. "Literally my muscle movements are like gone." She is stuck but she isn't actually still. According to her husband Phil, she'll "lock and shake and kick and punch and scream, almost like she's trying to fight him off of her." And she cries the entire time. Her brother Zach says the sounds Curtis makes are what you would expect to hear from someone who has been shot.
Her family runs through a therapist-recommended checklist of things that could possibly ground her, but it's a gradual process and there's no guaranteed action or word that magically snaps her out of it. The next day she is hungover from the physical, mental, and emotional exertion.
For the first six months following her return, Curtis would have an episode almost daily. Between episodes was difficult, too, because she lived in dread of the next one. "I went through being extremely suicidal," Curtis says.
Curtis has taken the phrase
from her arm
and created
a campaign around it.
One time, she disappeared in downtown Portsmouth after running out of a therapy session. Barb was with her but couldn't give chase and lost her quickly. "You have horrible thoughts" when Curtis disappears, Barb says. Whenever Barb talks about this part of their post-Romania life, her voice gets quieter, the words slower; she stares at the floor. She says that Curtis ended up by the water, nearly two miles from her therapist's office. Curtis texted Phil, who told Barb. Barb drove over and picked her up.
Curtis sees a therapist regularly, adopted two service dogs, took up karate, and added a weekly session of trauma-sensitive yoga to her routine. And she teaches and takes dance classes as she has for most of her life.
It's all working. Instead of daily episodes, Curtis might have one every 10 days or so, though in high-stress times they can be more frequent. They are often shorter now, too, closer to 45 minutes, instead of lasting for hours. Her family fears her suicidal feelings are not gone completely, though, so someone is almost always with her still.
A year after she returned home, she finally returned to church. She credits the church's motto — "it's OK to not be OK" — with giving her the comfort she needed to go back. "I'm allowed to wrestle with God. I feel like I've had just grace extended to me, to be in the struggle, to be in the storm."
After more than two years of introspection and therapy, she can now say that God "didn't do this to me. This is just evil in the world. In the end — I can't believe I can say this now — but in the end I actually feel like God saved me. The only reason I made it out alive was because of my acting skills," which she believes are a gift from a high power. Through tears and a smile, she says, "That's huge for me to even say that to you. But that's how I feel."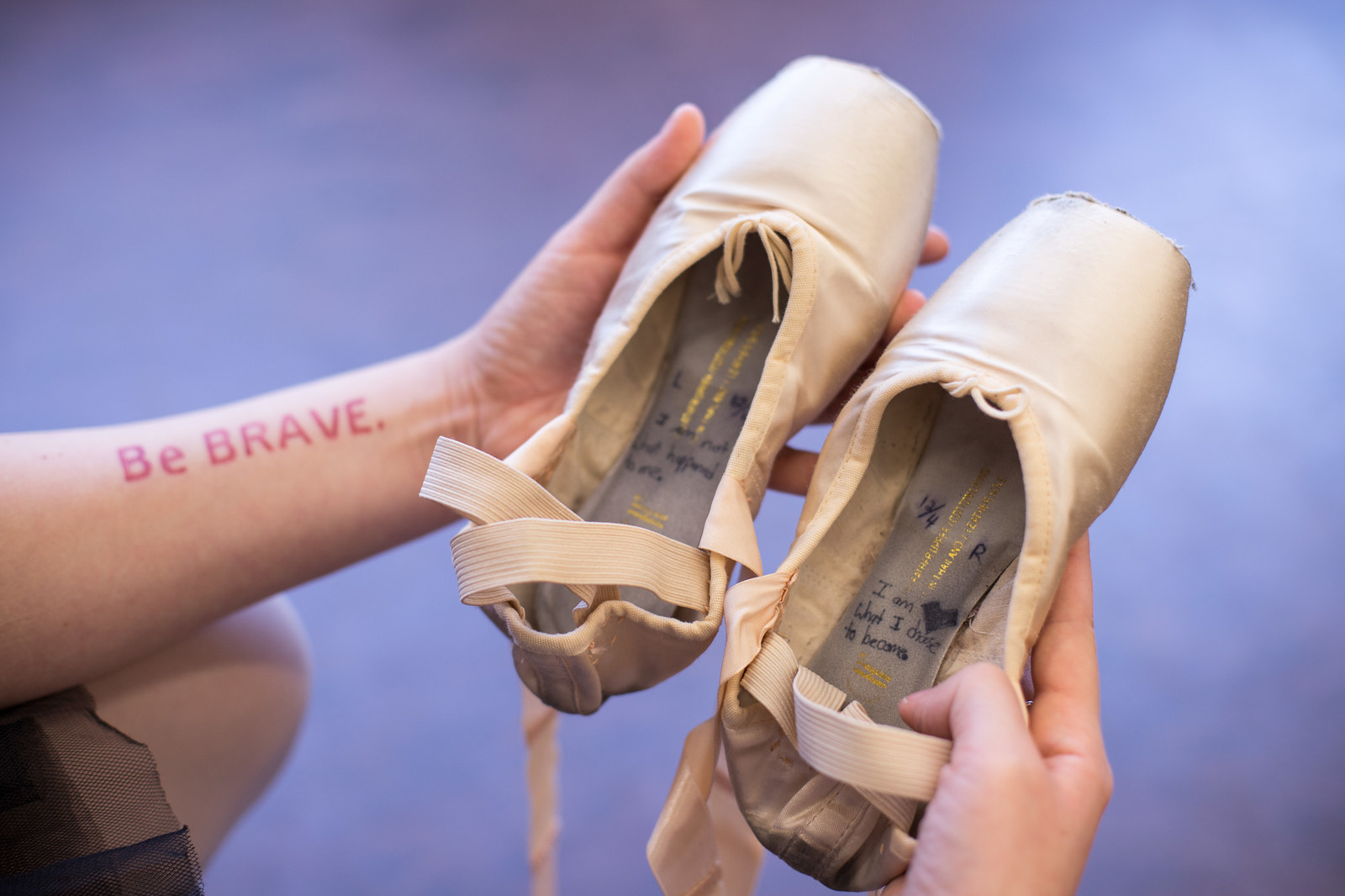 "Be Brave" has become Curtis's signature. A local company designed a graphic that includes the words and the ribbons from a pair of pointe shoes, and printed it on a bunch of red T-shirts. Many of the shirts have been given out to friends, but boxes of them still sit along the wall in her family's dining room. When Curtis has a court appointment, a fleet of supporters show up in the shirts, a sea of red surrounding her.
It's a Sunday last winter, and Sandy Certusi, an older woman who works at a local hospital and attends church with the Curtises and Silks, is standing in the bustling lobby of their church. As Certusi explains what Lissa Curtis and her "Be Brave" campaign means to her, her eyes fill with tears and her voice catches. She begins to cry as she describes the scene at the courthouse last year when Curtis showed up to try to obtain a protective order against her dance instructor: "It's humbling to me to see what a human being, how strong she is — she has such support from an amazing family. If you looked at them from the outside, you would never ever know that there was anything wrong. I don't think I could do the same thing."
These words are a common refrain in Curtis's life now. While she appreciates them, she recognizes them as what they are: the response to her public performance as a strong survivor.
"My main goal
for coming out is to try to prevent this from happening to any other person if I possibly can."
In December 2015, as Curtis was seeking to continue the protective order against Marculetiu, local news, both in print and on camera, chronicled the two trips to the courtroom that she and her supporters made. (Marculetiu did not appear for either one.) There are pictures of her smiling, surrounded by supporters in the red "Be Brave" shirts. Members of her family are always in frame right next to her. Curtis was interviewed on camera saying she has been through "hell" and feels "lucky to be alive." A judge granted the order on December 16 and her tears of relief were captured by the local TV news cameras. That order of protection lasted for only a year, so Curtis is seeking to extend it to cover the duration of the civil case.
Creak.
Thud.
Jump.
Float.
Curtis is awaiting her day in court, which the family hopes will happen soon, but no definitive date is yet set. She says, though, that the civil suit is "not about money." The suit is necessary, she says, because the FBI only has jurisdiction over what happened on the international flight from Boston to Munich and cannot investigate anything that happened on the ground in Europe. A civil suit, though, has no borders. "My main goal for coming out is to try to prevent this from happening to any other person if I possibly can."
In the meantime, she continues to tell her story. She was recently profiled by Boston magazine, which contacted her after they caught wind of the civil suit. She has been asked to speak at the local Rotary Club and performed Be Brave at an event called Dance to Make a Difference in Meredith, New Hampshire. In August, Curtis went to the New Hampshire Capitol and met with Gov. Maggie Hassan. In a statement released to BuzzFeed News from Hassan's press secretary, Ricki Eshman, Hassan's office said that the governor and Curtis spoke about her "experience with the justice system as a whole from the perspective of the survivor of assault," adding, "Governor Hassan supports Lissa Curtis's advocacy efforts related to sexual assault prevention and remains committed to working at the state level to ensure strong protections for victims and survivors of all crimes."
To motivate herself in even the lowest of moments, Curtis holds on to the words an advocate once told her: "Remember that you have survived 100% of your worst days." But she's also clear about what exactly a "good day" means. "It's a 'good day' when I hit a perfect triple pirouette on pointe, am able to drive myself somewhere even if it's close to home, am able to hang out for a short while with friends, go on a date with my husband, or am able to fall asleep without extra medication. I feel occasional sparks of the 'old Lissa.'"
Sometimes, though, it is still all too much, being the public face of the very thing she says is causing her pain. Curtis is often asked if she'll speak with, comfort, or guide other survivors, but the requests can be overwhelming. For her own mental health, she more often than not must gently turn them down, though she helps when she can. She says that after another woman tried to end her own life but survived, that woman's mother contacted Curtis and "asked me to come and speak with this young teen at the hospital." She knew she didn't have the emotional fortitude that would be necessary for that work, though.
"I wish I could have," she says. "I hope someday I have that kind of strength." ●