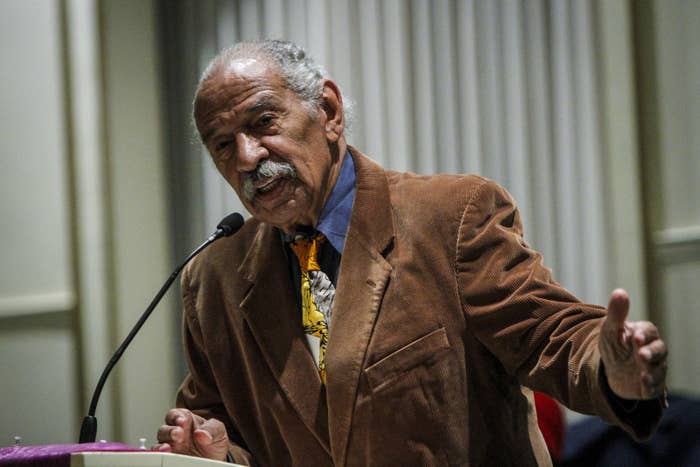 "The allegations against Conyers, we have learned more since Sunday, are serious, disappointing, and very credible," Pelosi told reporters Thursday, adding, "the brave women who came forward are owed justice. … Congressman Conyers should resign."
House Speaker Paul Ryan
Ryan told reporters Thursday that he had "just been briefed on the torrent of allegations" and that Conyers "should resign immediately."
"I heard what [Marion Brown] said this morning on NBC. No one should have to go through something like that, let alone here in Congress," Ryan said.
Rep. Jim Clyburn, D-S.C.
Clyburn, a top Democrat on the Congressional Black Caucus, told both Politico and McClatchy Co. Thursday that Conyers should resign.
Clyburn later told NBC News that he had spoken to Conyers earlier in the week and told him: "This is not going to get any better. In fact, I could see it getting even worse."
Rep. Dan Kildee, D-Mich.
"No one likes to think a person they've known and respected can do that kind of thing. It's just unacceptable," Kildee told reporters Thursday.
Rep. Pramila Jayapal, D-Wash.
Jayapal was one of the first members of Congress to call for Conyers' resignation. She told BuzzFeed News' AM to DM Thursday that he needs to step down immediately.
"If he were to step down now, I think that goodwill will be preserved. But if he drags this out and takes the women though a whole process and tries to fight back against these charges, I think it's going to be very difficult," Jayapal said.
"Really good men who have done really good things in their careers, who have benefitted all of us, can also do terrible things."
Rep. David Cicilline, D-R.I.
Cicilline said in a statement Thursday that Conyers should resign, saying: "This is a moment when political loyalties and concerns about relationships with colleagues must yield to standing up for what is right. It should not have taken any of us, myself included, this long to come to the conclusion that Congressman Conyers should resign."
"It is hard to understand and fully comprehend how someone who has done so much to promote equality and protect the rights of people in his professional capacity could be capable of such horrible personal actions. Sadly, this is a reality known to women across the country," he added.
Rep. Joe Crowley, D-N.Y.
Crowley, a member of House Democratic leadership, had said earlier that Conyers would "do the right thing," but had avoided expressly calling for Conyers' resignation.
On Thursday, he told NBC News: "Yesterday, I said Congressman Conyers should do the right thing for the country, the institution, and, most importantly, the woman involved. The right thing is for Congressman Conyers to resign."
Rep. Kathleen Rice, D-N.Y.
Rice was the first Democrat to call for Conyers to step down, calling the allegations contained in BuzzFeed News' report on his 2015 settlement with Brown "as credible as they are repulsive."
Rep. Bill Huizenga, R-Mich.
Huizenga told Fox Business Network that Conyers "ought to resign" over allegations by former staffers that he "used Congressional resources to fly in people from Washington DC for affairs with him." Those allegations were contained in BuzzFeed News' initial investigation.
Huizenga was the first member of Congress to call for his resignation.
Rep. Earl Blumenauer, D-Ore.
When asked on C-SPAN's Washington Journal Wednesday whether Conyers should resign, Blumenauer said, "That's his decision, but I would think he should."
Rep. Ben Ray Lujan, D-N.M.
Rep. Mark Takano, D-Calif.
Rep. Tim Ryan, D-Ohio
Rep. Linda Sanchez, D-Calif.
"I think it's the right thing for him to resign from Congress. Were I in his shoes I would resign," Sanchez, a member of Democratic leadership, told the Los Angeles Times.
Rep. Debbie Dingell, D-Mich.
Dingell told the Detroit Free Press Thursday that Conyers should resign.
Rep. Sander Levin, D-Mich.
Levin also told the Detroit Free Press on Thursday that it is time for Conyers to resign.
Rep. Tulsi Gabbard, D-Hawaii
Asked on CNN Thursday night if Conyers should resign, Gabbard said: "Yes, absolutely. This kind of behavior of objectifying women and disrespecting them in such an incredible way is unacceptable. We should have a zero tolerance towards this kind of behavior, and he should resign."
Rep. Don Beyer, D-Virginia
In a series of tweets Thursday, Beyer said that "our country is undertaking a much-overdue reckoning with sexual harassment and assault," adding that "Congress cannot be exempt, and I believe that Congressman John Conyers should resign."
Beyer also said that "every victim of sexual assault should feel safe coming forward and have an avenue for redress."
Rep. Ro Khanna, D-California